5 Images
Bumpy road of a novice RVer
Circling the wagons
RVs cluster at Dumont Dunes, near Barstow, favored for off-road vehicles, whose lights streak the hills.
(CRAIG AURNESS / Corbis)
King of the road
The writer and Ted Panzer, left, drove a rented rig 633 miles on a weekend trip to the Mojave.
(DOROTHY DESLAURIERS)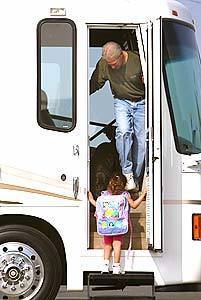 New horizons
Seal Beach resident Brian Brown and his 4-year-old daughter, Sarah, meet on the steps of the RV the family has just purchased for camping trips, despite a rocky first experience in a rented vehicle.
(ANACLETO RAPPING / LAT)
Hotel on wheels
The Brown family - Brian, Rosie, Sarah and Will - watch TV after arriving at Sky Valley Resort near Palm Springs in their RV.
(GINA FERAZZI / LAT)
Dining disappointment
The Browns head out from Sky Valley Resort for dinner. They had expected to cook out but found there were no fire pits.
(GINA FERAZZI / LAT)