Facing heat wave, Texas' power grid operator asks customers to cut electricity use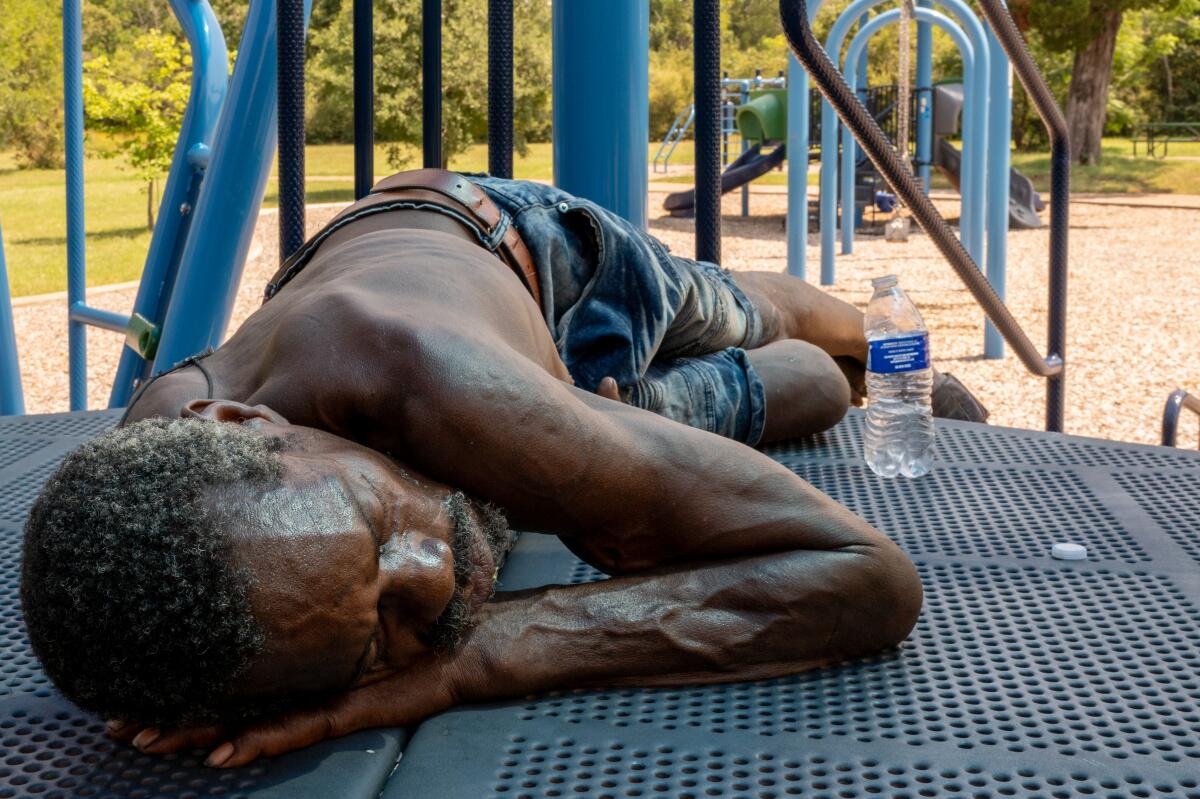 AUSTIN, Texas —
Texas' power grid operator asked residents Tuesday to voluntarily cut back on electricity due to anticipated record demand on the system as a heat wave kept large swaths of the state and southern U.S. in triple-digit temperatures.
On the last day of spring, the sweltering heat felt more like the middle of summer across the South, where patience was growing thin over outages that have persisted since weekend storms and tornadoes caused widespread damage.
Communities from Houston to New Orleans are opening cooling centers to bring relief as steamy hot temperatures settle across much of the U.S. South.
The request to cut energy consumption by the Electric Reliability Council of Texas, which serves most of that state's nearly 30 million residents, was its first of the year. ERCOT said it was "not experiencing emergency conditions," but it noted that the state set an unofficial June record on Monday for energy demand.
Much of Texas was under excessive heat warnings Tuesday that were set to stay in place until Wednesday, with heat indexes forecast to surpass 110 degrees, according to the National Weather Service.
Many Texans have been skeptical of the state's grid since a deadly 2021 ice storm knocked out power to millions of customers for days. Republican Gov. Greg Abbott has said improvements since then have made the grid more stable, but those improvement efforts continue to draw scrutiny.
Power outages in Texas and other states are exposing weaknesses in an electricity system designed when seasonal shifts were more predictable.
In neighboring Oklahoma, more than 100,000 customers were eagerly awaiting the restoration of power and air conditioning following weekend storms that downed trees and snapped hundreds of utility poles. Officials say at least one person in Oklahoma has died because of the prolonged outages, which could last into the weekend for some residents.
Arkansas Gov. Sarah Huckabee Sanders on Tuesday declared a state of emergency because of the weekend's storms, citing damage from the weather and "numerous" downed power lines.
In the Mississippi capital, some residents said Tuesday that they had been without power and air conditioning for almost 100 hours, a period longer than the outages caused by Hurricane Katrina in 2005. Entergy Mississippi, the state's largest electric utility, said its crews had worked 16-hour shifts since Friday, but some officials expressed doubts about its preparedness.
High temperatures in the state were expected to reach 90 degrees Tuesday.
"The delay in restoring power has caused significant hardship for their customers and it is unacceptable," said Brent Bailey, a member on the Mississippi Public Service Commission, the state's energy regulator.
In Louisiana, the Southwestern Electric Power Co. said more than 93,000 of its customers remained without power Tuesday morning. Nearly half them were around Shreveport, where the utility has estimated power would be restored by Saturday night.
Associated Press writers Michael Goldberg in Jackson, Miss., and Andrew DeMillo in Little Rock, Ark., contributed to this report.
Sign up for Essential California for news, features and recommendations from the L.A. Times and beyond in your inbox six days a week.
You may occasionally receive promotional content from the Los Angeles Times.