Facing a skeptical Parliament, Britain's Theresa May defends her decision to join in Syria attack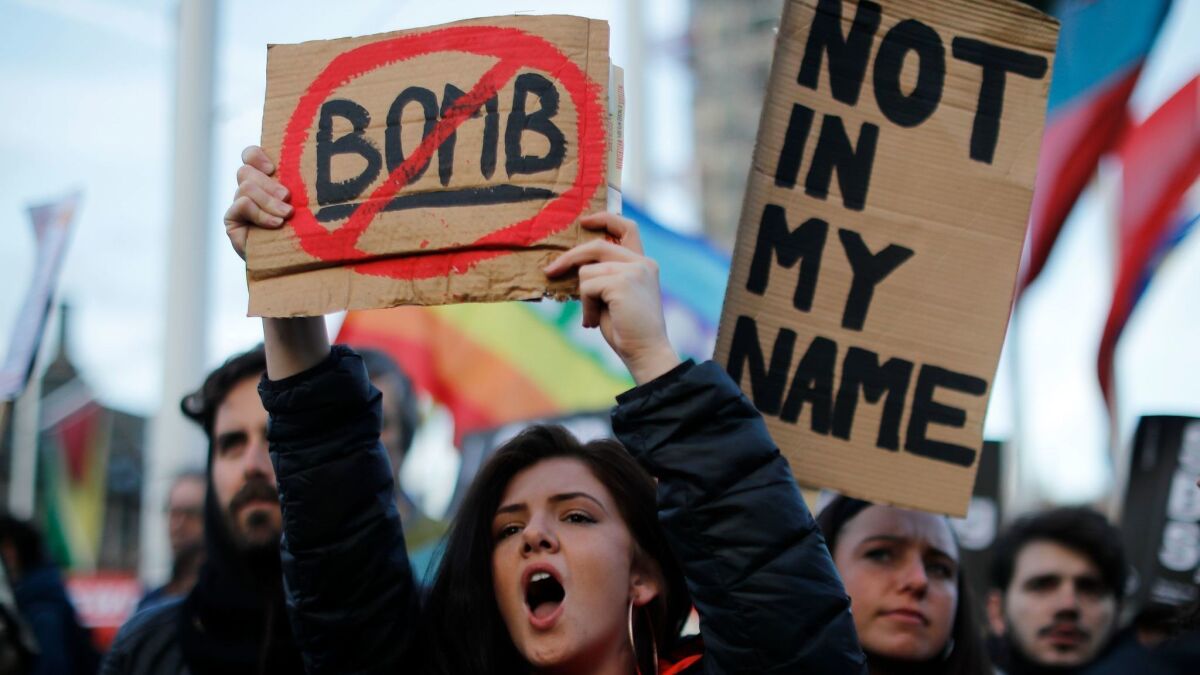 Reporting from London —
British Prime Minister Theresa May on Monday vehemently defended her decision to authorize airstrikes against the Syrian government, saying the action was both morally and legally justified to deter the use of chemical weapons.
Speaking during a heated, lengthy debate in Parliament, she shot down accusations by opposition leader Jeremy Corbyn that the strikes took place at the behest of President Trump.
"We have not done this because President Trump asked us to do so," she said. "We have done it because we believed it was the right thing to do. And we are not alone."
Outside Parliament in Westminster, protesters held placards that read: "Don't Bomb Syria."
The military strikes Saturday were carried out in conjunction with France and the U.S., hitting three targets in the Damascus area and near the city of Homs. They were in response to the suspected chemical attack April 7 by the Syrian government in the town of Duma, where local medics said that dozens of people were killed and hundreds left gasping for breath.
Corbyn called the airstrikes "legally questionable" and said inspectors from the Organization for the Prohibition of Chemical Weapons should be "allowed to do their work" to categorically establish who was behind the attack.
The Scottish National Party's Ian Blackford accused May of "once again" dragging Parliament into military action "with little regard for the humanitarian [situation] on the ground and no long-term strategic plan," a reference to Britain's controversial involvement in the protracted Iraq war that began in 2003.
The British government does not legally have to get approval for military action, but it has been customary to do so since the Iraq invasion, and lawmakers from across the political spectrum said they were angry the matter has not been put before Parliament.
Some have accused May of acting without Parliament's approval because she feared that it was a vote she could not win. In 2013, her predecessor, David Cameron, lost a vote in Parliament that would have seen Britain take part in the U.S.-led strikes on the Syrian government in retaliation for its use of chemical weapons.
But May said that her government was forced to act quickly and that recalling lawmakers back to the House of Commons from their Easter break was not a viable option.
"I am absolutely clear, Mr. Speaker, that it is Parliament's responsibility to hold me to account for such decisions — and Parliament will do so," she said. "But it is my responsibility as prime minister to make these decisions."
She also said Monday that Parliament would have been unable to see much of the intelligence that was used to justify the strikes, and stressed that the action was unequivocally in the national interest.
She described "utterly haunting" images in Duma of families found dead in underground bunkers with foam in their mouths and burns to their eyes.
All the evidence — including the use of helicopters and barrel bombs — pointed toward the government of Syrian President Bashar Assad, May said, adding that Russia is assisting in a coverup operation, with evacuees being searched as they leave the contaminated area to ensure evidence is not being removed from the site.
Syria has denied using chemical weapons, and Russia, which supports Assad, has expressed profound anger at the U.S.-led airstrikes.
The precision strikes were aimed at avoiding Russian bases in Syria as diplomatic relations between Britain and Russia are at their lowest point since the breakup of the Soviet Union.
There has been a tit-for-tat expulsion of diplomats in response to a chemical attack last month on a former Russian spy and his daughter in the British town of Salisbury.
May said that allowing chemical weapons attacks to take place with impunity risked jeopardizing the norms and rules that keep the world safe.
"We cannot go back to a world where the use of chemical weapons becomes normalized," she said.
Several lawmakers expressed their solidarity with May on Monday, including veteran Conservative Party politician Ken Clarke, who said it took a "real prime minister" to make this decision.
Labor Party lawmaker Chris Leslie also spoke in the House of Commons to support the military intervention.
"A policy of inaction also would have severe consequences," he said. "Those who would turn a blind eye, who would do nothing in pursuit of some moral high ground, should also be held accountable."
His speech broke ranks with party leader Corbyn, who argued that all diplomatic channels should have been exhausted before the military option was even discussed.
Corbyn called for an emergency debate in Parliament to reaffirm the convention that lawmakers' approval should be required for military intervention. It was scheduled for Tuesday.
"There is no more serious issue than the life-and-death matters of military action," he said. "It is right that Parliament has the power to support or stop the government from taking planned military action."
Boyle is a special correspondent.
---
Must-read stories from the L.A. Times
Get the day's top news with our Today's Headlines newsletter, sent every weekday morning.
You may occasionally receive promotional content from the Los Angeles Times.