'We're the fans. We make the party': Icy relations aside, soccer fans pour into Russia for World Cup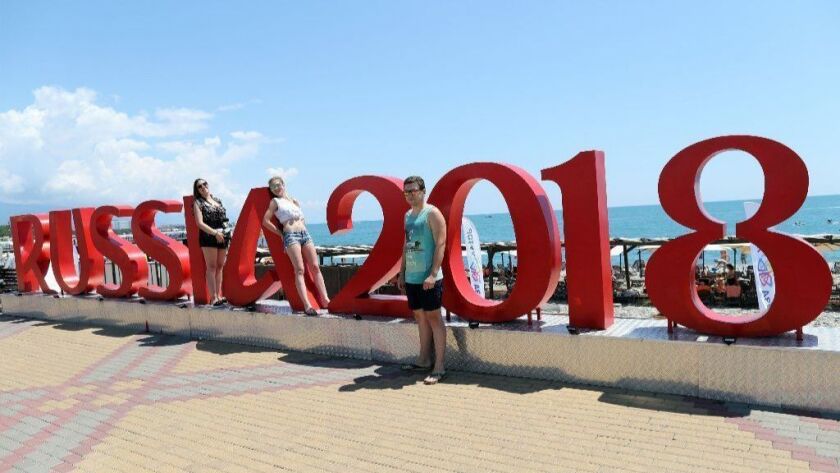 Reporting from Moscow —
The train conductors have taken smiling lessons. The metro police have learned basic phrases in English. The stadiums have all been built or remodeled. More than 2.5 million tickets have been sold, and the hotel rooms were booked up months in advance.
Russia has been preparing for this moment for years, eager to host hundreds of thousands of soccer fans arriving for the 2018 FIFA World Cup, a monthlong spectacle in which 32 national teams play 64 games across 11 Russian cities.
Like the Sochi Olympics in 2014, the event is meant to be a shining moment for Russia and President Vladimir Putin, a chance for the country to show how it has emerged from two decades of post-Soviet chaos and evolved into a country with broad ambitions.
But this year's World Cup comes at a time when the Kremlin's relationship with the West is worse than at any other time since the Cold War.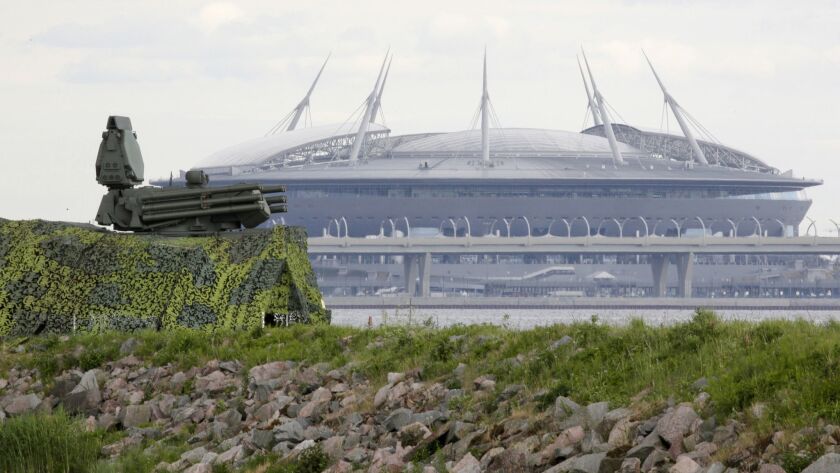 Putin has been vilified in the West for Russia's annexation of Crimea in 2014 and then backing the pro-Russia separatist militias in eastern Ukraine. The U.S. has accused the Kremlin of meddling in the 2016 presidential election. European leaders contend Russia has used disinformation campaigns to create divisions in the European Union. And Britain holds Putin responsible for the poisoning of a former KGB spy and his daughter on English soil in March.
The Kremlin denies the accusations, saying they are part of a U.S.-led campaign to isolate Russia.
British Foreign Minister Boris Johnson sparked fury from the Russian Foreign Ministry when he said Russia's hosting the World Cup was akin to the 1936 Olympics in Nazi Germany under Adolf Hitler.
Kremlin spokesman Dmitry Peskov said the comparison was "totally disgusting," while foreign ministry spokeswoman Maria Zakharova wrote on her Facebook page that Johnson was "poisoned with hatred and anger."
Despite the geopolitical head winds, Russia has pushed ahead and invested both political and financial capital in the games. Moscow won the rights to host the World Cup in 2010 and pledged to build new stadiums and remodel old ones in 12 venues across the European part of Russia's massive territory, spending an estimated $12 billion, more than half drawn from the government budget.
The massive spending and the contracts that were awarded drew accusations of corruption and nepotism. In St. Petersburg, the Zenit Arena cost $1.5 billion to refurbish, making it one of the most expensive stadiums in the world. Human rights groups accused the contractors of using North Korean slave labor to complete the arena.
Saransk is perhaps the most peculiar choice for a host city. Located about 300 miles southeast of Moscow, Saransk is better known for its history of gulags than soccer. In fact, there is no professional football team in Saransk, though — thanks to the spending spree — there now is a world-class soccer stadium. In recent history, Saransk was the host city for Nadezhda Tolokonnikova, a member of the Russian female punk group Pussy Riot who was imprisoned here for two years. Her conviction for staging a "punk prayer" was seen as part of the Kremlin's wider clampdown on dissent.
Ahead of the matches, human rights groups have urged FIFA and foreign leaders to use the games to pressure Putin on what Human Rights Watch called "the worst human rights crisis in Russia since the Soviet era."
Both Human Rights Watch and Amnesty International have pointed to repression of Russia's LGBTQ communities, crackdowns on journalists and human rights workers, and harsh restrictions on freedom of expression, including online censorship and political opposition rallies. The groups condemn Putin's support for Syrian President Bashar Assad, and directly appealed to FIFA to intervene in the prosecution of Oyub Titiev, the Chechnya director of the civil rights group Memorial, who is on trial for what his supporters say are trumped up drug possession charges.
There also has been sharp criticism for allowing Chechen strongman Ramzan Kadyrov to host the Egyptian team and allowing it to use a Grozny stadium as a training base. This week, Egypt's star player, Mohamed Salah, posed for a selfie with Kadyrov, a move that was widely criticized by human rights watchdogs.
But as fans arrived by the tens of thousands this week, concerns and warnings about Russia's human rights record or even its checkered history of soccer hooliganism had taken a backseat to the excitement of the opening match on Thursday — Russia vs. Saudi Arabia.
In many ways, Russia will be an entirely different country when the games begin. Moscow, in particular, has undergone a major facelift since the Sochi Olympics, and there are now plenty of signs and maps in English, making the center very navigable for non-Russian speakers.
The national railways have trained staff on the importance of smiling to foreign customers, and metro police have been schooled in basic English phrases.
An official video welcome message from Putin released Saturday showed him speaking with the Kremlin's spires in the background.
"We have opened our country and our hearts to the world," Putin says, adding, "Welcome to Russia," in English at the end.
While Putin's Russia still glorifies the Soviet Red Army's victory over Nazi Germany 73 years ago, and the communist hammer-and-sickle adorns many building facades, Russia's main cities today are modern, European-like metropolises with cafes, world-class museums, efficient public transportation and hipster craft beer breweries.
"OK, yeah, this isn't Brazil, and Russians aren't at first as warm and friendly as they were," said Jesus Castro, a high school Spanish teacher from Los Angeles who arrived in Moscow on Saturday to cheer on Mexico. He had heard that Russians can have a reputation for racism and intolerance, but "so far, the Russians we've met have been great. They all want to talk to us and take their picture with us."
Like any major international sporting event, local businesses are hoping to tap in to the influx of tourist cash. With hotels and hostels full, Muscovites have been renting out their apartments on Airbnb for unimaginable prices, such as the guy south of the city center who is renting out a 6½ foot-by-13 foot wooden shed on the roof of his metal garage for about $350 a night. Shower not included, but there does seem to be a toilet.
"Our hostel isn't very expensive, but flying from city to city was too expensive for us," said Marwan Kefah, 20, a student who arrived from Cairo with friends to support Egypt's first World Cup appearance in nearly three decades. "We're going to take the train to Volgograd when Egypt plays Saudi Arabia. My train will take 18 hours. [My friend's] train will be longer. Twenty-four hours from Moscow."
The price gouging, the unseasonably cold Moscow weather, even the jet lag — none of it seemed to bother the fans already crowding the main streets and squares of Moscow ahead of the games. Castro and other Mexico fans were wandering around the city, meeting people and occasionally breaking out in Mexican songs.
"We're the fans. We are the party!" Castro said.
Twitter: @sabraayres
Ayres is a special correspondent.
---
Must-read stories from the L.A. Times
Get all the day's most vital news with our Today's Headlines newsletter, sent every weekday morning.
You may occasionally receive promotional content from the Los Angeles Times.