Hungary's populist PM Viktor Orban wins new term, and pro-refugee NGOs are likely his first targets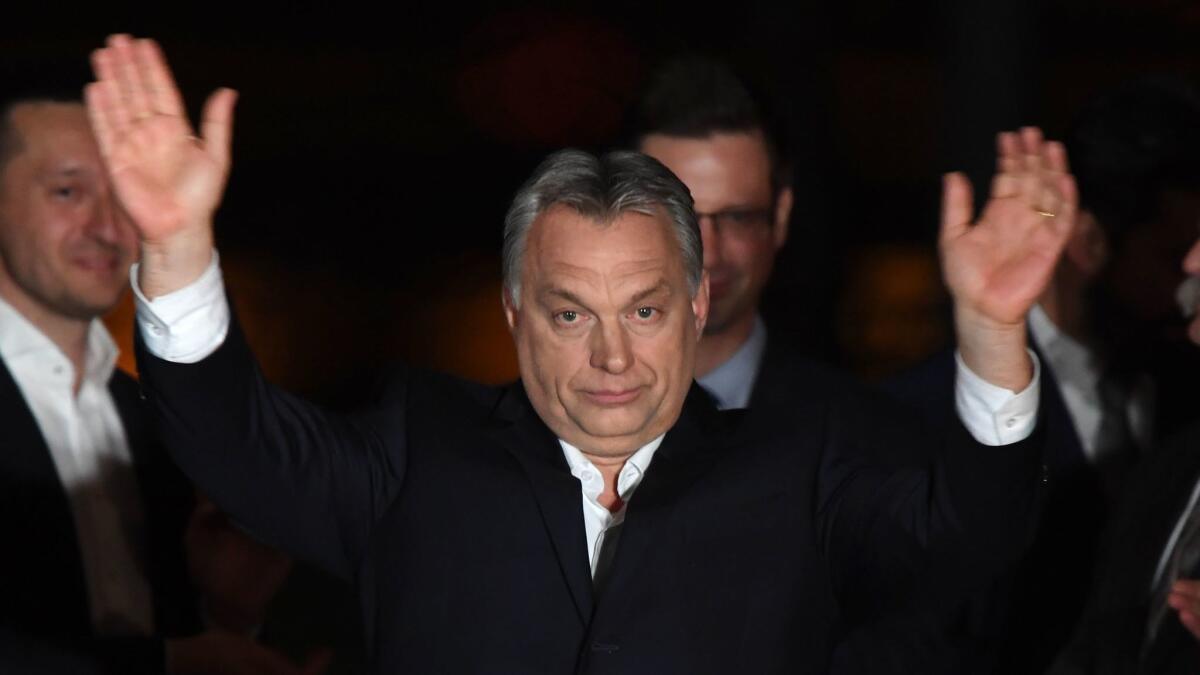 Reporting from BUDAPEST, Hungary —
Hungarian Prime Minister Viktor Orban has won a third consecutive term in office on a virulently anti-migration platform, and it's likely that advocates for refugees and asylum-seekers will be among the first casualties of his drive to prevent Hungary from becoming an "immigrant country."
"We created the opportunity for ourselves to defend Hungary," Orban said after his landslide win in Sunday's vote.
An official from Orban's governing Fidesz party said Monday that lawmakers from the right-wing populist group are expected to approve a draft law targeting refugee advocates as soon as May.
Parliamentary spokesman Janos Halasz said the party would be able to push through the "Stop Soros" bills thanks to its new super-majority in the legislature.
Orban claims that the opposition — collaborating with the United Nations, the European Union and wealthy philanthropist George Soros — wants to flood Hungary with mostly Muslim migrants, threatening its security and Christian identity.
The new laws could make it very hard for groups working with asylum-seekers to continue their activities in Hungary. It would force them to get government permits, their income received from abroad would be taxed and they could be banned from going nearer than five miles from Hungary's borders, where asylum-seekers file claims.
According to the Orban government, Hungary will descend into chaos should it become an "immigrant country" like France or Belgium, with funds meant for Hungarian families or the country's under-priviledged Roma minority diverted to migrants, whose presence will weaken Hungary's security and increase its terror risk.
Orban's clampdown on non-governmental organizations is also based on his belief that only elected politicians have the right to be involved in politics. The government spokesman made that very clear during the wait for Sunday's election results.
"The loopholes still present in the legal system which allow unauthorized organizations to rummage around, so to speak, in the doings of political life, in political decision-making, need to be closed," Zoltan Kovacs told news website Index.hu.
Sign up for Essential California for news, features and recommendations from the L.A. Times and beyond in your inbox six days a week.
You may occasionally receive promotional content from the Los Angeles Times.