Miners at disaster site besiege Iranian president's car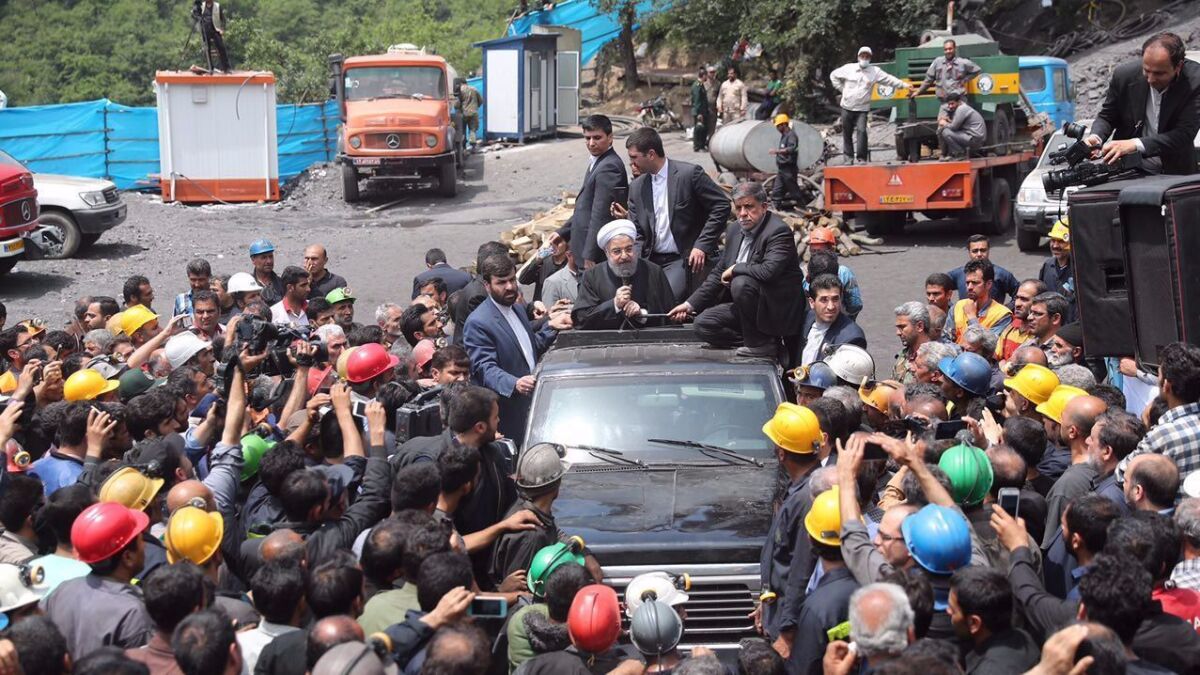 Reporting from TEHRAN, Iran —
Angry coal miners besieged a car carrying Iranian President Hassan Rouhani on Sunday after he visited the site of a deadly mine explosion, a rare protest targeting the nation's top elected official as he campaigns for reelection.
The miners, some covered in coal soot from searching for fallen comrades still missing in Wednesday's disaster in Iran's northern Golestan province, began kicking and banging on the armored SUV carrying Rouhani. Video posted online by the semi-official Fars news agency showed one miner on the SUV's roof, another jumping up and down and kicking its hood.
"Dear brothers! I beg you wait for a couple of minutes!" someone shouts during the video.
Rouhani's SUV eventually nudges its way through the crowd amid the shouting. Another miner rushes up to kick the back of the vehicle as it speeds away down a hill.
The SUV appeared largely undamaged from the incident. There was no immediate word on state media or officials about the miner's protest.
Rouhani traveled to the Zemestanyourt mine and gave a speech to miners and their families gathered there. He acknowledged that as the government, "we are responsible for their lives and it is our duty."
"Be sure that we will pursue this issue and also your demands," Rouhani said. "Those who are guilty in this incident should be prosecuted by a court."
The explosion Wednesday happened after the coal mine filled with methane gas. Three semi-official news agencies have said at least 35 people were killed in the disaster. Iranian officials say they've recovered 22 bodies, and the search continues.
Rouhani's visit comes ahead of Iran's May 19 presidential election. Rouhani remains the favorite in the election as every Iranian president since Supreme Leader Ayatollah Ali Khamenei himself took the presidency in 1981 has won reelection. However, many in the country remain discontented as the benefits of the nuclear deal with world powers have yet to trickle down to the average Iranian.
Oil-producing Iran is also rich in a variety of minerals. Iran annually consumes 2.5 tons of coal but extracts only about 1 million tons from its mines per year. The rest is imported, often consumed in the country's steel mills.
This is not the first disaster to strike Iran's mining industry. In 2013, 11 workers were killed in two mining incidents. In 2009, 20 workers were killed in several incidents. Lax safety standards and inadequate emergency services in mining areas often are blamed for the fatalities.
Since its 2015 nuclear deal with world powers, the country has begun an effort to renovate some of its coal mines. Delegations have visited Tehran from other countries including the Czech Republic, hopeful for contracts.
ALSO
Here's why the latest Syrian cease-fire plan may be fatally flawed from the start
In war-torn Yemen, battling a devastating food shortage depends on a key Red Sea port
Pedestrian walkways and women-only bike lanes: An unusual election platform for a politician in Iran
---
Must-read stories from the L.A. Times
Get the day's top news with our Today's Headlines newsletter, sent every weekday morning.
You may occasionally receive promotional content from the Los Angeles Times.