Maldives leader says Supreme Court order was a coup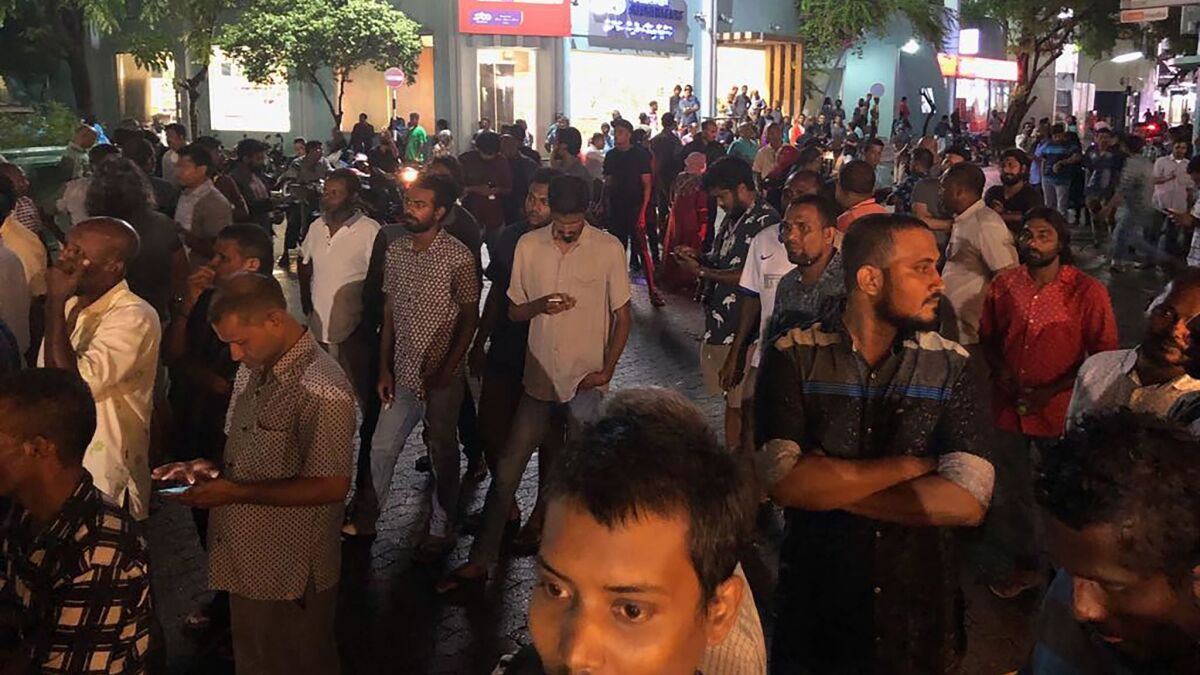 Reporting from MALE, Maldives —
The president of the Maldives said Tuesday he ordered a state of emergency to investigate "this plot, this coup" involving a Supreme Court ruling last week that ordered the release of imprisoned opposition leaders, including many of his political rivals.
"This is not a state of war, epidemic or natural disaster. This is something more dangerous," President Yameen Abdul Gayoom said on national television. "This is an obstruction of the very ability of the state to function."
Yameen, who has rolled back a series of democratic reforms during his five years in office, has said that the court overstepped its authority in ordering the politicians released, saying the order "blatantly disrupts the systems of checks and balances."
Yameen's government has moved to assert its power since the Supreme Court ruling, announcing a 15-day state of emergency Monday night that gives officials sweeping powers, including to make arrests, search and seize property and restrict freedom of assembly. Hours after the emergency was declared, security forces arrested two Supreme Court justices and a former ruler who is now an opposition leader.
"This state of emergency is the only way I can determine how deep this plot, this coup, goes," Yameen said.
Meanwhile, Yameen's main political rival called on India to send an envoy — backed by its military — to free the imprisoned justices and opposition leaders.
Exiled former President Mohammed Nasheed, who was among the opposition politicians ordered freed by the Supreme Court and is now in neighboring Sri Lanka, said in a statement that Yameen "has illegally declared martial law and overrun the state. We must remove him from power," calling for the Indian envoy and military to be sent. "We are asking for a physical presence."
He also called on the United States to stop Maldives government officials from making transactions through U.S. banks.
There was no immediate response from India or the U.S., though both have called on Yameen to obey the Supreme Court order.
---
Must-read stories from the L.A. Times
Get the day's top news with our Today's Headlines newsletter, sent every weekday morning.
You may occasionally receive promotional content from the Los Angeles Times.