Another week in Rio begins with gunfire and death; army to begin patrolling the city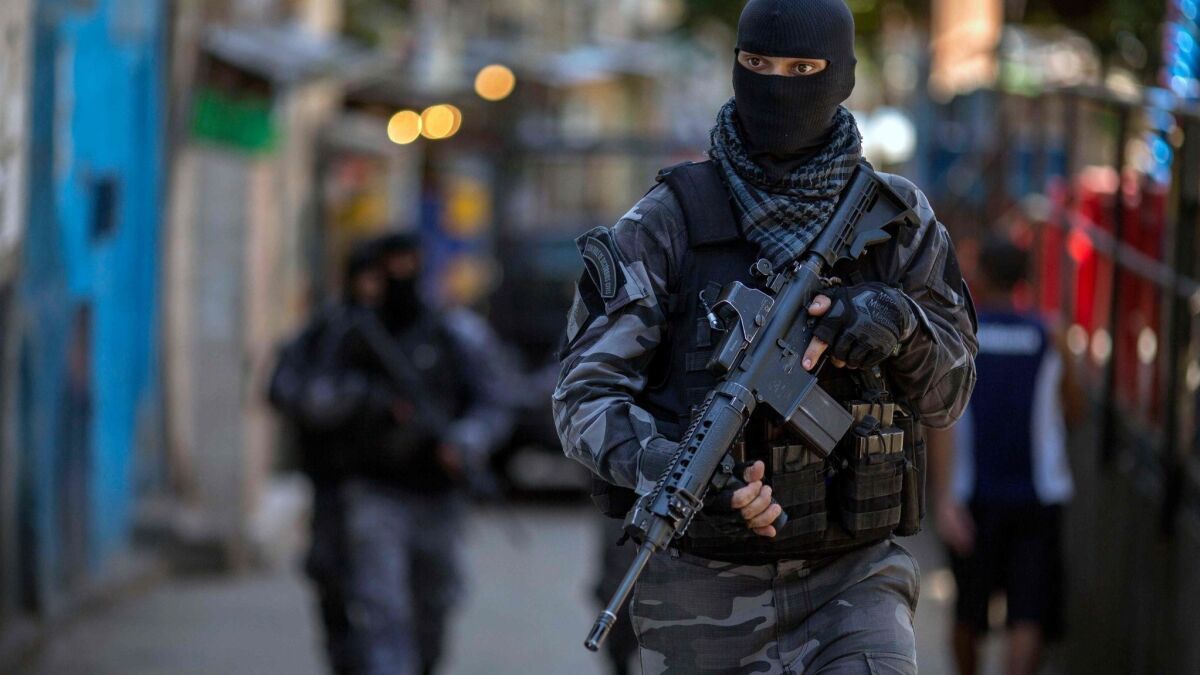 Reporting from SAO PAULO, Brazil —
Violence over the weekend in Rio de Janeiro that left at least 13 dead seeped into a new week when a man was killed Monday during a military police operation, continuing a cycle of gunfire and death that has sown anger and worry in some of the city's densest neighborhoods.
The country's army said that it will now begin patrolling the streets of Rio alongside military police officers in an effort to check the violence.
The state police's special operations battalion, known as BOPE, said Monday's shootout between officers and a group of men unfolded in a pocket of Rocinha known as Beco 199. Police said the operation was aimed at routing drug dealers, but some residents doubted that claim.
"Another week begins, and with it another hectic day. Residents woke up to the sound of fireworks and gunshots," read a post on Rocinha em Foco, a Facebook page with news and information about the favela, or slum, which neighbors popular tourist beaches like Leblon.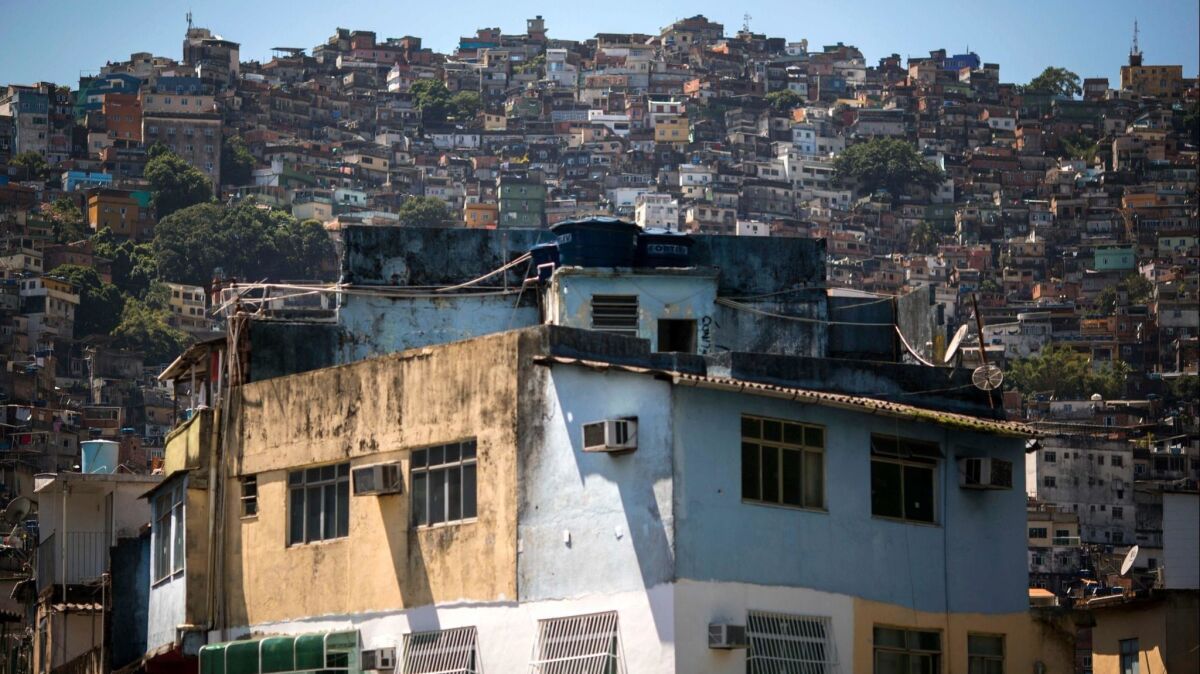 Fireworks are often used by drug gangs in the area to warn other members of the arrival of police.
"The worst thing is that this is getting in the way of our kids going to school," wrote Debora Lourenco on the post. "Thursday, Friday, and now today without classes because of this. It's difficult. Only Jesus [can help]."
However, some students were in class Monday morning when shots were fired in Rocinha, one of Rio's many dense favelas. A teacher at an elementary school in the favela recorded video of students sitting up against corridor walls to protect themselves from the gunshots that can be heard in the background. Some of the children scream as the shots become more frequent.
Eight people were killed Saturday in a separate military police operation in Rocinha and rumors swirled that the victims had been executed as part of a revenge mission following the fatal shooting of a police officer Wednesday. A resident identified as Seu Marechal was caught in the crossfire Wednesday and died.
According to Rio's military police, officers were patrolling in Rocinha on Saturday as part of an operation to combat drug trafficking when they were shot at, leading them to return fire. Some residents, though, said police had invaded a popular dance party known as a baile funk, and opened fire.
Ten military police officers have since given statements to the civil police's homicide department and their guns have been apprehended, a standard procedure in officer-involved shootings.
On Sunday, five teenagers were also found dead in a condominium complex in Marica, about an hour outside Rio. Police said the young men, who were laid out on the floor and each shot in the head, had no criminal history. They suspect a militia group operating in the region killed them, possibly for singing rap lyrics directed at the group.
The military previously occupied Rocinha six months ago when gun battles between rival gangs took over the community. Since then, 52 people have been killed in the favela and an additional 10 injured. Military police also said they have made 105 arrests in the six-month period and took 22 minors into custody.
The federal intervention in Rio de Janeiro state began Feb. 16, when President Michel Temer put the military in charge of Rio's security.
Monday's shooting comes less than two weeks after the slaying of popular Rio City Council member Marielle Franco, who had just days before her death denounced recent killings of favela residents, which she blamed on police. Franco has quickly become an international symbol in the fight against gun violence.
Langlois is a special correspondent
---
Must-read stories from the L.A. Times
Get the day's top news with our Today's Headlines newsletter, sent every weekday morning.
You may occasionally receive promotional content from the Los Angeles Times.