Putin and Bolton meet; discuss nuclear arms treaty and next Putin-Trump summit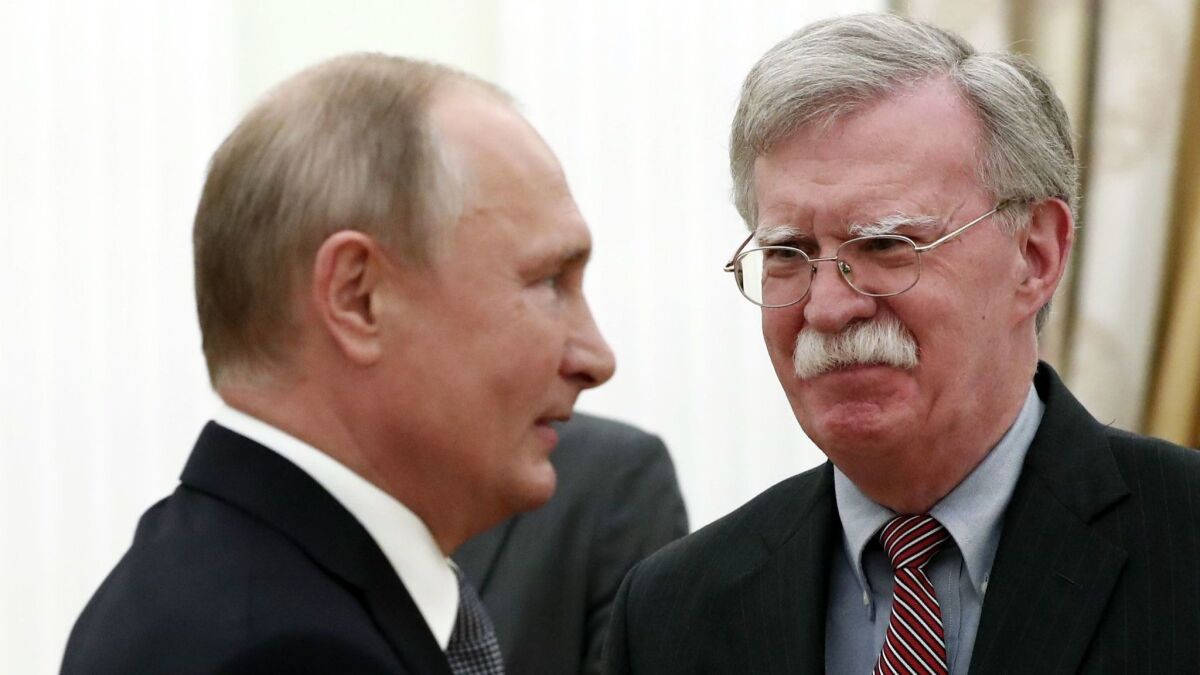 Reporting from Moscow —
Despite a flurry of rhetoric from Washington in recent days, U.S. national security advisor John Bolton told reporters in Moscow on Tuesday that the U.S. has not yet provided Russia with official notification that it intends to withdraw from a historic Cold War nuclear arms treaty, but promised that such a move would be coming "in due course."
Bolton arrived in Moscow on Monday to begin a two-day marathon of meetings with President Vladimir Putin and other senior Russian officials on defense weaponry and other foreign policy issues.
The visit culminated Tuesday with a 90-minute session in the Kremlin with Putin, just days after President Trump's announcement that the U.S. intended to abandon the 1987 Intermediate-Range Nuclear Forces Treaty, which banned all ground-launched short- and medium-range missiles in American and Soviet arsenals.
According to a Kremlin transcript from the closed-door meeting, Putin began with a laundry list of Russian grievances toward the U.S. on issues pertaining to arms control and global security — noting that Russia often refrains from responding to unfriendly, unilateral U.S. actions.
"As I recall, there is a bald eagle pictured on the U.S. coat of arms. It holds 13 arrows in one talon and an olive branch in the other," Putin told Bolton. "My question: Has your eagle already eaten all the olives, leaving only the arrows?"
"I didn't bring any olives," Bolton replied.
It was a rhetorical dance reflective of the way both sides skirted the issue at hand, at least publicly. The Kremlin transcript did not cover more than a few early moments of a 90-minute closed-door meeting. Putin was, however, quoted as telling Bolton that it would be "very useful to exchange views on issues of strategic stability, disarmament, and regional conflicts." He also said he was open to meeting with Trump next month "to continue a direct dialogue."
Bolton said later at a news conference that the two had agreed during their meeting to begin preparations for Trump and Putin to meet while in Paris.
Given the high stakes, the date and location of the meeting could not be more symbolic: The two leaders will be visiting France on Nov. 11 to attend celebrations commemorating the 100th anniversary of the end of World War I — a dark episode in history that itself was sparked by an unrestricted multinational arms race.
On Saturday, Trump had announced that the nuclear treaty no longer makes sense from America's perspective because of long-standing violations by Russia. Kremlin officials have repeatedly denied that they have violated the terms of the treaty, and instead have accused Washington of being the offending party.
"I think it was important from our perspective, as President Trump said Saturday and said again yesterday, to deal with the question of Russian violations of the treaty," Bolton said after his meeting with Putin. "The question of Russian violations is long and deep, and something both the Trump and Obama administrations were very concerned about."
Bolton went out of his way Tuesday to demonstrate that U.S. accusations against Russia in the field of nuclear arms control go back years. At one point, he read off from remarks issued by President Obama's arms control chief Rose Gottemoeller in 2015, slamming Russia for breaching terms of the treaty. The missile in question is a new Russian ground-launched cruise missile, the 9M729.
The Kremlin, for its part, has questioned Washington's Mk-41 universal launch systems, which are used to fire antiballistic missile interceptors, in Eastern Europe. Russia says the systems can also be used to fire medium-range cruise missiles.
Echoing earlier Russian sentiments that U.S. withdrawal from the treaty would risk sparking an arms race, Kremlin spokesman Dmitry Peskov told reporters Tuesday that "quitting the agreement first and then discussing the hypothetical, ephemeral possibility of concluding a new treaty is a pretty risky stance," the state-owned Tass news agency reported.
Amid Trump's statements, there had been speculation that Bolton was being sent to Moscow to deliver official notice of U.S withdrawal. In 2001, he was sent on a similar errand by President George W. Bush, when the U.S. unilaterally withdrew from the 1972 Anti-Ballistic Missile Treaty. Bolton joked Tuesday that he made that announcement in the same room.
It now appears that the rhetoric from Trump's camp could be a negotiating tactic aimed at bringing Russia back into compliance with the treaty, providing the U.S. with cover to build new weaponry of its own or somehow expanding it to also include limitations on Chinese nuclear weapons. Bolton did not elaborate on how any of this might be accomplished, but China, not a party to the treaty, is being used to justify the U.S. position for scrapping it.
"There is a new strategic reality out there," Bolton said. "This was a Cold War bilateral ballistic missile-related treaty in a multi-polar ballistic missile world. And I think this latter point is something that concerns the Russians very substantially."
Asked whether he discussed bringing China into the INF treaty during his meeting with Putin, Bolton said that "on the conceptual possibility of universalizing the treaty, yes that is something we thought of as far back as 2004 and some efforts were made to see if it might be possible to extend the treaty. Then, shortly thereafter, they failed."
Bodner is a special correspondent.
---
Must-read stories from the L.A. Times
Get the day's top news with our Today's Headlines newsletter, sent every weekday morning.
You may occasionally receive promotional content from the Los Angeles Times.