Venezuela's President Nicolas Maduro reelected amid boycott by opposition groups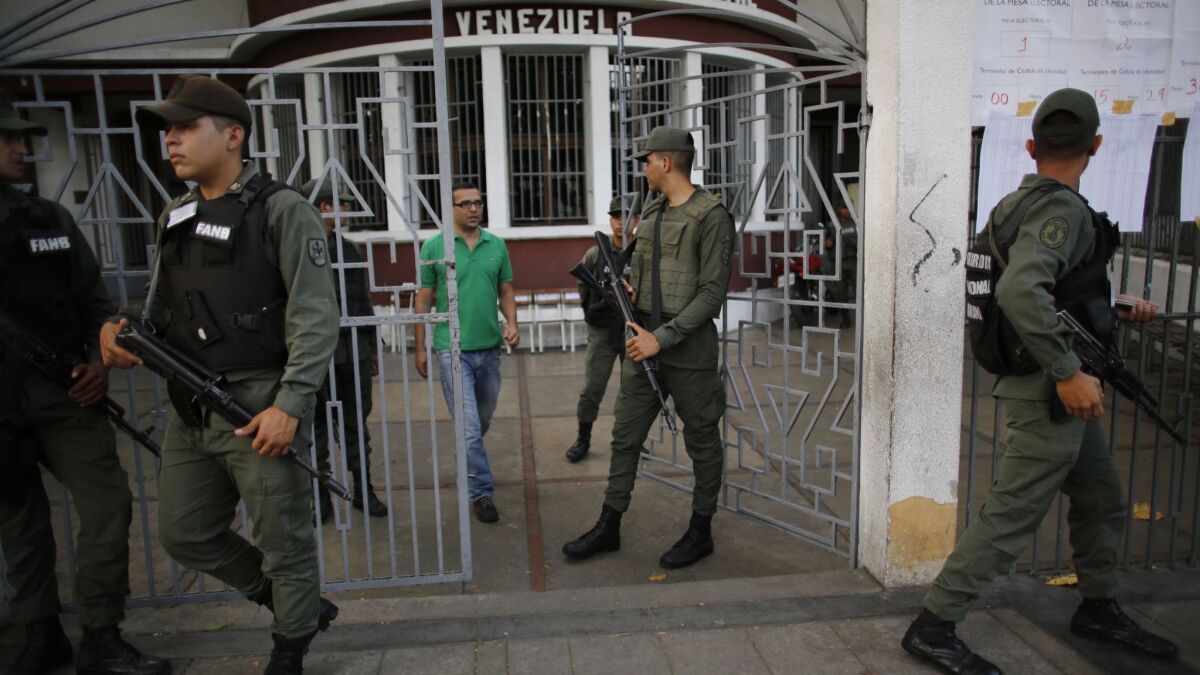 Reporting from CARACAS, VENEZUELA —
Venezuelan President Nicolas Maduro won reelection Sunday in a vote marred by an opposition boycott and a victory that critics viewed as illegitimate.
According to a bulletin issued by the National Electoral Council with 93% of the ballots counted, Maduro won with 5,823,728 votes, or 68% of votes cast, to second-place finisher Henri Falcon's 1,822,552, or 21%. Third-place finisher Javier Bertucci, an evangelical pastor, got 921,042 votes, or 11%.
Thus, despite Venezuela being in crisis mode with its economy in ruins and suffering from rampant crime, Maduro is primed to serve another six-year term as president starting next year and continuing through 2025.
Voting occurred amid widespread apathy and a boycott called by opposition leaders that appeared to leave polling centers nearly deserted. Still, the Maduro-controlled electoral council said voter turnout was 46% of those eligible.
Schools, auditoriums and other polling places in Caracas and other cities that are usually packed with long lines of voters were nowhere near their normal pace.
"We are in a very difficult situation," said Caracas schoolteacher Carmen Mendez, 35, who said she participated in the boycott. "Our salaries aren't enough to eat on, inflation is killing us and these elections won't solve anything. They will only bring more misery."
The Democratic Union bloc of opposition parties — known by its Spanish initials, MUD — had urged its followers to boycott the election as fraudulent. The boycott came after the supreme court, packed with Maduro loyalists, steadily stripped the opposition-controlled National Assembly of its powers.
That democratically elected legislative body was supplanted last year by a new constitutional assembly filled with members of Maduro's United Socialist Party of Venezuela, or PSUV, that has approved repressive measures and continued to limit the rights of opposition politicians, critics say.
A British firm that had operated voting machines in the 2017 election of constitutional assembly members left Venezuela last year after claiming total votes had been inflated by 1 million ballots.
The United States, European Union and several Latin American countries including Colombia said they would not recognize the results of Sunday's election.
Late President Hugo Chavez named Maduro as his successor shortly before he died of cancer in March 2013. Maduro, a former bus driver and labor leader, was then elected in his own right a month later, barely beating opposition leader Henrique Capriles.
"Venezuela is on the road to political stability," Maduro told reporters after casting his vote in the Catia barrio, three miles from the presidential palace in Caracas. "Your vote decides, [will it be] votes or bullets, peace or violence?"
Although many Venezuelans consider Maduro responsible for Venezuela's food shortages, crippling inflation and crime, he was expected to win in part because of the boycott.
Maduro's opponents, former Lara state Gov. Falcon and evangelical preacher Bertucci, on Sunday both alleged voting irregularities, specifically giveaways by Maduro partisans to voters promising to support the president.
Falcon, after voting in the northwestern city of Barquisimeto, the capital of the state he once governed as a Chavez loyalist, said many voting places featured so-called red points, installations staffed by Maduro supporters that he said served as "mechanisms of pressure, elements of political and social blackmail."
At the end of the campaign last week, Maduro promised "cash prizes" to followers who voted.
"How could you not protest when [Maduro] treats people as if they were sheep?" Bertucci said after voting in the city of Valencia, west of Caracas. "You have to give freedom to people."
Almost 75% of households said they received government-issued food boxes in the last three months, according to the Venezuelan polling firm Datanalisis, and Maduro promised on the stump that the 16.5 million holders of the fledgling "fatherland cards," seen being scanned at red points, would be rewarded for their vote, the Associated Press reported.
National Electoral Council President Tibisay Lucena said officials had confirmed a handful of complaints and rectified any violations, but he insisted that overall they were "nothing in comparison to previous electoral processes," according to the AP.
A 2010 study by the Brookings Institution covering 171 electoral boycotts around the world found that such maneuvers rarely succeeded in rendering elections illegitimate in the eyes of the world. Instead, the boycotting party usually emerged weaker and the incumbent empowered, the news service reported.
Despite the boycott urged by opposition parties, some voters did show up at polling places.
"My friends and family members called me to urge me to vote," said Sergio Casas, a 70-year-old retired municipal worker, after voting for Maduro in the Catia barrio. "I didn't want to vote, but I was afraid I would lose my pension. It isn't much, but it's the only money I get, so why risk it?"
Mogollon is a special correspondent. Special correspondent Chris Kraul in Bogota, Colombia, contributed to this report.
Must-read stories from the L.A. Times
Get the day's top news with our Today's Headlines newsletter, sent every weekday morning.
You may occasionally receive promotional content from the Los Angeles Times.