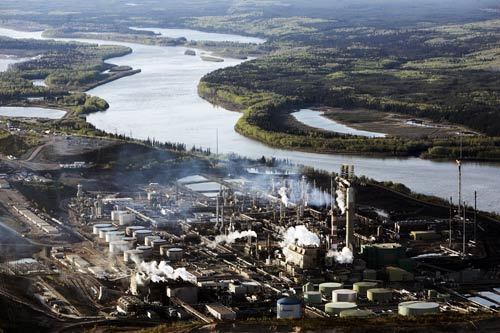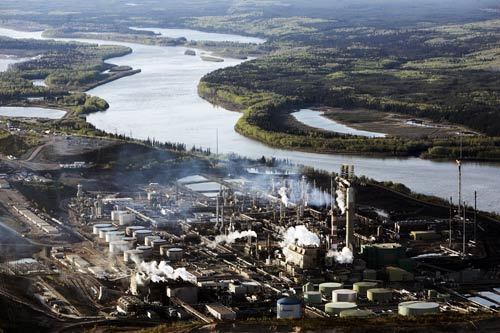 Suncor Energy refineries and pipeline terminals rest alongside the Athabasca River, where the company mines for oil sands in Alberta, Canada. Alberta's oil sands -- a wild, Florida-sized region where moose, bear and beaver inhabit watery woodlands -- yield 1 million barrels of oil a day and harbor more proven reserves than anyplace on earth except Saudi Arabia.
(Genaro Molina / LAT)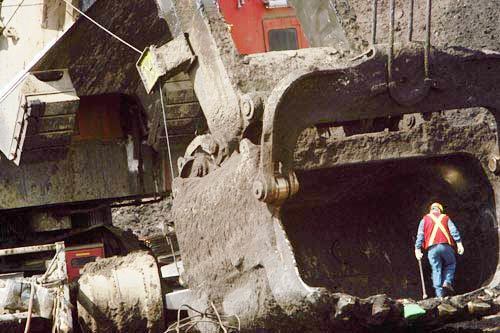 At the base of the Aurora mine about 45 miles north of Fort McMurray, a worker is dwarfed by the mouth of a gigantic electric shovel used to dig up oil sands. The mine is operated by Syncrude Canada Ltd., based in Fort McMurray. The worker was preparing to replace the teeth of the electric shovel, which can scoop up 43 cubic meters of earth at a time.
(Genaro Molina / LAT)
A barge uses a boom to scrape remnants of oil from the surface of a tailings pond at the Syncrude site.
(Genaro Molina / LAT)
Syncrude spokesman Alain Moore walks through an area that had been mined for oil sands and restored. Syncrude reports that it has reclaimed a quarter of the land disturbed by mining, although the government has not yet certified the land's ability to sustain wildlife and plants.
(Genaro Molina / LAT)
A buffalo stands under a cloud filled sky at the Beaver Creek Wood Bison Ranch, which is part of Syncrude's land reclamation program in Alberta, Canada. Syncrude, in cooperation with the Fort McKay First Nation, have developed wood bison habitats. More than 300 wood bison now graze on land reclaimed from Syncrude's mining and tailings operations.
(Genaro Molina / LAT)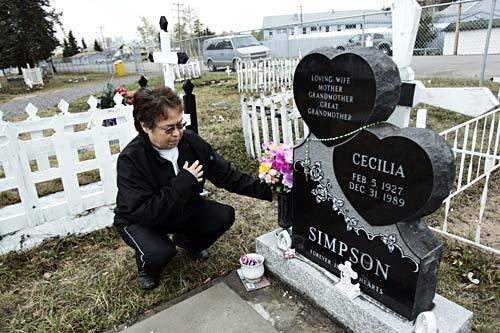 Mary Simpson, who directs the Aboriginal Head Start and Day Care Program, visits her mother's gravesite in Fort Chipewyan, Canada. Her mother died of leukemia in 1989 at age 62. Simpson's daughter, Ivy, contracted cervical cancer 10 years ago and her aunt had breast cancer. "Sixty…years down the line, there will be no more oil, so all these oil companies will leave the aboriginal people here with all our sickness. I pity my five grandchildren."
(Genaro Molina / LAT)
Johnny Courtoreille, 71, reflects on the high incidence of cancer in Fort Chipewyan, which has fewer than 1,200 residents. The local nursing station has documented an increase in cancer-related deaths during the past decade. Of 21 deaths last year, eight were from cancer. Many residents blame pollutants from the oil sands production upstream along the Athabasca River.
(Genaro Molina / LAT)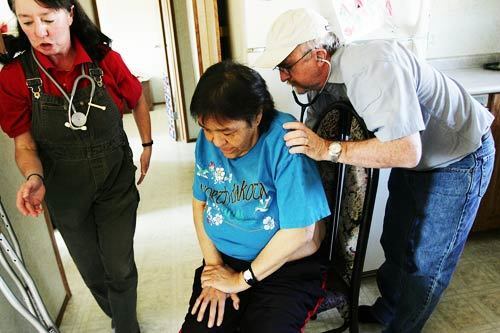 Dr. John O'Connor, 50, examines Lila Ahyasou, 48, of Fort McKay, Canada, during a house call with registered nurse Theresa Maffenbeier, left. Last year O'Connor went public with his observation that he had been seeing an alarming number of rare cancer cases. Canadian health authorities filed a complaint against him alleging that he was unduly alarming the public. The complaint is still pending.
(Genaro Molina / LAT)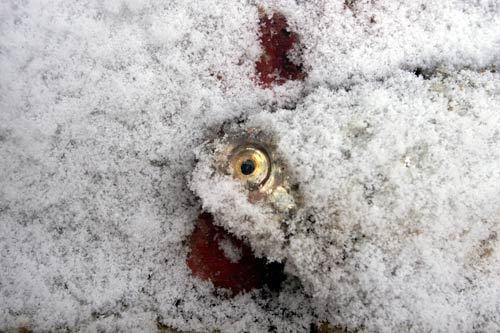 A freshly caught golden eye fish is covered in snow along the Lake Athabasca. Some Fort Chipewyan residents believe that oil sands pollutants are the cause of deformities and tumors found in fish caught in the lake. Industry-funded monitoring of the Athabasca River found that the number of observed abnormalities in fish had dropped by more than half since 2005. The lake was not studied.
(Genaro Molina / LAT)
A densely packed mobile home park is a sign of the growing pains from oil sand mining in Fort McMurray. The population of the former fur trading settlement has nearly doubled since 1995 to more than 65,000. Workers are lured by salaries that often top $100,000 a year. Affordable housing is so scarce that some people live in garages and their vehicles.
(Genaro Molina)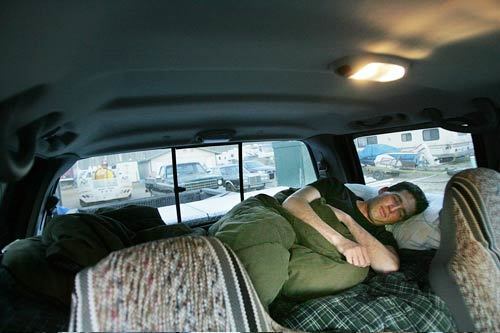 Alayne Guibeault has been living out of his truck since December, using an electric heater to endure below-zero temperatures in the winter. The space costs him $900 Canadian dollars a month. He is a heavy equipment operator on the construction of a water treatment facility. "My plan," he said, "is to make money, bring my wife and girl here, and maybe after four years buy a house."
(Genaro Molina / LAT)
Night falls over Fort Chipewyan, the oldest settlement in Alberta. Provincial water officials say they know of no water pollution from the oil sands, but some town elders who once dipped cups to drink directly from the lake now even avoid drinking from remote streams when they hunt and trap.
(Genaro Molina / LAT)