In Mexico's Guerrero state, priests are a prime target for drug gangs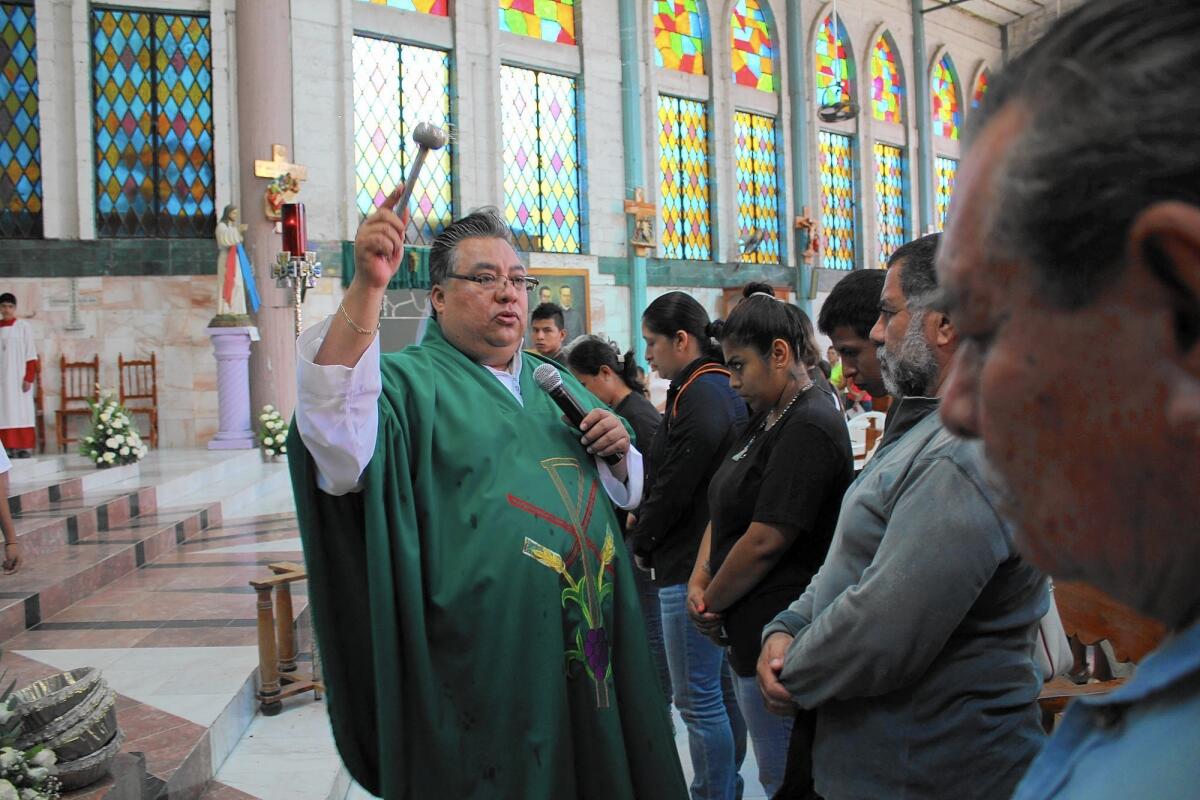 reporting from Iguala, Mexico —
Father Oscar Prudenciano Gonzalez opened his arms wide to his congregation on a recent Sunday morning in the San Gerardo church of Iguala, in the state of Guerrero.
"We are going to pray for those families who have missing people," he said. "That God gives them the strength, the peace and the well-being so that they can carry on searching without tiring, but also with the understanding and support of everyone."
Father Oscar, 43, might do well to pray for himself too.
In the last three years, 11 priests have been violently killed in Mexico, and two more remain missing. Last week, the body of Father Erasto Pliego de Jesus, which bore signs of torture, was found on a country road in Puebla state. He had been missing for three days, according to local news reports, after he was seized by a group of armed men who stopped his truck.
Violence against Catholic priests has been on the rise since President Enrique Peña Nieto took power in 2012, according to Mexico's archdiocese. Omar Sotelo, who works for the Catholic Multimedia Center, said that the jump in violence is "significant" and that priests working in Guerrero state are among the most vulnerable.
"The priests who have been killed have been killed in very cruel, violent ways," he said, blaming the attacks on organized crime groups.
In Guerrero — Mexico's most violent state, according to official statistics — a group of bishops from the Archdiocese of Acapulco, the coastal seaside resort, issued a plea to the government and public this month to collaborate to combat the violence, which has also resulted in the deaths or disappearances of tens of thousands of Mexican citizens in recent years.
During Mass that morning, Father Oscar directed his prayers to the dozen people lined up near the altar wearing black T-shirts bearing a message in Spanish in white letters: "I will look for you until I find you."
The mass abduction of 43 college students from Iguala last year — after they were detained by police who were later reported to be working for a local drug gang — drew the world's attention to the community, which is surrounded by hills dotted with clandestine opium poppy fields that fuel heroin sales.
The Catholic Church's history in Latin America has long been one of defender of the poor and weak, a founding principle of liberation theology, which developed in the region in the 1950s.
In Mexico, Catholic priests are among the most outspoken advocates of human rights, especially when it comes to the Central American migrants headed north to the United States. Father Alejandro Solalinde in Oaxaca and Father Pedro Pantoja in Saltillo are deeply involved in the defense of migrants, who are a key source of income for corrupt officials and organized-crime gangs, who kidnap them and extort money from them. Both priests have received death threats.
Bernardo Barranco, a sociologist specializing in religion, said that Catholic leaders haven't done enough to protect their front-line clergymen.
"The church has been very lukewarm — it doesn't want to confront the government about this. They're in their comfort zone, very installed in the networks of power — the leadership of the church — and they don't want to open new fronts," he said.
That could be about to shift: Pope Francis is due to visit Mexico in February and is reportedly planning to visit several states beset by violence. His itinerary, which does not include Guerrero, could be interpreted as reflecting a concern about Mexico's human rights situation and bloodshed.
The rise of violence against priests might also suggest that their sacred position in the community could be slipping. Father Oscar attributes it to a loss of faith, which in turn contributes to a lack of respect.
Before coming to Iguala, he was based in Apaxtla, a smaller, more isolated town in the mountains of Guerrero. He said that he needed a police escort when he traveled there to take up his post and that violence was a constant in an area claimed by two local drug gangs. At one point, his truck was stopped by a gang member who pointed a gun. He thinks he survived only because at that moment a shootout began between his aggressor and a rival gang.
"I got caught in the crossfire, but fortunately I escaped unharmed but very frightened — I thought I was going to die," he said. "People have so much ambition, so much hate, so much disregard for life."
Barranco said that the rise of violence against priests reflects the role in which they place themselves: as warriors on the front lines of the struggle for human rights in the midst of drug-related violence.
"It's political and part of the current nightmare we're living here in Mexico, where violence has become generalized and, so, is reaching the clerical sectors of the country," he said.
The growing popularity of narco-based beliefs or cults illustrates the adaptation of saintly worship to narco needs, Barranco said.
"These sorts of religiosity open up the ability to generate evil to those who become trapped," he said. "They provide an ideological justification for what they're doing, making it into a calling."
For those who remain loyal to the church, priests such as Father Oscar provide moral strength and support. The priest is sanguine about the personal risks of supporting those who are speaking out.
"We've always been afraid … but the needs of the people right now is greater than our fear," he said. "My role with this group is to build their morale, their faith and their hope, that they don't lose their energy and they carry on praying and believing in God. That's all I do."
Bonello is a special correspondent. Cecilia Sanchez in The Times' Mexico City bureau contributed to this report.
ALSO
Colorado embodies nation's divide over gun control
Paris climate conference expected to bring historic deal on emissions
Boy's murder conviction sharpens debate on whether juveniles are fit to waive rights
Sign up for Essential California for news, features and recommendations from the L.A. Times and beyond in your inbox six days a week.
You may occasionally receive promotional content from the Los Angeles Times.