It costs $150 to buy a dozen eggs in Venezuela right now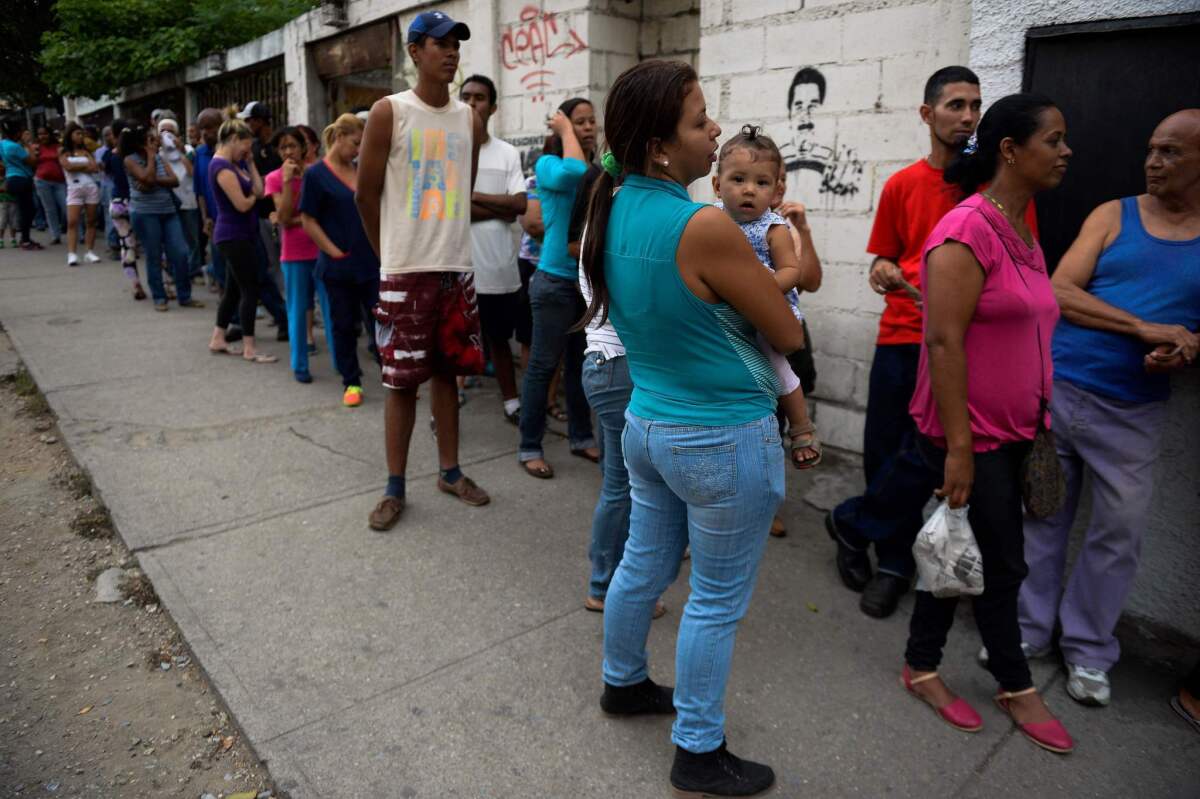 The International Monetary Fund has predicted that inflation in Venezuela will hit 720% this year. That might be an optimistic assessment, according to some local economic analysts, who expect the rate to reach as high as 1,200%.
A sharp drop in global prices for oil -- on which Venezuela depends for most of its foreign currency -- is a big part of the problem. Critics also accuse the government of irresponsible spending on social welfare programs and oil subsidies to Cuba and other countries.
To understand what that kind of inflation means, we spoke to Maria Linares, a 42-year-old single mother who works as an accounting assistant at a government ministry and lives in an impoverished neighborhood of the capital, Caracas.
Her monthly pay, including a food allowance, is 27,000 bolivars.
That's $2,700 a month at the official exchange rate of 10 bolivars to the dollar. But Venezuelans have so little faith in their currency -- or the government's ability to fix the country's deepening economic crisis -- that a dollar can fetch upward of 1,000 bolivars on the black market. At that rate, Linares earns just $27 a month.
Either way, it's not enough.
In December, she was spending about half her salary on groceries. It now takes almost everything she earns to feed her two children, who subsist on manioc (also known as cassava or yuca), eggs and cornmeal patties called arepas, served with butter and plantains.
"The last time we had chicken was in December," she said.
The best deals are generally at government-run stores, such as Mercal and Bicentenario, where the prices are regulated.
To shop there, however, Linares said, she has to line up overnight. Even then, she might come home empty-handed if everything sells out before she gets to the front of the line -- or if she is robbed leaving the store.
"The last time I bought food in a Mercal was three months ago," she said. "They sold me one kilo [2.2 pounds] of rice, a kilo of pasta, a kilo of sugar and a liter of cooking oil for 1,540 bolivars. But to buy the basket of regulated products, I had to buy a watermelon for 400 bolivars. I didn't want the watermelon and didn't have the extra money to pay for it."
These days, she buys most of her food from illegal street vendors known as bachaqueros.
Everything is more expensive, she said, and she might have to try five or six places to find what she needs. How much more expensive?
Here is what she spends on some staples:
Eggs
At the Mercal, a dozen eggs cost 450 bolivars in December.
The official price is now 1,020 bolivars. But Linares said she never finds eggs at the Mercal.
So she buys them from street vendors for around 1,500 bolivars -- a staggering $150 at the official exchange rate, or about $1.50 at the black market rate.
Manioc
In December, Linares could buy manioc for about 50 bolivars per pound at the government-run stores.
The official price is now about 300 bolivars per pound.
Street vendors sell manioc for less, about 200 bolivars per pound, but Linares said the quality is inferior.
Powdered milk
In December, Linares could buy powdered milk for her 10-year-old daughter and 8-year-old son for about 90 bolivars per pound at the government-run stores.
The official price increased to 245 bolivars in February.
But Linares said she pays between 750 and 1,000 bolivars per pound at the street markets.
Corn flour
Linares used to be able to buy corn flour to make arepas for just 9.5 bolivars per pound.
Last week, the official price increased to 95 bolivars per pound.
It's hard to find the product outside the government-run stores, and the price is much higher on the black market.
The family was never wealthy, Linares said, but such prices are making her and her kids feel poorer than ever.
"Now we are feeling hunger," she said. "I don't know what I'll do if prices keep going up."
ALSO
'We can't go on like this': Shortages, economic crisis make Venezuela a nation of lines
Unrest continues to grip Venezuela as president threatens to make opposition-controlled legislature 'disappear'
Venezuelans are fed up. Here's why
Twitter: @alexzavis
Special correspondent Mogollon reported from Caracas and Times staff writer Zavis from Los Angeles.
Sign up for Essential California for the L.A. Times biggest news, features and recommendations in your inbox six days a week.
You may occasionally receive promotional content from the Los Angeles Times.