Interpol accepts Palestinian Authority as a member despite U.S., Israeli objections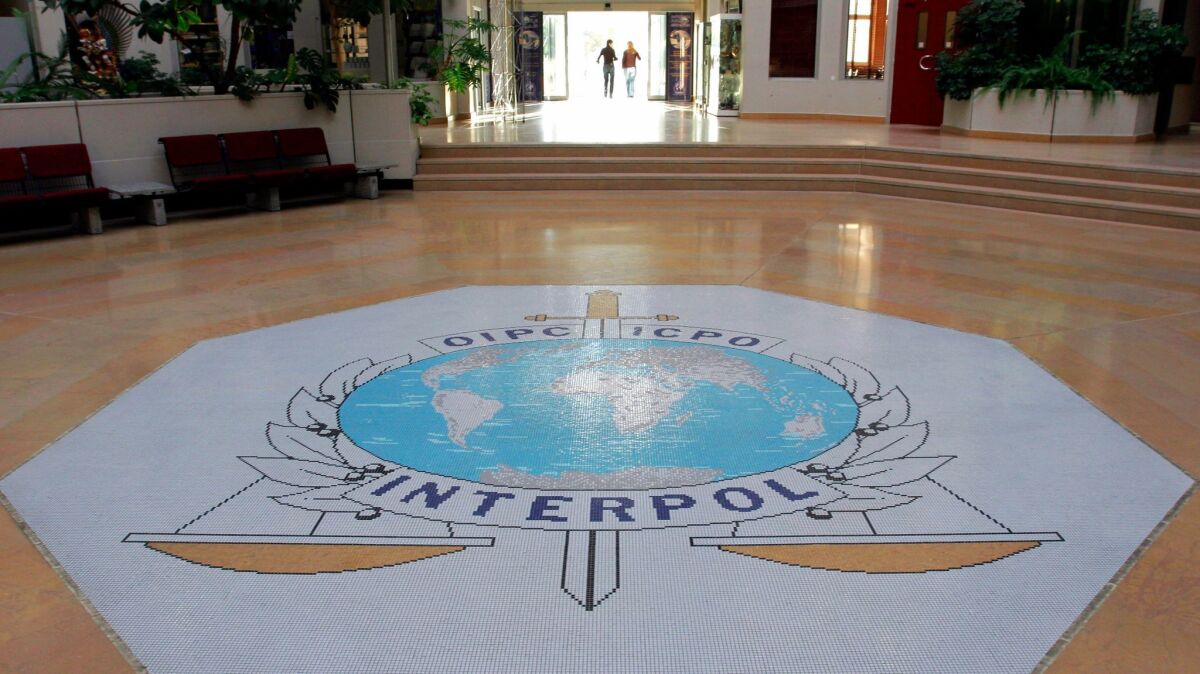 Reporting from Jerusalem —
Despite significant diplomatic pressure from the United States and Israel, the Palestinian Authority has been allowed to join Interpol, the international police organization.
In a statement, Hanan Ashrawi, a senior Palestinian official, said the "acceptance sends a clear message to the Israeli government that we are not population centers at its mercy; we believe in a system that is based on the global rule of law and due process, and one which enforces accountability and cooperation at the international level."
It was a painful loss for Israel in particular, after it pushed against Palestinian acceptance both on technical and substantive grounds, arguing that the Palestinian Authority did not meet Interpol's requirements to qualify as a state.
Under the 1993 Oslo peace agreement between Israel and the Palestine Liberation Organization, the Palestinian Authority was granted limited self-rule in the occupied West Bank and the Gaza Strip. In 2012, the U.N. General Assembly elevated the Palestinian Authority's observer status from "entity" to "non-member state," similar to the Vatican.
Israel argued that Palestinian inclusion in Interpol would endanger Israeli military officials and politicians, who could face arbitrary international arrest orders, and would put at risk classified intelligence shared among the organization's 192 member states, allowing it to be transmitted to Palestinian terrorists.
Seventy-five countries voted in favor during an Interpol meeting in Beijing, with 24 opposing and 34 abstentions. "The State of Palestine and the Solomon Islands become INTERPOL member countries," Interpol tweeted after the vote.
The Israeli Foreign Ministry did not immediately comment on the vote.
Palestinian Foreign Minister Riyad Maliki said in a statement that the "victory was made possible because of the principled position of the majority of Interpol members,"
"On this joyous occasion, the State of Palestine reiterates its commitment to upholding its obligations and contributing to fighting crime and furthering the rule of law," Maliki added.
Tarnopolsky is a special correspondent.
ALSO
In 3 slain security guards, Israel sees a patchwork of its society
Saudi Arabia says ban on women driving to end next year
Vast new intelligence haul fuels next phase of fight against Islamic State
Must-read stories from the L.A. Times
Get the day's top news with our Today's Headlines newsletter, sent every weekday morning.
You may occasionally receive promotional content from the Los Angeles Times.