Syria's Assad would consider U.N. cease-fire proposal for Aleppo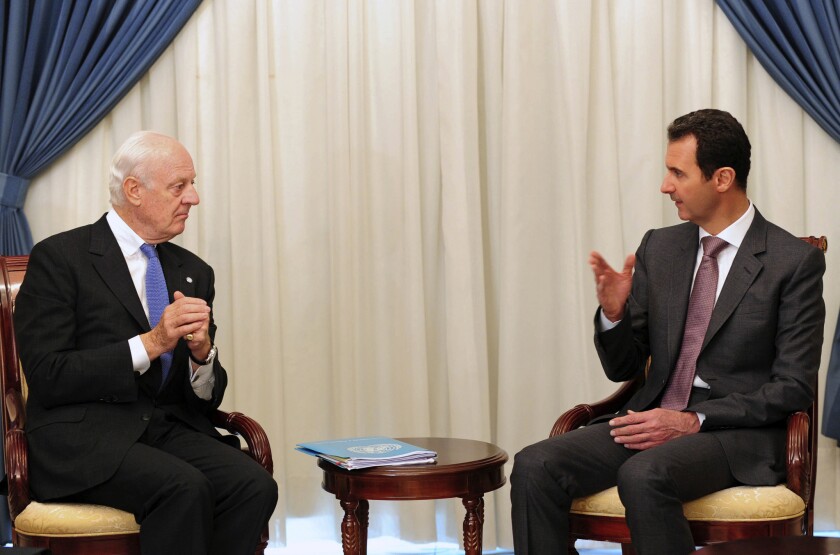 Reporting from Beirut —
Syrian President Bashar Assad said Monday that his government would consider a United Nations-backed proposal for a cease-fire in the embattled northern city of Aleppo, state media reported.
The Syrian government views the U.N. idea as "worth studying ... in order to attain its aims to return security to the city of Aleppo," reported the official Syrian news service, citing Assad. But Assad neither endorsed nor rejected the idea.
The message came after Assad met in Damascus with Staffan de Mistura, the U.N. special envoy for Syria. The veteran Italian diplomat is trying to craft a peace process for war-ravaged Syria, a goal that eluded his two predecessors, Kofi Annan and Lakhdar Brahimi. Both resigned from the Syrian envoy post in frustration.
De Mistura has been pushing a still-embryonic plan for local cease-fires across Syria as a means of ending a conflict in its fourth year, with no resolution in sight. Aleppo would serve as a kind of initial test case that negotiators could build upon.
All previous diplomatic efforts have failed to end the conflict in Syria, which has become a raging proxy battleground for outside powers. Rebels backed by the United States and its allies, including Saudi Arabia and Turkey, have been fighting to oust the Assad government, supported by Iran and Russia.
The chaos throughout much of Syria has contributed to the growth of militant rebel factions, including Islamic State, an Al Qaeda offshoot that now controls vast stretches of Syria and neighboring Iraq. While aiding rebels whom it deems "moderate," Washington is simultaneously leading an aerial bombardment campaign against Islamic State forces in Syria and Iraq.
The Syrian war has cost almost 200,000 lives, destroyed vast swaths of the country and forced more than a third of the population from their homes, according to U.N. estimates.
The U.N. envoy has a proposed a series of incremental "freezes" or cease-fires, starting with Aleppo. The northern city, once the nation's commercial hub, has been divided for more than two years into government-controlled and rebel-held zones. Large tracts of the historic city have been destroyed in bombardments and firefights.
The proposed freezes, the U.N. said Monday in a statement, "are intended first and foremost to lead to a de-escalation of the violence ... and allow for return to some normalcy for the civilians caught in the conflict."
Eventually, the U.N. said, diplomatic efforts could build on the cease-fires "to arrive to a national all-inclusive political process." But all agree that result is a long way off.
Few are optimistic that the cease-fires, which would require the approval of opposing sides, could take hold throughout the deeply polarized nation. But advocates say there are few other options to end the bloodshed. Proponents of the cease-fire idea also cite some past success with cease-fires in Syria.
Opposition activists and U.S authorities have accused the Syrian government of using cease-fires and "reconciliation" negotiations as a means to force rebels to surrender.
"We certainly support cease-fires that would provide genuine relief to Syrian civilians and are consistent with humanitarian principles," Jen Psaki, a U.S. State Department spokeswoman, told reporters Monday in Washington. "Unfortunately, many local truces achieved thus far have more closely resembled surrender arrangements."
Whether the government and opposition will agree to a cease-fire in Aleppo under U.N. auspices remains unclear. Government forces have been making steady gains in Aleppo and have pledged to retake the city.
But even some pro-government observers doubt that the thinly stretched Syrian army, which is fighting on many fronts, can ultimately wrest control of the entire city. On the rebel side, many armed factions, some with conflicting agendas, are in Aleppo. Negotiating a cease-fire in the city probably will be difficult, experts say.
Dozens of local cease-fires have been implemented throughout Syria, both short and long term, with varying degrees of success. Some have broken down amid allegations of bad faith by one side or the other. Others have remained in place, however tenuously.
In some cases, cease-fires have opened the way for delivery of food and other supplies to besieged neighborhoods. In other cases, such as in the city of Homs, opposition fighters were given safe passage from areas with their weapons.
Many cease-fires have involved exchanges of prisoners. Syrian authorities have offered amnesty to rebels who lay down their arms and pledge allegiance to the government. In some cases, opposition fighters have been able to retain light arms.
How the U.N.-backed cease-fires would function in Syria remains a major question mark.
Twitter: @mcdneville
---
The Latinx experience chronicled
Get the Latinx Files newsletter for stories that capture the multitudes within our communities.
You may occasionally receive promotional content from the Los Angeles Times.