Chevrolet executive Shad Balch hopes Bolt will get more drivers to go electric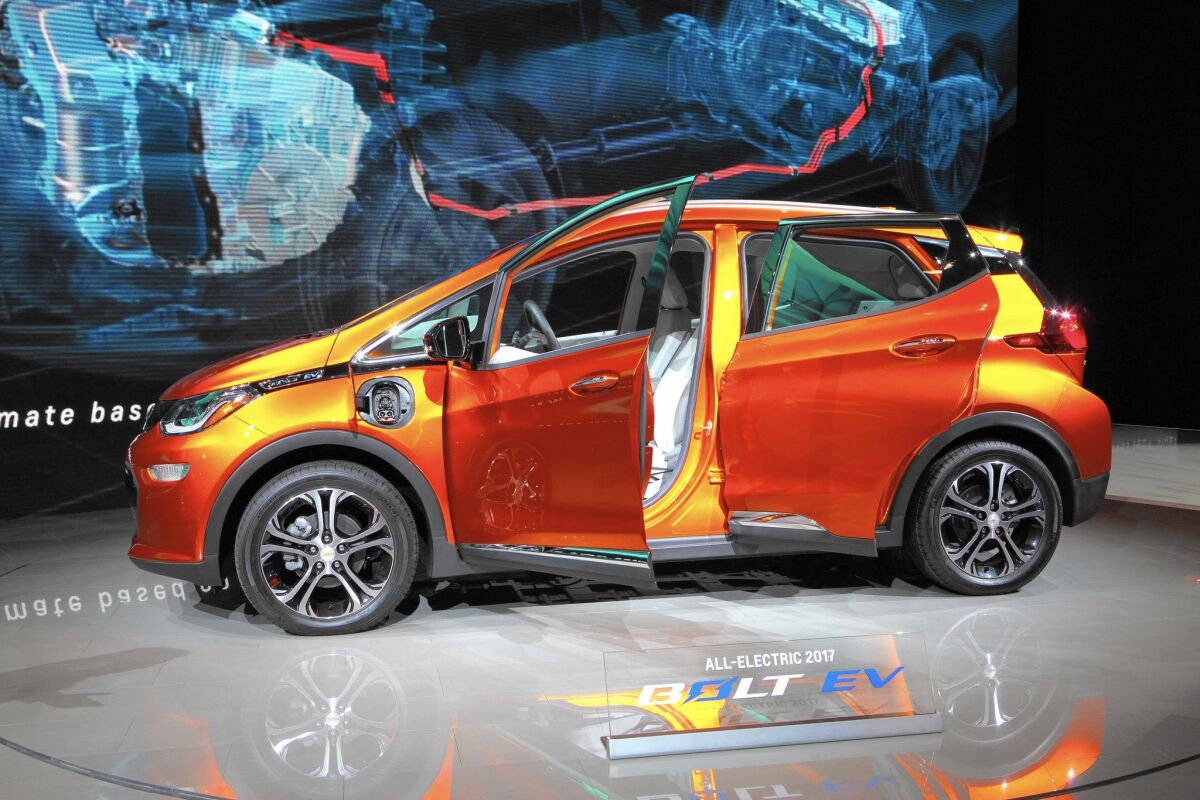 The feverish excitement about Tesla's promised Model 3, an all-electric plug-in sedan that will travel 200 miles or more a single charge and cost less than $35,000, has overshadowed Chevrolet's coming Bolt EV, which will have about the same range and price point as the Model 3 but is likely to go on sale far earlier.
We spoke with Shad Balch, Chevy's manager of new product, about the Detroit giant's electric car.
Your Volt hybrid has a lot of admirers. Is there any concern that a 200-mile plug-in Bolt EV will cannibalize Volt sales?
These are different cars for different consumers. The Bolt EV will be the vehicle for someone who wants a daily driver that uses no fuel and produces no emissions. The Volt is for someone who still needs a car with a gasoline engine that can make that long drive.
A report this week from Edmunds.com says that electric vehicle loyalty is at an all-time low — that more and more people are trading in their hybrids and plug-ins for high-mileage compact cars and SUVs.
We're at about the 100,000 mark for Volts sold and we are the No. 1 bestselling plug-in hybrid in the U.S. We're at the top of the customer satisfaction studies. Anecdotally, I know we have a lot of Volt customers waiting for their leases to expire so they can replace them with a new Volt.
Still, with gasoline prices remaining stable and market penetration of electric vehicles of all kinds flat or falling, how do you convince more people to go electric?
That's the challenge. We have to get people to drive the car. Once they do, they realize it's not just about the price of gas. It's about the performance — the torque at zero RPM, the silence, the lack of vibration. These are things we try to engineer into gasoline-powered cars, but they're all inherent in electric vehicles.
Elon Musk is getting a lot of attention for his planned Tesla Model 3, even though the cars will not be delivered until at least late 2017. Does that help or hurt the Bolt EV's prospects?
It helps. It helps the whole industry. Every story about the Model 3 includes a mention of the Bolt EV and our target date is ahead of theirs. We're on track. Pre-production models have rolled off the line about six weeks ago. We are on schedule to begin production at the end of this year, with deliveries to start immediately afterward.
Some Tesla watchers wonder what kind of Model 3 Musk can deliver for $35,000, and believe that a fully loaded version will cost $50,000 or more. Will there be many trim levels of Bolts?
Not really. There will be some options, but the base car will have most of our content and connectivity features, including active safety features. That will all be standard from the lower trim level.