Tesla shareholders approve pay plan for Elon Musk worth up to $55 billion over 10 years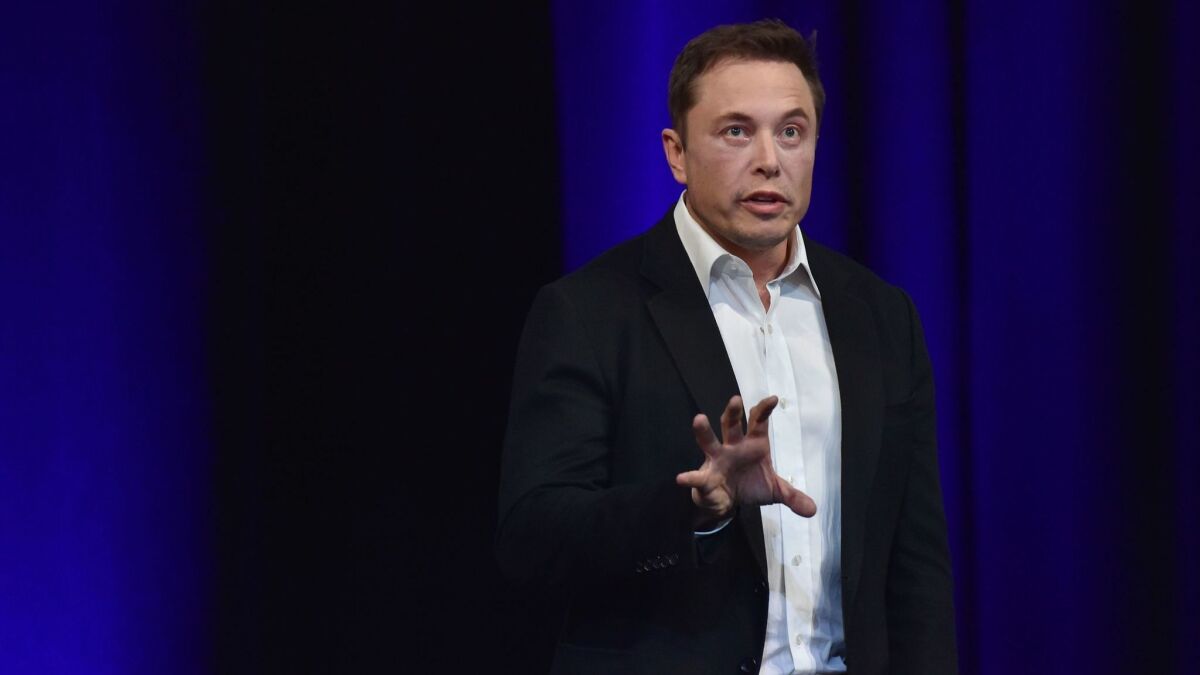 Reporting from San Francisco —
Tesla Inc. shareholders have approved a mammoth 10-year pay package for Chief Executive Elon Musk.
The package was approved by 73% of votes cast, according to a Tesla filing. Shares held by Musk and his cousin Kimbal Musk were not included in that total.
Although nominally valued at $2.6 billion, Musk's pay package could generate $55 billion or more for Musk if Tesla hits a series of aggressive financial goals.The pay plan approval comes weeks before the Palo Alto automaker reveals whether its troubled Model 3 electric-sedan program is getting back on track and before it announces first-quarter losses that some analysts say could reach $1 billion.
But if Musk can turn things around, he'll position himself for huge paydays and stockholders for enormous gains in market value. Unlike most executive pay plans, Musk's is a pure performance package: no salary, no bonus, no stock grants.
Only stock options will be offered, pegged to Musk's ability to lift Tesla's total market value far above its current $56 billion while meeting specific revenue and profit milestones.
"It's a win-win for shareholders and for Musk," said Efraim Levy, stock analyst at CFRA Research. "If the stock goes up, they both gain. On the other hand, is it really necessary to incentivize him [Musk] so highly? He's already an owner and has staked his personal reputation" on Tesla's success.
The plan requires Tesla's market value to hit $100 billion, up from $53.7 billion today. With every $50-billion gain after that, Musk is richly rewarded with stock options, until the company's market value hits $650 billion.
Musk's former pay plan, formulated in 2012, was also based mainly on stock options linked to performance. But the focus was more on making sure products get out to market, and less on financial metrics. Options accounted for much of the 22% share of the company Musk now owns. Last year, Musk's salary amounted to $49,720. Under the new plan, he will no longer be offered a salary.
The value of Musk's current Tesla holdings, $12 billion, will increase by billions of dollars if the company's market value continues to grow. A maximum payout under the new plan would put Musk's total ownership at about 28% with a market value around $182 billion.
Two major firms that advise institutional shareholders — Glass Lewis and Institutional Shareholder Services — had advised clients to reject the plan, mainly because of its large size and questions about whether the pay package would provide real motivation for Musk.
On the question of motivation, Tesla has said Musk is dedicated to spreading human civilization to other planets, starting with Mars, which would require enormous sums of money.
Rumors have spread that Musk wants to leave Tesla and focus on his rocket company, SpaceX. Musk has denied those rumors.
Right now, Musk is a long way from hitting any of the pay plan milestones. The crucial Tesla Model 3 introduction is in trouble, as Musk and his team struggle with serious production problems.
Originally Musk had planned to be turning out hundreds of thousands of Model 3s by now. The demand appears to be there — last year, the company said about 455,000 people had put down $1,000 refundable deposits.
In the week of April 1, the company is expected to reveal whether it has met its most recent goal of producing 2,500 cars a week.
The company continues to burn cash and lose money. Still, Tesla boasts legions of believers. Although its stock has been under pressure in recent weeks, Tesla's market value tops General Motors' by nearly $1 billion.
Tesla shares rose $5.98, or 1.9%, to $316.53 on Wednesday.
Twitter: @russ1mitchell
---
UPDATES:
3:10 p.m.: This article has been updated with a vote tally.
This article was originally published at 11:10 a.m.
---