Tesla's stock gets slammed again as Musk reportedly grabs control of Model 3 manufacturing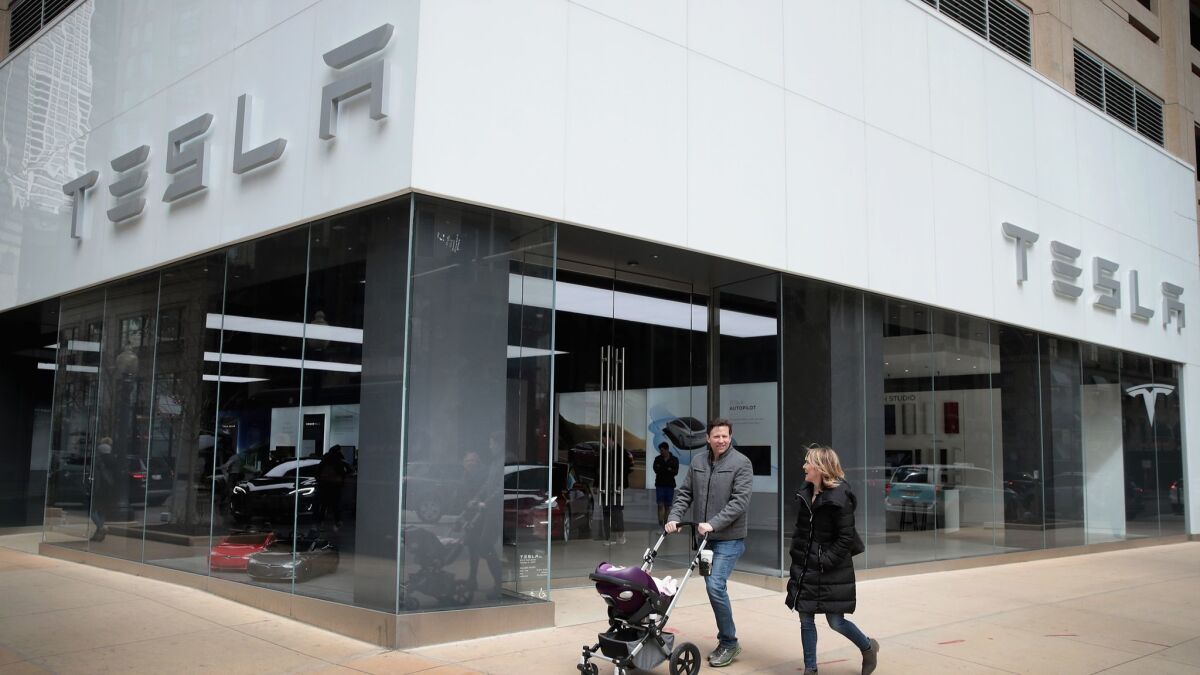 Tesla Inc. stock plummeted again Monday on a report that Tesla will not meet its first quarter Model 3 production goals and that Chief Executive Elon Musk will take over Model 3 manufacturing.
That followed a full week of bad news for Tesla, including a big recall of Model S cars and an investigation into a fatal Autopilot-related crash of a Model X SUV.
Tesla shares slid more than 7% before recovering to close down 5% to $252.48. They have sunk about 19% this year.
This week, the automaker is set to report production figures. An internal memo to Tesla factory workers, first reported by Bloomberg, asked for volunteers last week to come off the Model S and Model X production lines to help out with Model 3 production and disprove the "haters" betting against the company.
Meantime, The Information, quoting two unnamed sources, reported Monday that Musk has taken over Model 3 manufacturing, pushing aside Chief Engineer Doug Field. Tesla told the online news site that "Model 3 production is the highest priority at Tesla, so Elon is focusing his time there while Doug focuses on vehicle engineering."
Tesla had a goal of assembling 2,500 Model 3s a week by the end of March. But the automaker has repeatedly fallen short of its production goals. In a companywide email acquired by auto news site Jalopnik, Chief Executive Elon Musk told Tesla workers that the company is about to exceed the 2,000 mark — still shy of the goal, but he called it "mind-blowing progress."
Musk recently made light of Tesla's troubles, tweeting an April Fools' joke on Sunday that the Palo Alto company had gone "completely and totally bankrupt" despite efforts to raise money, "including a last-ditch mass sale of Easter eggs."
"There are many chapters of bankruptcy and, as critics so rightly pointed out, Tesla has them *all*, including Chapter 14 and a half (the worst one)," Musk tweeted Sunday.
He followed up that tweet with one showing a staged photo of himself against the side of a vehicle, surrounded by a cardboard box that read "Bankwupt!" written in black marker. The text accompanying the photo read: "Elon was found passed out against a Tesla Model 3, surrounded by 'Teslaquilla' bottles, the tracks of dried tears still visible on his cheeks."
Despite the company's bad news week, Efraim Levy, equity analyst at CFRA Research, said the firm would maintain its "hold" rating on Tesla stock. Levy said in a note to clients Monday that the "future of the vehicle electrification market," as well as an "eventual" resolution to vehicle production issues could be an "upward catalyst" for shares.
Still, Musk's joke did little to quell investors' concerns.
On Tuesday, the National Transportation Safety Board said it would investigate the fatal crash of a Model X SUV in Northern California. The vehicle hit a highway barrier near Mountain View on March 16 and then caught fire. Tesla said later in the week that the car's semiautonomous Autopilot feature was engaged at the time of the crash and that the driver had his hands off the wheel for six seconds.
An NTSB spokesman said Monday that the agency is "unhappy with the release of investigative information by Tesla." The agency said its next update will come in a preliminary report, which generally takes weeks.
And on Thursday, Tesla said it was recalling all Model S sedans built before April 2016 — about 123,000 cars — after observing "excessive corrosion in the power steering bolts." The company did say in an email to affected customers that the problem occurred only in "very cold climates," particularly in localities that use magnesium or calcium road salts to clear roads of snow.
The Associated Press contributed to this report.
Twitter: @smasunaga
---
UPDATES:
2:30 p.m.: This article was updated with new information about Tesla's production plans.
1:22 p.m.: This article was updated with information about Musk taking personal control of Model 3 production.
11:35 a.m.: This article was updated with Tesla's stock movement and with news of a companywide email by Chief Executive Elon Musk.
9:20 a.m.: This article was updated with Tesla's stock movement and with comments from analyst Efraim Levy.
8:25 a.m.: This article was updated with Tesla's stock price, more details about Musk's April Fools' Day tweets and more context about the automaker's production goals.
This article was originally published at 7:25 a.m.
---