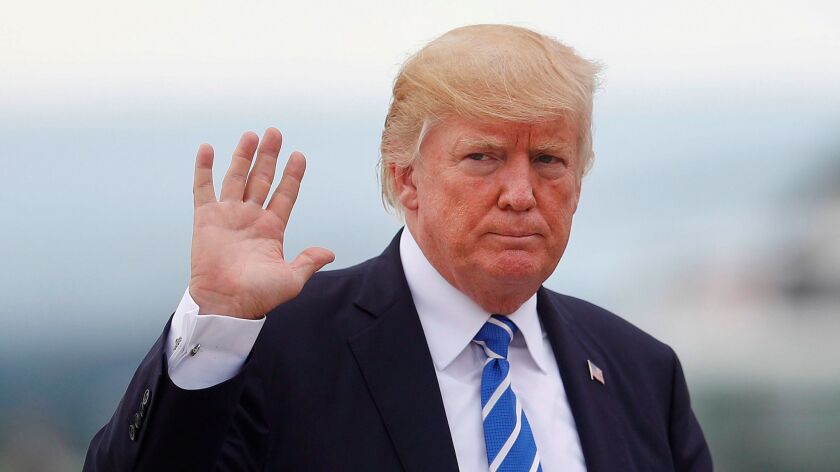 Defending President Trump can be a lonely job, and this week it has become particularly tough for the TV news outlets to find someone to do it.
Executives and producers across the networks say the president's harshly received comments on last weekend's deadly clash between far-right groups and counter-protesters in Charlottesville, Va., have made it difficult to book guests to speak on behalf of the Trump agenda.
CBS News was turned down by 16 Republican members of Congress before finally booking Sen. Tim Scott, R-S.C.,to appear on this Sunday's edition of its Washington discussion show "Face the Nation," said a network insider not authorized to comment publicly. And Scott has been a vocal critic of his party's president, saying his "moral authority has been compromised."
Both Chuck Todd, moderator of NBC's "Meet the Press," and Fox News anchor Shepard Smith also said they could not get GOP representatives on their shows this week as the rebuke of Trump's remarks — in which many say he equated white supremacist groups with the protesters who opposed them — grew stronger.
"It's hard to find members at this point who are willing to come out and give a full-throated support of the president," said one TV news executive who asked for anonymity to speak freely on the matter. (None of the network executives would publicly discuss the booking issues.)
Executives and producers privately say the controversy over Charlottesville has only intensified a challenge that has existed since the day the president entered the White House – finding pro-Trump commentators and guests. It's likely to intensify the demand for the staffers who are exiting the White House. Both former press secretary Sean Spicer and ousted chief of staff Reince Priebus are being shopped to the networks for jobs as contributors.
With Republicans dominating Congress, there is no shortage of available conservative voices. But being a Republican these days doesn't mean a person will speak in defense of the administration.
MSNBC, which courts liberal viewers in the evening, has a host of Republican contributors, including former Republican National Committee Chairman Michael Steele and Rick Tyler, who served as a spokesman for Sen. Ted Cruz's presidential bid. The cable news network's 4 p.m. Eastern hour is anchored by Nicolle Wallace, a communications veteran of the George W. Bush administration. They have all been as harsh critics of the Trump presidency as any Democrat.
Ana Navarro, a Republican strategist who is a contributor on CNN, uses the hashtag #PresidentLoco when tweeting about Trump.
CNN kept pro-Trump Jeffrey Lord on its payroll because of a need to provide balance to its coverage. But Lord faced criticism for his commentary. He was recently fired from the network after using the Nazi salute "Sieg Heil" on Twitter.
Even Fox News, where viewers tend to go for a more favorable reading on Trump's performance, is having moments in which its right-leaning commentators are grappling with how to rationalize the president's behavior.
Conservatives have been buzzing about the contretemps between commentators Charles Krauthammer and Laura Ingraham. Krauthammer called Trump's comments about white supremacists "a moral disgrace." Ingraham, a steadfast supporter of Trump's policies, told Krauthammer she was not going to pass moral judgment on "whether Donald Trump is morally on the same plane as you are, Charles."
James Murdoch, the chief executive of Fox News parent 21st Century Fox, joined the growing number of business leaders who have gone out of their way to condemn Trump.
Fox News executives will be watching to see if Trump's growing unpopularity and questions about his competency will have an impact on the ratings of the cable network, which despite losing major on-air talent and addressing its sexual harassment problems has remained No. 1 in the ratings.
On nights when the news about Trump is particularly bad — such as the fallout over his impromptu news conference Tuesday – most of the Fox News commentators focus on bashing the media coverage they see as unfair to the president. But Fox is facing stiff competition. Fox News had a rare third-place finish behind CNN and MSNBC among viewers aged 25 to 54 on Tuesday, according to Nielsen.
While Fox News is not deviating from its conservative-leaning coverage, it is considering a change to its line-up. Its freewheeling discussion program "The Five" is expected to eventually move out of prime time and back to the early evening where it originated. It will likely be replaced by a show hosted by Ingraham. "The Five" would replace "Fox News Specialists," which has been a ratings weak spot in the network's daytime line-up.
But John Podhoretz, a conservative commentator and columnist who frequently appears on MSNBC's "Morning Joe," said Trump's recent travails are not likely to affect the popularity of Fox News with its audience.
"It's not like there is another conservative show opposite Fox News that could steal conservative viewers who are anti-Trump," Podhoretz said. "We just don't watch anybody."
Twitter: @SteveBattaglio
ALSO
Another program change could bring conservative commentator Laura Ingraham to Fox News in prime time
Seth Meyers calls Trump 'a lying racist' over his Charlottesville news conference
On 'Weekend Update,' 'SNL' alum Tina Fey advises staying home during far-right rallies
---