Uproxx Media works with brands to make ads millennials actually want to watch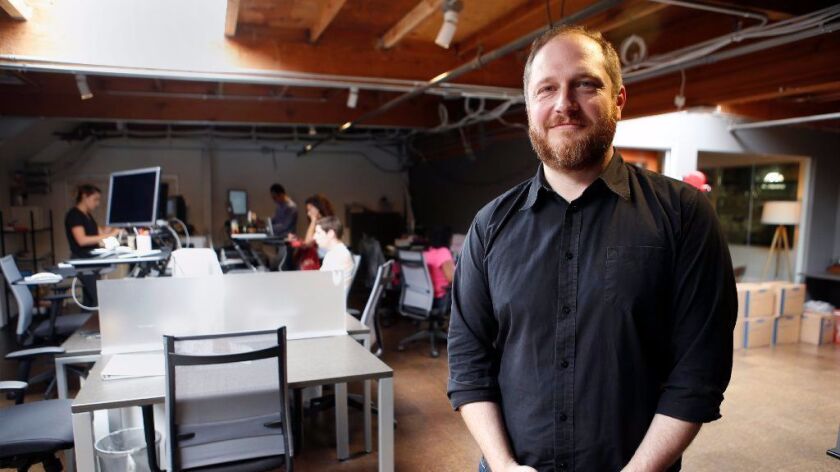 After rapper Rick Ross bought a Checkers franchise in his hometown of Carol City, Fla., the fast-food chain wanted to capitalize on the prime marketing opportunity.
So it reached out to Uproxx Media Group — a Culver City-based network of news, culture and entertainment sites catering to a young-adult male audience — to create a documentary short about Ross' upbringing and love of the brand.
The video shows Ross driving through Carol City in a raised Ford truck, flanked by motorcycle riders doing street stunts while he reminisces about eating Checkers burgers after working full days at a local carwash.
The short, published on Uproxx.com in January, quickly exploded on social media — and advertising circles took notice.
Media consumption habits, especially among younger audiences, are rapidly shifting. Consumers 18 to 34 years old now spend more time on average per week on their smartphones (19 hours, 39 minutes) than watching TV (19 hours, 18 minutes), according to Nielson's Comparable Metrics Report for the fourth quarter of 2016.
The shift away from traditional media has created new opportunities for companies such as Uproxx, which is working closely with businesses to create shareable, high-quality online videos that present an "authentic" brand image to young consumers. Most are skeptical of traditional advertising.
"Brands are looking to tell authentic stories to audiences, and companies like ours provide a way for brands to connect with those audiences," Uproxx Chief Executive Ben Blank said.
Blank says around 75% of the company's revenue is generated from what is known as "branded content" — sponsored videos and articles intended to convey an advertiser's specific branding message through storytelling. Advertisers pay a fee to Uproxx to produce videos that help promote their brands in a subtle way.
These are ads that don't really seem like ads.
"Millennials are a cynical and sophisticated bunch," said content marketing strategist Rebecca Leib. "Young audiences are exceptionally valuable to advertisers as they are still forging buying habits and brand preferences. They must be met on their own terms if communication is to be effective."
Uproxx prides itself on understanding its audience. Whether producing a documentary short on a South African black metal band or an analysis of James Comey's Senate testimony, the site retains a distinctively millennial voice and point of view. And it takes pains to ensure its branded content fits naturally alongside its editorial stories.
The company faces plenty of competition. As Google and Facebook swallow up an increasing share of total advertising dollars online, digital publishers such as Vice, Buzzfeed and Vox Media as well as print stalwarts like the New York Times have begun producing branded stories to shore up their business models. Each publication has its own department dedicated to creating content for advertisers, which in essence functions like an in-house ad agency.
Uproxx also produces all of its sponsored videos in-house, boasting a state-of-the-art production studio in its Culver City headquarters with a full team of writers, illustrators, on-camera personalities and video editors. The company has more than 100 employees and satellite offices in New York and Chicago.
In addition to Checkers, Uproxx has also partnered with advertisers including MillerCoors, the U.S. Marines and Honda. For Honda, collaborating with Uproxx to produce a video series profiling aspiring independent musicians has proved to be an effective way to reach the coveted 18- to 34-year-old audience. The series, titled "Uncharted: Power of Dreams," has more than 100 million views online and does not feature Honda vehicles.
"[The partnership]
enables the brand to engage with people in an emotional way," Honda
Manager of Media Strategy Phil Hruska said. "There are very few interests that elicit passion and emotion more than music, especially with younger audiences."
Uproxx.com was founded in New York in 2008 by Jarret Myer and Brian Brater as a website dedicated to covering youth culture. Myer and Brater got their start in media and entertainment by founding the landmark East Coast hip-hop label Rawkus Records in 1996, which put out music by artists including Talib Kweli and Mos Def.
Inspired by New York City's dance crew culture in the 1990s, Myer said the two had always hoped to make Rawkus Records as much a lifestyle company as a record label. After selling Rawkus to Universal in 2005, Myer and Brater created Uproxx to realize that goal.
"We wanted Uproxx to be a place where you can get everything that's important in the culture of now," Myer said.
In 2014, the site was acquired by L.A.-based digital publisher Woven Digital and Blank was named CEO and Myer became publisher. The company received $18.5 million in funding led by multinational advertising and marketing behemoth WPP and was renamed Uproxx Media Group earlier this year.
Blank says Uproxx boasts 60 million unique monthly visitors and 10 million social followers across its network of sites, including men's lifestyle blog Brobible, entertainment news site HitFlix and other Uproxx-branded properties dedicated to sports and music.
According to ComScore data, Uproxx.com has seen steady growth over the past few years, receiving more than 20 million unique visitors in April, up from 17 million in April 2016 and 15 million in April 2015. Despite the growth, the site still lags behind millennial-focused Vice.com, which had 25 million unique visitors in April 2017.
Uproxx has added a number of high-profile arts and culture writers in recent years, including renowned television critic Alan Sepinwall and former Grantland writer Steven Hyden.
Blank declined to discuss the company's finances, but said business is growing.
Uproxx has also sought out content partnerships that don't involve advertisers. In May, the company announced that it will launch a documentary series about a Kentucky high school basketball team's push to win a state championship, set to run on Comcast Corp.'s on-demand streaming platform Watchable this fall.
Jamie Gillingham, vice president of strategic development at Comcast, says his network is working with publishers including Uproxx to appeal to millennial viewers.
"We're seeing the emergence of an entirely new class of studios and producers that are experimenting with subject matter and formats," Gillingham said. "
If we want to build new businesses or keep eyeballs on our TV platforms, we need to deliver content that is both differentiated and relevant."
Blank says Uproxx is continuing to look for similar partnerships while making sure not to sacrifice its authentic editorial voice.
"Traditional media sees a lot of opportunity with a company like ours, so there are a lot of discussions about the future of media and how we play a role in it," Blank said.
---
Inside the business of entertainment
The Wide Shot brings you news, analysis and insights on everything from streaming wars to production — and what it all means for the future.
You may occasionally receive promotional content from the Los Angeles Times.