Here's where small companies can access robotics, 3-D printers and a sharp workforce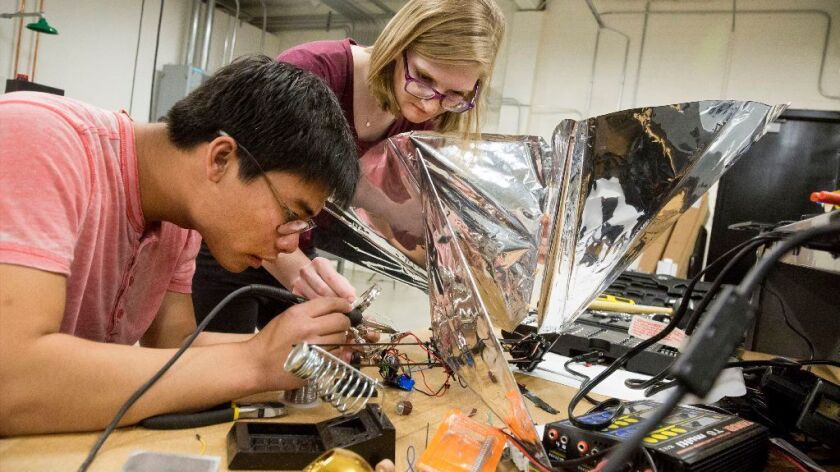 Layer by metal layer, a complex component began to take shape with the help of an additive manufacturing machine — known as a 3-D printer to most people — and a clutch of USC engineering students at the region's newest center devoted to building better stuff and creating jobs.
The part was being made for a Southern California company that was trying out an improved design but didn't have the machinery to produce something involving complicated shapes and angles.
"We looked at the geometry and said 'we should be able to,' and we printed it for them," said Satyandra K. Gupta, a USC professor and director of the Center for Advanced Manufacturing.
The collaboration with the company, which had asked Gupta for complete secrecy to avoid tipping off competitors, was one of the first for the Center for Advanced Manufacturing.
The facility opened in February as part of a $253-million Defense Department-sponsored consortium of dozens of corporations, schools, nonprofits and local governments around the country.
The Defense Department initiative aims to revitalize U.S. manufacturing by making robotics, 3-D printers and other advanced devices — plus a workforce trained to operate them — available to small and mid-sized businesses that have been slow to embrace such innovation. The idea is to bolster research, spur business investment, create jobs and boost worker productivity.
The initiative, in turn, is part of Manufacturing USA, the federal government's 5-year-old effort to build a national manufacturing research infrastructure that will develop new products and markets and help reduce the shortage of technically trained manufacturing workers.
U.S. manufacturers have added 800,000 jobs since the recession ended in 2009, reaching 12.3 million jobs in March. But that still lags behind the 13.7 million manufacturing jobs in December 2007, as the recession was starting.
At the USC center, aerospace and biomedical industries will be getting particular attention to "help support the fast-growing technological ecosystem in Silicon Beach," said Yannis C. Yortsos, dean of the Viterbi School of Engineering, which houses the manufacturing facility.
The center has access to USC faculty with expertise beyond advanced manufacturing technology to include augmented and virtual reality, machine learning and the continuing evolution of Internet-connected devices. Gupta speaks of a golden age of data and technology-enhanced manufacturing in which the U.S. doesn't have a disadvantage because labor costs are lower in many foreign countries.
"We just don't do things here because they are interesting," Gupta said. "There should be a practical application. Is this something a business can use? If the answer is yes, that makes it worth doing."
We want to be able to share — lessons learned, best practices.
Frank Flores, Northrop Grumman Aerospace Systems
The center has been funded by the Defense Department, the National Science Foundation and National Institute of Standards and Technologies. USC is contributing faculty, equipment and space, and Jabil Circuit Inc. donated five robots. Companies will be charged for their projects.
On most days, the center is a busy place. In one part of the 6,000-square-foot center, 3-D printers are making parts from metal powder and other materials. Students are trained in the printers' programming, operation and maintenance.
Industrial robots dominate another section of the lab. One is being taught to polish all the nooks and crannies of a geometrically complex part.
"We're basically building a smart assistant," said Brual Shah, a 27-year-old native of Mumbai, India, who is a post doctoral research associate.
Northrop Grumman Corp. is among the companies involved with the Defense Department initiative and the USC center.
The reason: "We want to be able to share — lessons learned, best practices," said Frank Flores, vice president of engineering product development at Northrop Grumman Aerospace Systems, which is based in Redondo Beach. "We want to learn from each other."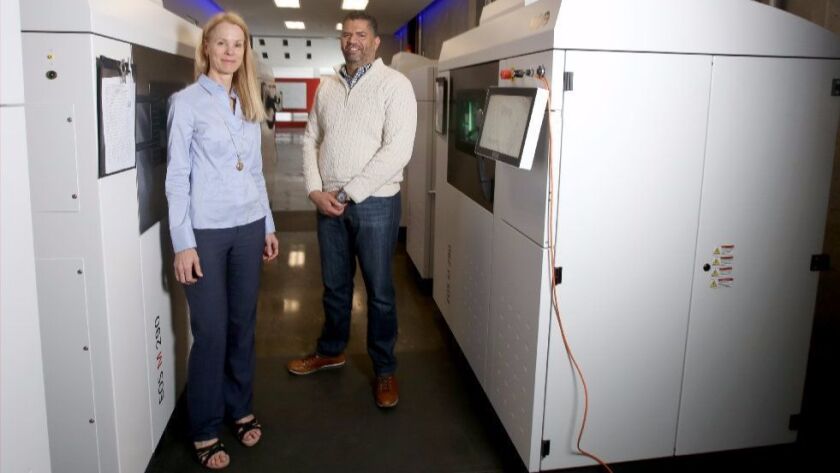 At the other end of the size spectrum is Morf3D, a 2-year-old El Segundo start-up that built an engine mount for the SpaceIL project, one of the five finalist entries in the Google Lunar X-Prize competition, which will award $20 million to the first team landing a privately funded rover on the moon.
During a recent visit to the manufacturing center, Morf3D Chief Technology Officer Melissa Orme said she and Chief Executive Ivan J. Madera want to develop lighter and stronger metal alloys with USC's help. They're also looking for future employees.
"We see the usefulness in the students, having a workforce that's trained in additive manufacturing," Orme said. "So that will be a really nice pipeline for us."
Among those students are Jordi Sim and Cady Gooding, who were at the USC center working on a drone called Robo Raven, which flaps its mylar-and-carbon-fiber wings as a bird would. The drone is meant to help farmers reduce crop losses.
"Pest birds are the problem," said Sim, an aerospace and computer engineering student. "They tried scarecrows. Nothing was as good as a falconer with his bird, but that cost a couple of hundred dollars a day."
Gooding figures the project, which has a wing span of 3 feet, is not only practical, it's helping with her goal of working in commercial aerospace.
"I've been working a lot on the wing fabrication," she said. "It's hands-on experience actually building it and seeing how different factors affect how well it flies."
USC's new Center for Advanced Manufacturing is already collaborating with businesses to work on techniques, parts and more.
Peter Zierhut, vice president of the Haas Technical Education Center for Haas Automation Inc. in Oxnard, said that the development of another university-led center on manufacturing is "good to see, especially in California where manufacturing I don't think has gotten its due attention."
Hass Automation bills itself as "the largest machine tool builder in the Western world," and a look at its outdoor lot, which is larger than a football field, shows products bound for locations all over the globe.
Zierhut hopes that the USC manufacturing center will help dispel the old image of manufacturing as a dirty, environmentally unfriendly business and will help prepare the next generation of modern manufacturing workers.
"I think a lot of people still have visions of the factories maybe their grandparents might have worked at with the smokestacks, and the dirty smoky air, and the dirty floors, and the noisy factory. It's not like that anymore," Zierhut said.
"We've made some headway in changing that image," he said. "Hopefully USC can help us continue working on that."
For more business news, follow Ronald D. White on Twitter: @RonWLATimes
ALSO
An airplane video, an unhappy family: How confusing rules put Delta in the hot seat
Fox News hit with another gender discrimination lawsuit
U.S. labor market rebounds as employers add 211,000 jobs; unemployment rate falls to 4.4%
---
Your guide to our clean energy future
Get our Boiling Point newsletter for the latest on the power sector, water wars and more — and what they mean for California.
You may occasionally receive promotional content from the Los Angeles Times.