White House signs $3.9-billion deal to buy two new Air Force One planes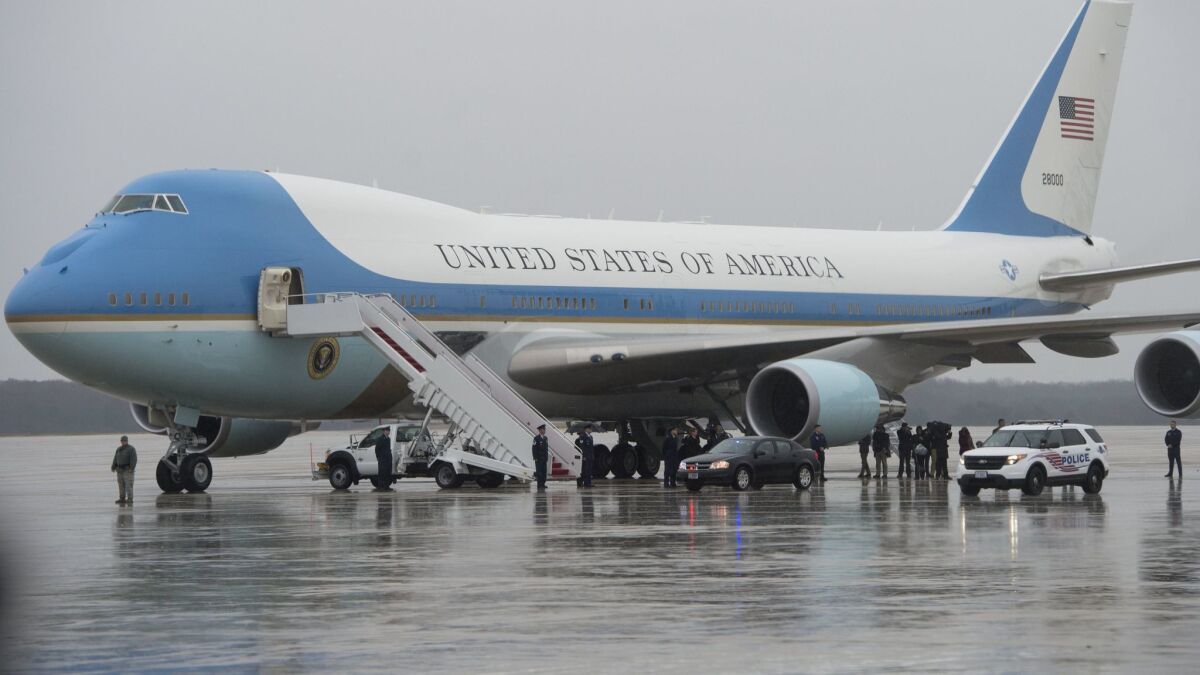 The White House has reached an "informal deal" with aerospace giant Boeing Co. on a contract for the next generation of presidential transport aircraft.
The $3.9-billion deal, announced Tuesday, is a fixed-price contract to develop and build two new Air Force One planes. That price includes a $600-million contract previously awarded to Chicago-based Boeing in September for preliminary design efforts, and a follow-on contract that has yet to be awarded for further engineering, manufacturing and development.
The Air Force One program first drew President Trump's ire in December 2016, when he criticized the price of the 747 presidential jumbo jets, tweeting that costs were "out of control, more than $4 billion" and that the order should be canceled.
A meeting with Boeing Chief Executive Dennis Muilenburg later followed, in which the aerospace executive told reporters that the Air Force One planes would be built for less than $4 billion.
But on Tuesday, Deputy Press Secretary Hogan Gidley said in a statement that the Air Force One contract would save taxpayers more than $1.4 billion "thanks to the president's negotiations." That would put the original cost estimates at more than $5 billion.
Gidley said in a subsequent email that the $5-billion figure was based on an older estimate from the U.S. Air Force "with a 50% assurance" and that, with new economic cost adjustments, the government cost figure would be right around or a little above $5 billion.
The Air Force did not immediately respond to a request for comment on this figure. But Richard Aboulafia, aviation analyst for Teal Group, said "the reality has always been about $4 billion."
That's supported by a Department of Defense fiscal year 2019 budget estimate document released this month, which indicated that the Air Force One program, called the presidential aircraft recapitalization program, was expected to cost about $3.95 billion through fiscal year 2023. Since the cost to complete the program was listed as "continuing," Aboulafia said it could be reasonable to expect costs near or a little higher than $4 billion.
The new Air Force One planes will replace the VC-25A aircraft, the specially modified version of the 747 currently used as the presidential planes. Those aircraft have been in use since President George H.W. Bush's administration in 1990.
The two 747-8 aircraft that will become the next Air Force One planes already exist — they were originally ordered in 2013 to serve a now-defunct Russian airline that ceased operations two years later, as previously reported by the publication Defense One. The airline never took ownership of the planes.
The presidential aircraft have unique characteristics, including a communications suite, large galleys, a self-defense system and structural modifications intended to protect the president and others onboard for an extended period of time.
The aircraft's high price tag covers very little of the actual aircraft, Aboulafia said, with the overwhelming bulk going to the life-sustaining equipment onboard.
Boeing said in a statement Tuesday that the company was "proud to build the next generation of Air Force One" and that the president "negotiated a good deal on behalf of the American people."
The new Air Force One planes should be in use by 2024.
Twitter: @smasunaga
---
Sign up for the California Politics newsletter to get exclusive analysis from our reporters.
You may occasionally receive promotional content from the Los Angeles Times.