AT&T was paying Trump's lawyer as the administration turned into foe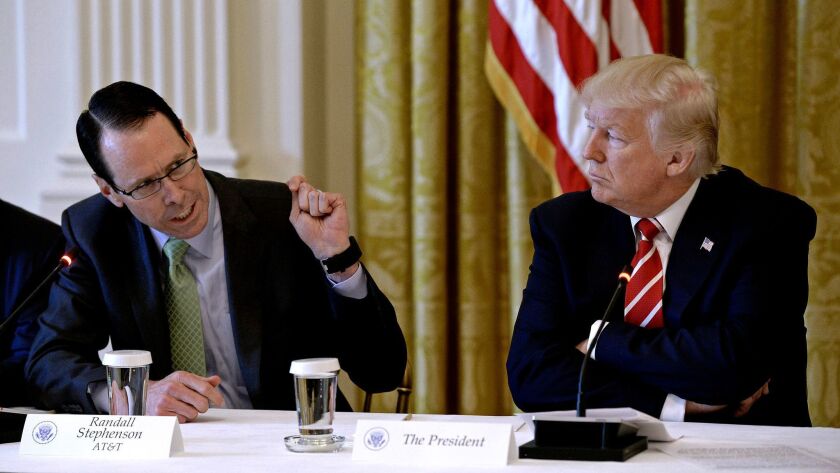 Bloomberg
In the early days of President Trump's administration, he had a friend in AT&T Inc. Chief Executive Randall Stephenson.
The telecom executive described himself as one of Trump's "biggest defenders on public policy." He met with the president-elect at Trump Tower and talked about all the jobs that the largest U.S. phone company would create. Stephenson also praised Trump to investors, saying the president would usher in a new era of corporate tax relief and fewer regulations.
And as it turned out, AT&T's relationship with the fledgling administration went deeper. The carrier acknowledged Tuesday that it hired a firm founded by Trump lawyer Michael Cohen, seeking "insights" on how the unorthodox president would govern. It also wanted guidance on how Trump would respond to its plan to acquire Time Warner Inc., according to a person briefed on the matter.
AT&T said it cut ties with Cohen's firm in December, shortly after receiving word that the administration would try to block its Time Warner deal — a move that Stephenson described at the time as "a big curve ball."
The question now is whether AT&T's payments were an attempt to influence Trump's views on the Time Warner deal or just research on a new and idiosyncratic administration. In addition to seeking guidance on the Time Warner transaction, the carrier also asked for information on tax reform and net neutrality policies, said the person familiar with the situation, who asked not to be identified because the deliberations were private.
Stormy Daniels
The relationship came to light Tuesday, when AT&T was cited by attorney Michael Avenatti as one of the parties that made payments to Cohen's firm. Avenatti is representing Stephanie Clifford, the porn actress known as Stormy Daniels, who was paid $130,000 by Cohen just before the 2016 presidential election not to discuss an alleged tryst with Trump.
Larry Solomon, a spokesman for AT&T, confirmed the relationship Tuesday. It "was one of several firms we engaged in early 2017 to provide insights into understanding the new administration," he said in an email. "They did no legal or lobbying work for us, and the contract ended in December 2017."
In an email to its employees Wednesday, AT&T reiterated that Cohen was hired as one of "several consultants to help us understand how the president and his administration might approach a wide range of policy issues important to the company."
Companies often hire consultants, especially at the beginning of a new presidency, and "we have done so in previous administrations," AT&T said in the memo. The company said it didn't become aware of the controversy surrounding Cohen until January.
It isn't clear why AT&T would use Cohen, considering that he was a personal lawyer to Trump and not in the administration.
Russia allegations
The acknowledgment pulls AT&T into a rapidly unfolding legal saga involving the president, his lawyer and alleged ties to Russia. Avenatti also alleged that a company connected to a Russian oligarch sent $500,000 last year to Cohen's business.
Essential Consultants is a Delaware limited-liability company started by Cohen, and it has been identified as the source of the hush payment to Daniels.
Cohen wouldn't have had to register as a lobbyist unless he spent 20% of the time he devoted to AT&T on efforts to influence the federal government while having at least two contacts with one or more high-ranking government officials, including members of Congress, their staff or administration officials.
AT&T's payments
AT&T, based in Dallas, made four payments of $50,000 apiece around the end of last year, according to Avenatti. But the company's statement that the consulting arrangement started in early 2017 suggests there may have been other payments.
The carrier announced just before the election that it would acquire Time Warner, embarking on a "vertical merger" that would bind entertainment and news content with AT&T's network infrastructure. There were reasons for concern about the deal: Trump regularly criticized Time Warner's CNN unit on the campaign trail and threatened to derail any merger.
But AT&T and Time Warner weren't competitors, so Stephenson assumed the deal wouldn't be opposed on antitrust grounds.
"We were obviously surprised when the government decided to try and block the merger," he said during a conference call in January. "It is a classic vertical merger between two companies that don't even compete with one another. With 50 years of legal precedent, it's the type of business combination that the government has consistently approved with appropriate conditions."
Courtroom battle
The Justice Department's fight against the merger ultimately proved fierce. The two sides are just now wrapping up a six-week courtroom battle over it.
The companies and the government have filed hundreds of pages of post-trial documents, and U.S. District Judge Richard Leon in Washington is weighing whether to bless the $85-billion deal or block it. He plans to announce his decision June 12.
Critics have spent years accusing Hillary Clinton of making policy decisions during her time as secretary of State based on the interests of corporate and foreign government donors to the Clinton Foundation, especially to the Clinton Global Initiative.
Trump and other Republicans alleged during the 2016 campaign that Clinton's decisions as president would be swayed by donors who had spent years cultivating influence through the foundation — and by paying her to speak during the two years between her departure from the Obama administration and the start of her campaign.
Clinton and her team insisted that efforts to avoid conflicts of interest were made at the State Department and that further steps would be taken if she was elected.
Other companies
Meanwhile, other firms have also transferred funds to Cohen's firm, according to Avenatti's summary. They include Novartis Investments SARL, a subsidiary of pharmaceutical maker Novartis AG, which made four payments totaling $399,920 in the same four-month span as AT&T.
A Novartis spokesman said that he was looking into the issue but added that any agreements with Essential were entered into before the arrival of the company's current CEO in February and have expired.
There also was a $150,000 payment in November 2017 from Korea Aerospace Industries Ltd., a manufacturer of aircraft, including jets, helicopters and unmanned vehicles, according to the summary.
Korea Aerospace, which is seeking to sell its planes in the United States, hired Cohen's entity for advice on local accounting standards and sent a single payment of $150,000 when the work was completed, a spokesman said Wednesday, adding that the contract was legal.
Turner and Moritz write for Bloomberg.
---
UPDATES:
11:45 a.m.: This article was updated with AT&T's Wednesday email to its employees.
9 a.m.: This article was updated with Republicans' allegations against Hillary Clinton.
This article was originally published at 7:35 a.m.
---
Your guide to our clean energy future
Get our Boiling Point newsletter for the latest on the power sector, water wars and more — and what they mean for California.
You may occasionally receive promotional content from the Los Angeles Times.