Firm linked to Russian mogul paid $500,000 to Trump attorney Michael Cohen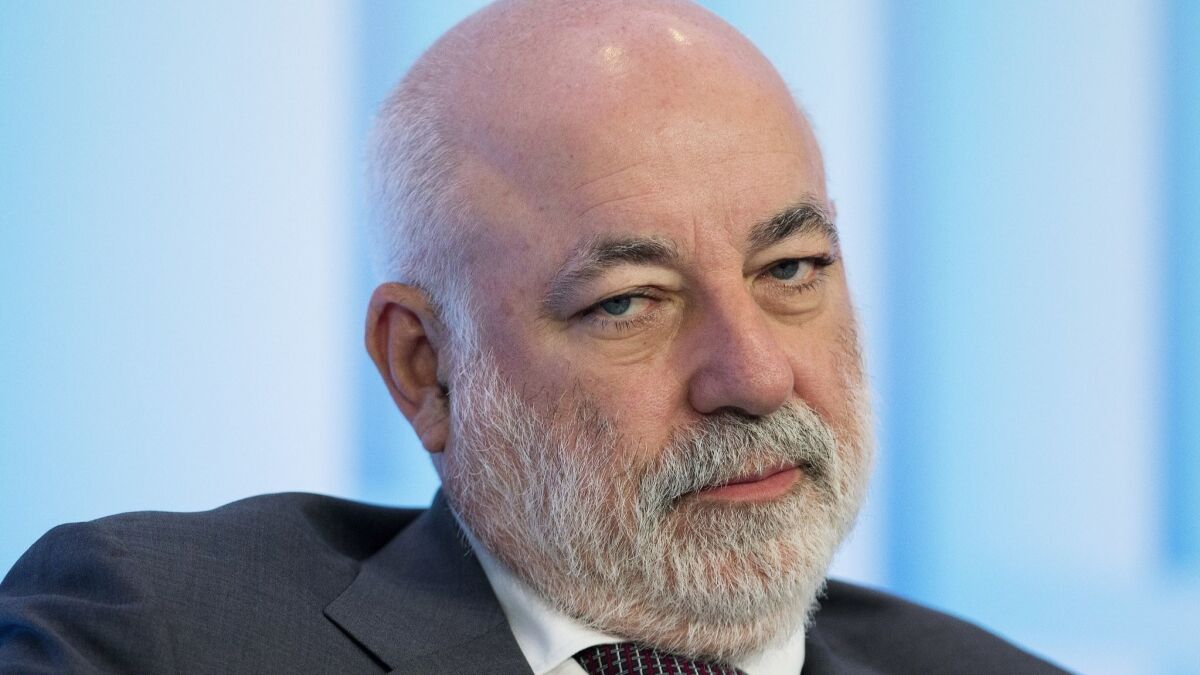 The shell company used by President Trump's lawyer Michael Cohen to pay off porn actress Stormy Daniels received about $500,000 last year from a business linked to a Russian billionaire who is close to President Vladimir Putin.
Cohen's company, Essential Consultants LLC, received the money from a U.S. offshoot of the business empire of Russian oligarch Viktor Vekselberg.
The payment from Columbus Nova LLC came to light in a seven-page report by Daniels' attorney, Michael Avenatti, who did not say how he got Cohen's financial records.
The document disclosed a wide array of previously secret payments that Cohen received last year from companies with an interest in Trump administration business. Avenatti called it a "pay-to-play scenario" that might have involved bank fraud.
Novartis, the Swiss pharmaceutical giant, paid Cohen's company nearly $400,000; AT&T, $200,000; and Korea Aerospace Industries LTD, $150,000.
Novartis often seeks drug approvals from federal regulators, AT&T is fighting a Justice Department lawsuit to block its proposed merger with Time Warner, and Korea Aerospace Industries is a defense contractor.
Novartis said it hired Cohen in February 2017 under a one-year contract involving U.S. healthcare policy.
It disclosed that investigators for special counsel Robert S. Mueller III questioned the company in November about its payments to Essential Consultants.
"Novartis cooperated fully with the special counsel's office and provided all the information requested," Novartis spokeswoman Sofina Mirza-Reid said. "Novartis considers this matter closed as to itself and is not aware of any outstanding questions regarding the agreement."
AT&T spokeswoman Megan Ketterer said that "Essential Consultants was one of several firms we engaged in early 2017 to provide insights into understanding the new administration."
Cohen, who is under federal criminal investigation for potential bank fraud, did not respond to an email seeking comment on the payments, nor did his lawyer.
The payments from Columbus Nova appear to entangle Cohen deeper in Mueller's investigation into whether the Trump campaign colluded with Russia to influence the U.S. election.
Vekselberg is one of the oligarchs and senior Russian officials sanctioned last month by the Trump administration.
Vekselberg attended Trump's inauguration in January 2017. He also went to Putin's inauguration this week in Moscow.
In 2015, Vekselberg was one of the guests at a dinner in Russia where Michael Flynn, Trump's former national security advisor, was seated next to Putin, according to the New York Times.
Flynn, who is cooperating in the Mueller investigation, has pleaded guilty to lying to the FBI.
Investigators for Mueller questioned Vekselberg early this year about the payments to Essential Consultants after they stopped him at a New York-area airport for questioning when he arrived on a private jet, according to CNN.
FBI agents raided Cohen's home, office and hotel room last month under court-approved search warrants, seeking evidence for a criminal investigation of potential fraud in the hush-money payment to Daniels and other matters.
On Twitter, Avenatti suggested that the money from Columbus Nova may have reimbursed Cohen for the $130,000 that his company paid Daniels in October 2016 to keep quiet about her alleged 2006 sexual encounter with Trump.
Columbus Nova's payments began in January 2017, and continued for eight months, according to Avenatti's report.
Cohen has told reporters that he used his own money to pay off Daniels, drawing on a personal home equity line.
Rudolph W. Giuliani, another Trump lawyer, said last week that the president had reimbursed Cohen for the payoff through monthly retainer payments of $35,000, contradicting the president's previous statement that he knew nothing about the hush money.
In addition to the $130,000 reimbursement, Giuliani said, Trump gave Cohen another $300,000 or more to cover taxes and other expenses, including possible hush payments to someone other than Daniels.
Avenatti's report alleges that Cohen made false and fraudulent representations to First Republic Bank when he opened an account there for Essential Consultants in October 2016.
Among other things, Cohen told the bank his company was in the real estate and investment consulting business, the report said.
Renova Group, Vekselberg's Russian conglomerate of energy, telecommunications and other companies, is the largest investor in Columbus Nova, a private equity firm in New York.
Andrew Intrater, an American cousin of Vekselberg, is the chief executive of Columbus Nova.
Intrater donated $250,000 to Trump's inauguration. He also gave $29,600 to the Republican National Committee in June 2017.
Richard D. Owens, an attorney for Columbus Nova, released a statement saying the company was "solely owned and controlled by Americans" and that Vekselberg played no role in its decision to pay Cohen.
Trump meets his match: Stormy Daniels' combative lawyer Michael Avenatti »
"After the inauguration, the firm hired Michael Cohen as a business consultant regarding potential sources of capital and potential investments in real estate and other ventures," the statement said.
"Reports today that Viktor Vekselberg used Columbus Nova as a conduit for payments to Michael Cohen are false."
As recently as last year, the Renova Group's website listed Columbus Nova as one of its companies.
Twitter: @finneganLAT
---
UPDATES:
May 9, 10 a.m.: The article was updated with a statement from Novartis.
8:45 p.m.: The article was updated with details on Novartis, AT&T and Korea Aerospace Industries.
7:15 p.m.: The article was updated with background on Michael Flynn, Columbus Nova and Andrew Intrater.
6:15 p.m.: The article was updated with more details about Viktor Vekselberg's background and the hush money paid to Stormy Daniels.
The story was originally published May 8 at 5:45 p.m.
---
Life is stressful. Our weekly mental wellness newsletter can help.
You may occasionally receive promotional content from the Los Angeles Times.