BMW's modest X3 crossover should be one of its brightest stars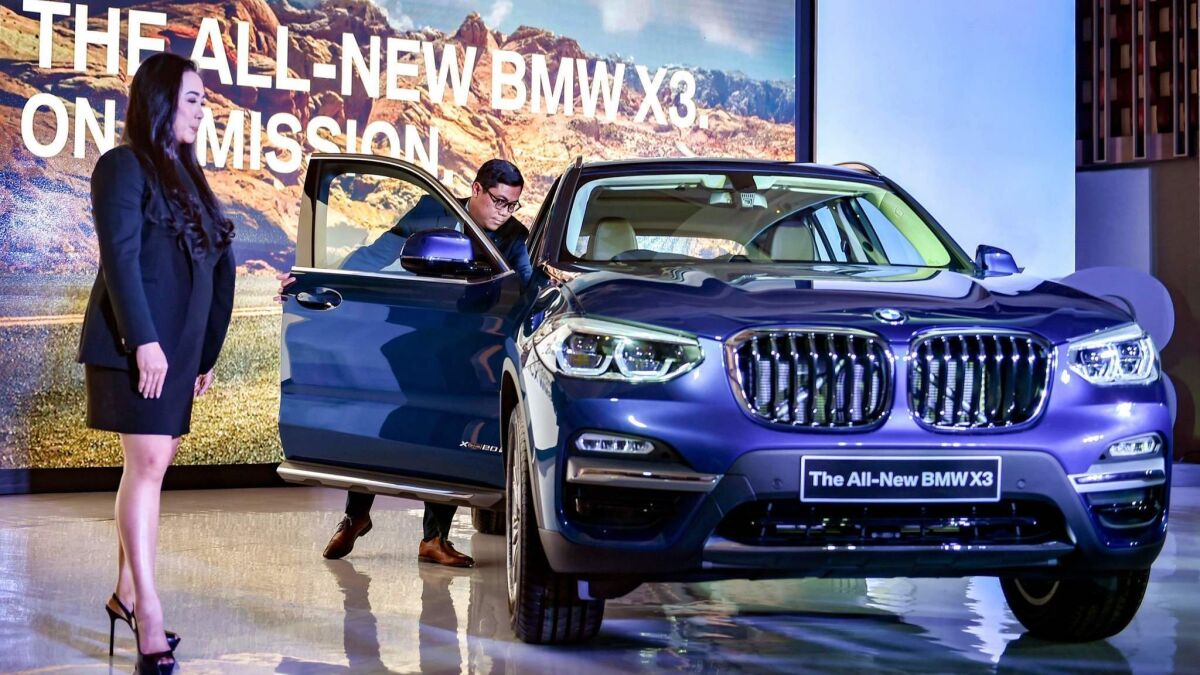 Call it a rebuilding year at Bayerische Motoren Werke.
As of April, the Bavarian automaker trailed archrival Mercedes-Benz in sales growth by more than half, with numbers climbing 2.8%, compared with a 6% gain at Mercedes. This comes after BMW lost its top-selling spot in the luxury auto sector in 2016.
Since then, the brand has very publicly doubled down on production in order to regain its lead, announcing that it will debut 12 all-electric cars by 2025, among other new models. Last year, China accounted for almost 90% of sales growth for leading luxury automakers, according to the Nikkei.
BMW will begin making its first all-electric sport utility vehicle, the iX3, in China in 2020. This is notable because it will make BMW the first luxury automaker to export something so high-tech from China, and because that country represents immense growth opportunities for all luxury brands over the next few years.
Which brings us to this review: In order to save money, the iX3 will be based on the X3 that BMW currently sells.
If the $54,500 crossover is any indication, consumers will have nothing to worry about regarding its electric counterpart. With high-quality, functional interior fixings, well-grounded handling, and a capable, eight-speed automatic, the X3 M40i is a stable, practical treat both behind the wheel and from the backseat.
It speaks to how insane the SUV/crossover market is today that, at less than $60,000, the X3 M40i is also relatively affordable. After all, Lamborghini just gave us a $200,000 crossover, and the price of Porsche's smaller Macan can easily crest $100,000 if you pump it full of upgrades. Not to mention the fact that Aston Martin, Ferrari and Rolls-Royce are all soon (some sooner than others) to launch SUVs that will no doubt soar above six figures.
But, whereas Lamborghini's Urus has seven drive modes and the Macan comes with spoilers and a "performance package," the X3 is actually sensible and well-equipped, if not exactly flashy.
On the exterior, the front adaptive, full-LED headlights shine like cuff links and the strong lines hint at capable athleticism underneath the hood. Upgrades such as 20-inch wheels and an M40i-specific body kit (badging and chrome accents) add handsome but modest overtones.
As for engineering, the X3 I drove came with a 355-horsepower turbo 3.0-liter inline-six from BMW's new, excellent engine family. Please note: It's not technically an "M" model — and this is where it gets complicated. BMW falters in relating to costumers with its system of nomenclature. While the M in the 40i's name signals some input from the company's M Performance sub-brand, the X3 M40i is not an actual M Performance car like an M3 or M5. Those have super-high-revved engines, laser-tuned handling and specialized suspension engineered to evoke racetracks the world over. The X3 M40i has firmed-up M Adaptive suspension, M Sport brakes, and a variable-ratio steering system that lends exceptional body control and excellent steering on par with things that cost twice as much. But it's no M car.
Still, X3 is one of the tighter, punchier BMW SUVs we've had in recent months: If you hit the gas you'll get this 4,230-pound rig to 60 miles per hour in a decent 4.6 seconds. (This is just as fast as the $77,200 Macan Turbo.) Top speed is 155 mph.
People considering this car are probably as interested, if not more so, in the space and practicality it offers. As you might expect, the X3 falls in the middle of BMW's lineup of SUVs, right after the smaller X1 and X2 and right before the bigger X4, X5, and X6. (This nomenclature, if overdone, is at least logical.)
Headroom and legroom are ample; the large sunroof and wide door positioning give all the room we've come to expect in carlike SUVs. The X3 has 62.7 cubic feet of storage room with the seats down in the back, big enough to fit golf bags and dog pens, for sure, and bigger than the (cheaper) Mercedes-Benz GLC300 — but far smaller than the 80-plus cubic feet in the $52,200 Mercedes GLE350. If you test drive the X3, be sure to drive the correlating options from Mercedes, too. You may find that they serve you better, all things considered.
Sundry items such as cup holders, USB outlets, headroom, hooks and storage cutouts abound. I'd splurge on the $300 Apple CarPlay, $350 heated front and rear seats, and the $2,950 Premium package (navigation, heads-up display, heated steering wheel). You're already getting a great value by buying the X3; you might as well use the money saved on getting the most out of it.
Either that, or save up for the electric one from China. If the X3 is any indication, it'll be worth the wait.
---
Sign up for the California Politics newsletter to get exclusive analysis from our reporters.
You may occasionally receive promotional content from the Los Angeles Times.