Business leaders bash Trump's decision to withdraw from Paris climate accord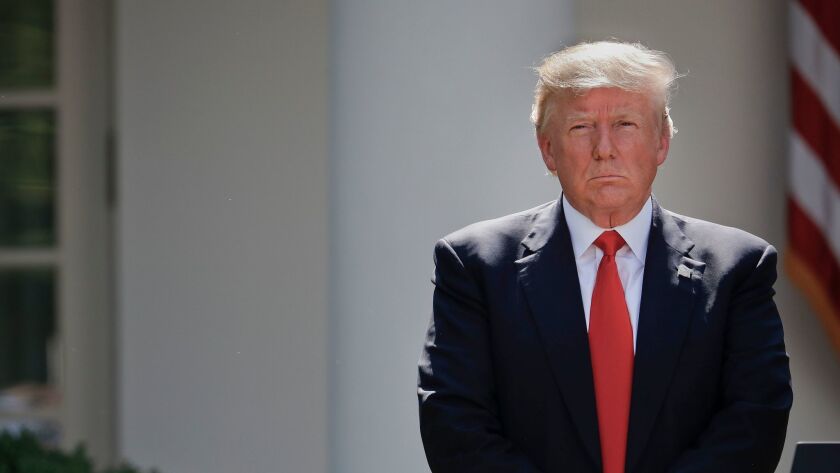 Corporate executives generally shy away from addressing hot-button political issues for fear of alienating customers.
But after President Trump announced Thursday that he will withdraw the U.S. from the Paris climate change accord, a who's who of Fortune Magazine cover models took to social media to criticize the decision.
Here are the reactions of some of the nation's most prominent business leaders:
'Climate change is an urgent issue'
Brad Smith, president of Microsoft Corp., said in a lengthy statement Thursday that the technology giant was "disappointed" with Trump's decision.
"We believe that continued U.S. participation benefits U.S. businesses and the economy in important and multiple ways," he said. "We remain steadfastly committed to the sustainability, carbon and energy goals that we have set as a company and to the Paris Agreement's ultimate success. Our experience shows us that these investments and innovations are good for our planet, our company, our customers and the economy."
Microsoft Chief Executive Satya Nadella added his own thoughts in a tweet, saying: "We believe climate change is an urgent issue that demands global action. We remain committed to doing our part."
'Climate change is real and we all share a responsibility to fight it'
Apple Chief Executive Tim Cook said he spoke with Trump on Tuesday to try to persuade him to keep the U.S. in the Paris accord on global warming, "but it wasn't enough."
In a letter obtained by The Times, Cook told employees late Thursday afternoon that Trump's decision "will have no impact on Apple's efforts to protect the environment."
"Our mission has always been to leave the world better than we found it," he wrote. "Climate change is real and we all share a responsibility to fight it."
'We're all on this planet together and we need to work together'
Twitter Inc. Chief Executive Jack Dorsey called Trump's decision to pull the U.S. out of the Paris agreement an "incredibly shortsighted move backwards by the federal government."
'Leaving Paris is not good for America or the world'
Elon Musk, chief executive of electric car maker Tesla Inc. and aerospace firm SpaceX, said Thursday he was resigning from White House advisory councils after Trump's announcement.
Musk had faced criticism for joining Trump's panels on business and manufacturing, though he said at the time that "engaging on critical issues will on balance serve the greater good."
Musk said Wednesday that he had "done all I can" — as a member of the advisory councils, through White House personnel and directly with the president — to push Trump to stick with the President Obama-era plan. He warned then that he would have "no choice" but to leave the councils if Trump decided to withdraw the U.S. from the accord.
'As a matter of principle...'
Walt Disney Co. Chief Executive Robert Iger also said Thursday that he resigned from Trump's business advisory panel because of the withdrawal from the Paris agreement.
At Disney's shareholder meeting in March, Iger defended his decision to be involved with the council, saying he wanted to be "in the room where it happens."
'Industry must now lead and not depend on government'
General Electric Chief Executive Jeff Immelt said Thursday that he was "disappointed" with the decision.
'This is not in the best interest of Americans'
Meg Whitman, chief executive of Hewlett Packard Enterprise, made one last attempt to dissuade the president in a televised interview on CNBC on Thursday before the decision was announced.
"Please do not withdraw from the Paris climate accord," she said. "This is not in the best interest of Americans. I think this will be a big mistake if he withdraws from the Paris climate accord."
'A setback'
Goldman Sachs Chief Executive Lloyd Blankfein used his first ever tweet to criticize the president's decision.
Please consider subscribing today to support stories like this one. Already a subscriber? Your support makes our work possible. Thank you. Get full access to our signature journalism for just 99 cents for the first four weeks.
---
UPDATES:
9:15 a.m.: This article was updated to include comments from Hewlett Packard Enterprise CEO Meg Whitman.
This article was originally published at 9:10 a.m.
---
Your guide to our new economic reality.
Get our free business newsletter for insights and tips for getting by.
You may occasionally receive promotional content from the Los Angeles Times.