Tesla's Elon Musk and Disney's Robert Iger quit Trump advisory councils, citing climate change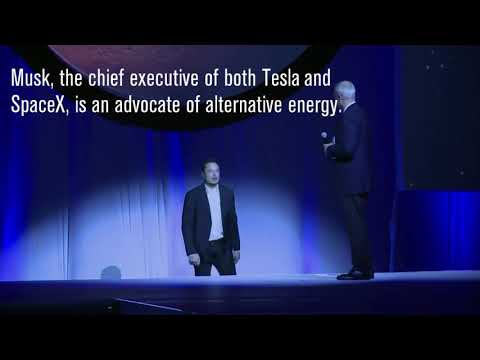 Musk, the chief executive of both Tesla and SpaceX, is an advocate of alternative energy.
Tesla's Elon Musk and Disney's Robert Iger both said they were resigning from White House advisory councils after President Trump announced Thursday that he is withdrawing the United States from the Paris climate accord.
Along with those two chief executives, other pillars of corporate America — including Google's chief executive and Amazon.com — joined a growing chorus of disapproval over Trump's decision.
"Leaving Paris is not good for America or the world," Musk tweeted.
Musk, the CEO of both Tesla and SpaceX, had warned Wednesday that he would quit the two councils he was on if Trump pulled out of the climate agreement.
Musk said he had "done all I can" — as a member of the advisory councils, through White House personnel and directly with the president — to push Trump to stick with the Obama-era plan. He later tweeted about China's commitment under the climate accord; among that country's goals is to get 20% of its energy from renewable sources by 2030.
Musk has been an outspoken advocate of alternative energy. His electric car company Tesla also makes solar panels and high-capacity batteries.
Musk was criticized when he agreed to serve on Trump's panels on business and manufacturing, but he said he thought his presence could have a positive effect. "I believe at this time that engaging on critical issues will on balance serve the greater good," he said at the time.
Hours after Musk pulled out, Iger — who with Musk was on Trump's business advisory panel — said he was leaving that council "as a matter of principle."
At Disney's shareholder meeting in March, Iger defended his decision to be involved with the council, saying he wanted to be "in the room where it happens."
When one shareholder criticized his relationship with Trump, calling it a tacit endorsement of the president's policies, Iger said the council gives members an opportunity to express opinions to the president that Trump otherwise might not hear.
"I made a decision I thought was in the best interest of our company and the industry," Iger said at the time. "I think it's a privileged opportunity to be in the room."
Iger did not attend either of the two meetings the council has had so far — citing scheduling conflicts — but he told CNBC's Julia Boorstin last month that he was in touch with the Trump administration.
A Democrat who supported Hillary Clinton in the presidential election, Iger was the only entertainment executive in the business advisory council.
Iger has avoided directly criticizing Trump, but he previously made a veiled criticism of his immigration policies. At the shareholder meeting in March, Iger said he is against policies that single out particular religious groups, a reference to the Trump administration's moves that some have said discriminate against Muslims.
"I happen to believe this company has benefited over the years in so many different ways, as has this country, [because of] an open and fair and just immigration policy," Iger said at the time. "We are who we are as a country because of great immigration."
General Electric CEO Jeff Immelt, a member of Trump's council on manufacturing, also tweeted his disapproval of Trump's choice to exit the climate change pact Thursday.
Immelt has been a vocal critic of Trump on the climate change issue. In an internal memo to employees obtained by Politico, he wrote: "We believe climate change should be addressed on a global basis through multi-national agreements, such as the Paris Agreement. We hope that the United States continues to play a constructive role in furthering solutions to these challenges, and at GE, we will continue to lead with our technology and actions."
Sundar Pichai, CEO of Google Inc., expressed a similar sentiment.
Google is among the two dozen companies that signed an open letter last month urging Trump to keep the U.S. in the climate accord.
Richard Branson, founder of the Virgin Group, said on Bloomberg Television, "It makes me want to cry that a great country like America is abandoning its duty."
"It's a sad day for Americans, it's a sad day for the world, it's a sad day for our grandchildren," Branson said. "And obviously as business people we have to pick ourselves up on a global basis and just get on and try to sort the problem out ourselves with the other 193 countries around the world."
Amazon.com Inc. also weighed in to support the Paris deal, pushing back against the idea that climate-change policies are bad for business.
"We believe that robust clean energy and climate policies can support American competitiveness, innovation, and job growth," the e-commerce giant said in a string of tweets. "We remain committed to putting our scale and inventive culture to work in ways that are good for the environment and our customers."
And Lloyd Blankfein, the CEO of Goldman Sachs, condemned Trump's move — doing so in his first-ever tweet.
Twitter: @russ1mitchell
ALSO
Here's what the Paris world climate agreement will do — and what it won't
Climate deal can't be renegotiated, European leaders say in swift rebuke to Trump
California's Gov. Brown calls Trump's rejection of climate deal 'insane' and 'deviant behavior'
---
UPDATES:
4:55 p.m.: This article was updated with background information about Robert Iger's involvement with Trump's council.
4:30 p.m.: This article was updated with news about Robert Iger's resignation from a Trump advisory council.
3:35 p.m.: This article was updated with comments from Richard Branson and Lloyd Blankfein.
2:40 p.m.: This article was updated with comments from Sundar Pichai and Amazon.com.
2:20 p.m.: This article was updated to mention another tweet from Elon Musk and a detail of China's commitment under the climate accord.
This article was originally published at 1:30 p.m.