China's economy: Seven predictions for 2016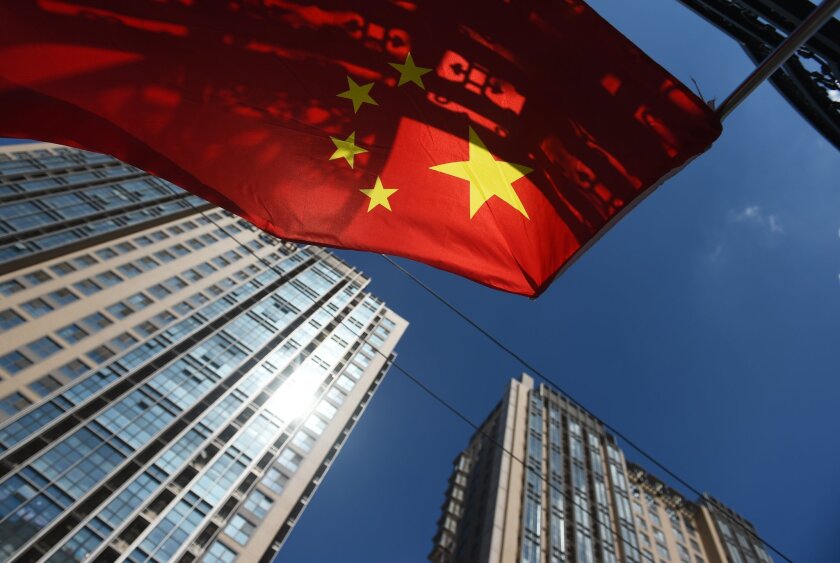 Reporting from Beijing —
Investors and economists are becoming less optimistic about the global economy in 2016, partly because of concerns about China's performance.
The Organization for Economic Cooperation and Development expects next year to be slightly better than this year, but has cut its 2016 world growth forecast from 3.6% to 3.3%. The Conference Board is more pessimistic, putting the figure at 2.8%.
China – the world's second-largest economy – is one reason for the revisions. The Conference Board called China "one of the major wild cards" in its 2016 forecast.
Join the conversation on Facebook >>
After decades of export- and investment-driven growth, China's economy is slowing, with GDP now expanding at less than 7% a year. The country witnessed huge stock market volatility in 2015; a devaluation of its currency, the renminbi; falling imports and exports; and rising concern about nonperforming loans.
China's economic outlook and consumer confidence have major implications for the Golden State: Chinese tourists, real estate buyers and other investors have been pumping billions into the California economy annually, and the state's farmers and other exporters rely significantly on China, the state's No. 3 export market behind Mexico and Canada.
But California's shipments to China have been dropping; a report from Beacon Economics this week found that the state's exports to China between August and October fell 11.4% from the same period in 2014, sagging from $4.19 billion to $3.71 billion. The decline affected a broad range of sectors, from agricultural products to computer equipment.
We spoke with Francis Cheung, head of China/Hong Kong Strategy for Hong Kong-based brokerage CLSA, for his thoughts on China's economy for 2016. Here are seven key take-aways:
1. 2016 will be volatile
For the last five years, the government has tried to grow the economy at 7 to 8%. Stimulus programs worked for a while. But after problems with overcapacity and a property bubble, China's leaders recognized the need for change.
"This is so-called new normal, which means China will go from a high growth rate to slower or more sustainable growth rate," Cheung said. "It at least will take two to three years for the economy to be on the stable growth path. Unfortunately, that's not good for the market. There will still be a volatile market in 2016."
Investors say they're willing to buy stocks again, though a majority believes the market will be flat or down in 2016, Cheung said. Property sales could fall 10% next year; 68% of consumers surveyed by CLSA have no plans to buy real estate in 2016. But the employment market looks resilient.
"The economy will be relatively weak in the first part of the year," he said. "We believe the economy will stabilize at the earliest in 2017, but it could take longer."
2. The currency could weaken
Whether the renminbi will depreciate is the "hottest topic" for global investors, Cheung said. China has a clear road map for the renminbi — in addition to getting the currency included in the International Monetary Fund's Strategic Drawing Rights basket (which is set to take effect next October), capital account opening and renminbi convertibility are explicit goals between 2016 and 2020.
A large devaluation of the renminbi is unlikely because it will be a big setback for their plan, CLSA said in a related report. "The incentive is to keep the renminbi relatively stable."
Currency watchers, however, should keep an eye on the euro. Europe is China's largest trading partner and Beijing wants to keep its exports attractive. "The euro could fall 6% next year, [and] China would probably be tracking that down" to keep the renminbi competitive, Cheung said.
3. Consumer confidence
China's consumers are less optimistic than in previous years, but they are not pessimistic. CLSA's survey of Chinese consumers showed most thought that business conditions would improve modestly in 2016.
"Despite a slowing economy, China consumers still want to spend more. They will spend more on basics and will upgrade brands. Travel is a top priority and almost all respondents have travel plans," Cheung said. The top destination is Korea, followed by Japan and Singapore. Europe and Thailand are also very popular, CLSA says.
Autos and appliances, although with education and life insurance, are also top "wants" for Chinese consumers.
4. The Internet as a bright spot
Investors should look to big Chinese Internet companies for growth, in particular Alibaba, Baidu and JD, all listed on U.S. markets, as well as Tencent.
"The Internet has always been one of my favorite sectors, but now it's a national policy," Cheung said.
For the first time, China's economic strategy is being centered around the Internet with its new "Internet Plus" effort, CLSA notes. In 2016, the government has pledged to spend nearly $180 billion upgrading broadband and 4G networks. E-commerce transactions are expected to reach about $3.5 trillion in 2016, up 64% from 2014.
5. Macau may start to rebound
The gambling mecca of Macau has been in a deep funk for about a year and half largely thanks to a nationwide anti-corruption movement. The crackdown looks set to continue in 2016 and it may hinder Macau's overall economic growth in next few years.
But the government stance toward the gambling industry is softening, and gambling revenue is set to return to positive year-on-year growth in the first half of 2016 after consecutive monthly declines since June 2014. CLSA says its top pick in the sector is Wynn Macau, which has a new property opening next fall.
6. Two-child policy will have limited impact
China in October announced the end of the one-child policy. That could boost consumer spending and eventually help address China's shrinking pool of workers.
But CLSA believes the government is "overconfident" that the change will result in an extra 3.4 million babies per year for the next five years. The policy change was "too little, too late," CLSA says.
"Population control will be replaced by population promotion within next five years," Cheung said.
7. One Belt, One Road will get off the ground
"One Belt, One Road", also known as "OBOR," is a new development strategy initiated by China in 2015 to promote its economic connectivity and cooperative relationship with nations in Eurasia by helping them develop infrastructure. The initiatives should also help Chinese exports.
2016 will a big year for OBOR as the three main institutions lined up to fund its projects – the Silk Road Fund, the Asian Infrastructure Investment Bank and the New Development Bank -- will be in full operation by 2016.
"One Belt, One Road is a brilliant strategy," said Cheung, because it may have economic benefits as well as strategic upsides, pulling China's regional neighbors closer into its orbit.
But after some upfront investments in 2016, Cheung said there may be some "tough going" in 2017 and beyond for a number of reasons, including the fact that many Eurasian nations are sparsely populated and have economic issues of their own.
Yang and Li are news assistants in The Times' Beijing bureau. Times staff writer Julie Makinen in Beijing contributed to this report.
Follow @JulieMakLAT for news from China
ALSO
On the moon, China's Chang'e 3 Yutu rover finds a new type of basaltic rock
Americans in Beijing warned of terrorism threat; parts of city locked down
Survivor pulled from rubble 67 hours after devastating China landslide
---
Your guide to our new economic reality.
Get our free business newsletter for insights and tips for getting by.
You may occasionally receive promotional content from the Los Angeles Times.