U.S. is asked to forgive debt of Corinthian Colleges students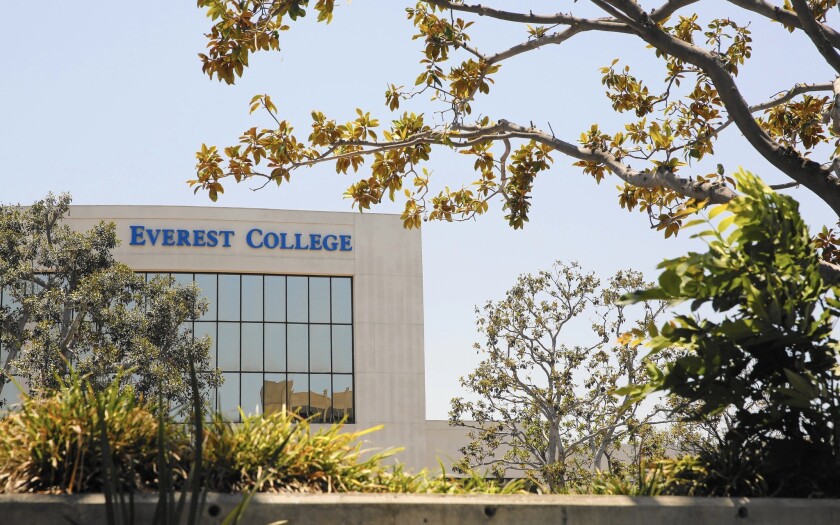 California Atty. Gen. Kamala D. Harris is calling on the federal government to forgive student loan debt for thousands of students who enrolled at schools run by Santa Ana-based Corinthian Colleges Inc.
Harris and eight other attorneys general sent a letter Thursday to U.S. Education Secretary Arne Duncan, asking that the government relieve students of debt incurred "as a result of violations of state law" by the scandal-plagued for-profit college chain.
Debt carried by hundreds of thousands of primarily low-income students has been one of the biggest unresolved issues surrounding the near-collapse of Corinthian, which has been in the process of selling off and closing down schools after a crackdown by the U.S. Department of Education last summer.
The attorneys general are asking the Education Department to use a little-known federal regulation that allows students to avoid repaying loan debts for schools that broke state law by deceiving students.
"These cases against Corinthian have unmasked a school that relentlessly pursued potential students," the letter read, "promising jobs and high earnings, and preying on their hopes in an effort to secure federal funds."
Corinthian, once one of the nation's largest for-profit college operators, has been in the cross hairs of federal and state investigators for years over allegations that its schools roped students into unmanageable debt with promises of career training.
The company was crippled by an Education Department move to restrict its access to federal student aid amid concerns that schools were falsifying student job placement rates.
The broad request for federal loan relief by the state attorneys general would mark an unprecedented action by the Education Department. Typically federal loans are discharged only when schools suddenly close or if a borrower dies.
"We're on new ground here," said Ben Miller, a former policy advisor at the Education Department who now works at the nonprofit New America Foundation in Washington.
The Education Department crafted a plan last summer that allowed Corinthian to sell off or gradually wind down operations at its schools. The company agreed in November to sell off the vast majority of its schools to ECMC Group, a nonprofit student loan servicer.
Because the schools stayed open, only a small fraction of borrowers were eligible for refunds.
The U.S. Consumer Financial Protection Bureau sued Corinthian last fall, and the company is under investigation by more than a dozen state attorneys general.
Though many of those cases are still pending, the attorneys general wrote that "it is within the [Education] Department's existing legal authority to help students who have been harmed by these schools."
A spokeswoman for the Education Department, Denise Horn, said in a statement that the agency shares the concern for the welfare of Corinthian students. "We look forward to responding to their letter," she said.
A spokesman for Corinthian, Joe Hixson, pointed out that the cases referenced by the attorneys general are still ongoing.
"There continues to be a due process issue here," he said. "Everything now is just allegations; nothing's been proven."
The Consumer Financial Protection Bureau announced a deal in February that offered students forgiveness for private loans — those not backed by the federal government — taken out at Corinthian schools. But federal loans make up the vast majority of student debt.
Corinthian and other for-profit schools rely heavily on federal student loans and grants for revenue. According to the company's most recent annual report, from 2013, the company received nearly 85% of its revenue — about $1.3 billion — from federal student aid.
The attorneys general's request comes as a group of more than 100 former Corinthian students have gone on a "debt strike" — refusing to pay off debts from Corinthian. The group met with officials at the Education Department and the Consumer Financial Protection Bureau in Washington last week.
One former student, Nathan Hornes of Los Angeles, said he has more than $68,000 in debt and said his bachelor's degree from Everest College-Ontario hasn't helped him get anything more than jobs in fast food.
"I don't even tell people that I have a degree, because it's like I technically don't," he said.
Hornes and others want the Department of Education to act: "We're tired of telling our stories. They know what they need to do."
---
For reporting and exclusive analysis from bureau chief John Myers, get our California Politics newsletter.
You may occasionally receive promotional content from the Los Angeles Times.