Disney alters perks for Club 33 members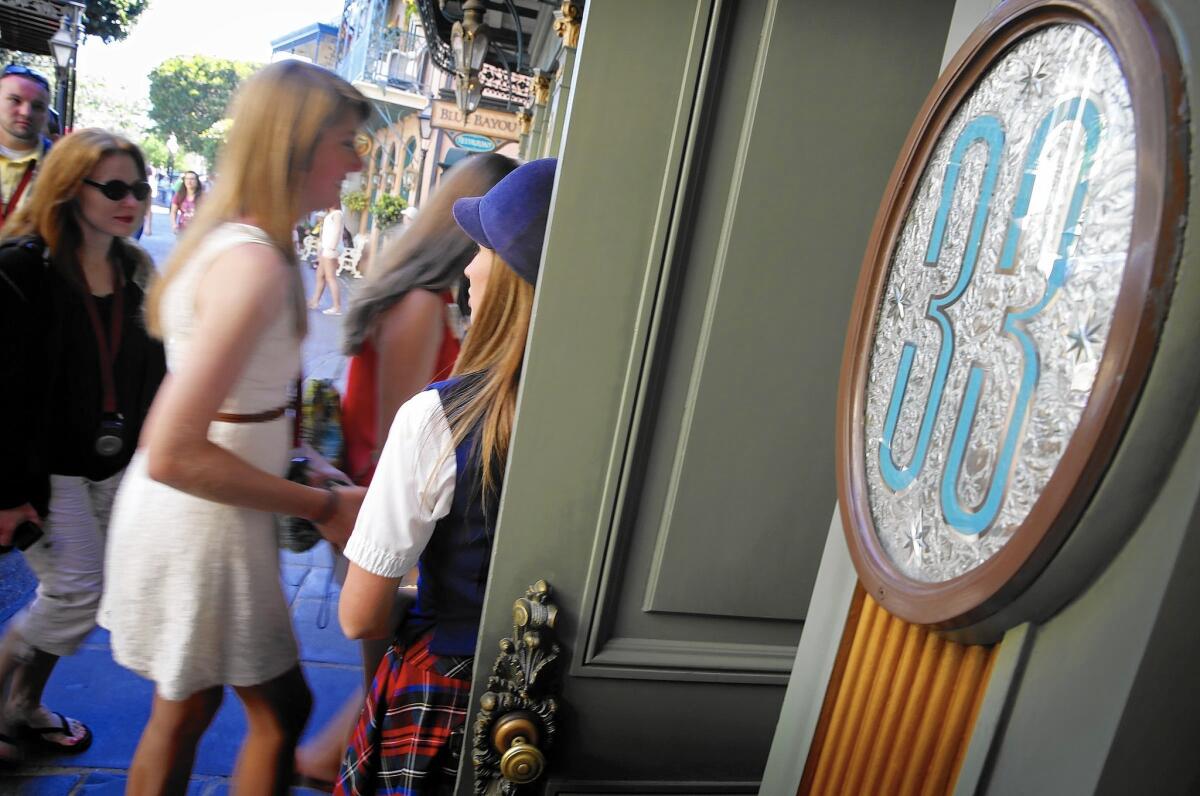 Some of Mickey Mouse's high-roller friends have their tails in a twist.
For access to what is billed as "the most exclusive address in all of Disneyland" — Club 33 — many members pay $11,000 a year. Now some of those fans are piqued over what they say is a roll-back of their platinum-plated perks. Some are even contemplating canceling a membership so coveted that the waiting list is closed.
The current uproar has to do with how many extra VIP cards are allotted to platinum members, the highest level of non-corporate membership. This year each got three.
The cards allow a lucky few to enjoy many of the benefits of a member, including access to Disney parks and dining at the secretive Club 33 restaurant, tucked away in Disneyland's New Orleans Square. VIP cardholders, who don't need to be related to the member, enjoy those perks without the member present.
But last week, platinum members received a letter that said in 2015 only the member and a spouse or domestic partner would have Club 33 benefits, while the price for the platinum level would rise to $12,000. Members' dependents, under the age of 21, retain some of the existing benefits.
"Disney pulled the rug out from everyone," one platinum member said. Like others interviewed, he declined to be identified, fearing Disney would revoke his membership.
Disneyland spokeswoman Cathi Killian declined to discuss the specifics of Club 33 membership, but said: "We're working with each member individually to determine the option that best suits their needs."
Walt Disney created the club, envisioning it as a place he could entertain investors and business associates, although he died before it opened in 1967.
The private Club 33 restaurant was closed earlier this year for renovations. It reopened in July with a new entrance, kitchen and jazz-inspired lounge. Now, members enter after climbing a curved staircase in the Court of Angels.
"Now that the renovation and expansion of Club 33 Le Grand Salon and Le Salon Nouveau are complete, we've turned our attention to evolving the membership program to bring you more value," Club 33 General manager James Willoughby wrote in the letter. "Each year we evaluate the business and Membership benefits and make necessary adjustments."
Instead of those three extra VIP platinum cards, which had few limitations, 2015 platinum members will receive four special annual park passes, which are more restrictive. They don't include access into Club 33, for instance.
In addition, the platinum member and spouse must use those passes to go into the parks.
A current platinum VIP cardholder was enraged. "It really has just turned to a money game for them."
Twitter: @khouriandrew