Avian influenza epidemic spurs nationwide rise in egg prices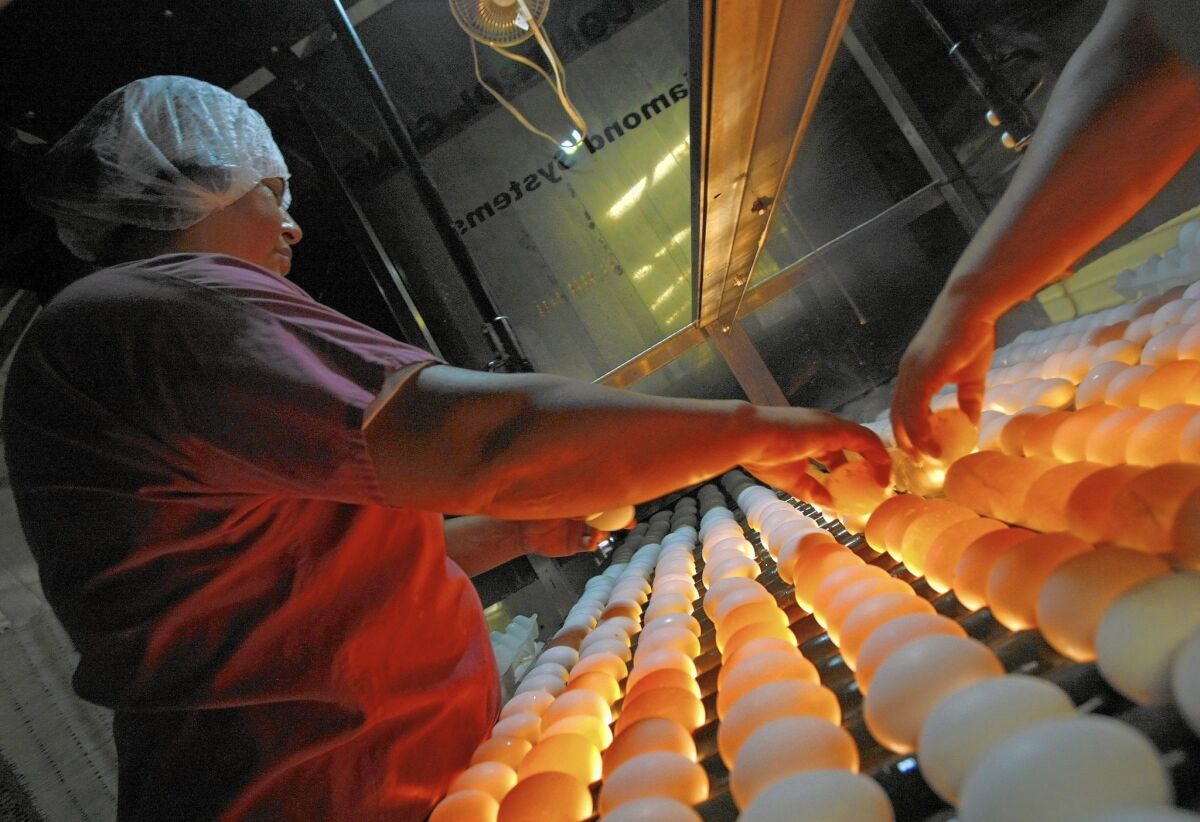 Consumers nationwide are beginning to see price increases because of the growing avian influenza epidemic, which has caused millions of chickens, turkeys and other birds to die or be euthanized.
The U.S. Department of Agriculture has reported three deadly flu strains in commercial and backyard poultry flocks totaling more than 43 million birds in 15 states since mid-December. In Iowa alone, the outbreak at commercial farms has led to the loss of nearly 30 million chickens, or nearly 10% of the nation's egg-laying hens.
"This is a devastation unlike any other in the history of our industry," said Chad Gregory, chief executive of United Egg Producers, a trade group that represents many of the farms that raise egg-laying hens.
Effects of the disease's rapid spread in recent weeks are just starting to show up at the supermarket, primarily in the egg case.
On Friday, the average wholesale price of a dozen large eggs from the hard-hit Midwest was $2.62, a record high, according to estimates from Urner Barry, a food commodity market research firm that compiles daily egg price reports.
The price has risen 120% from the average of $1.19 a dozen on April 22, when the disease kicked into high gear.
What's more, many of the hens affected by the avian flu produce eggs that are then sold in liquid form to restaurants or manufacturers of products such as ice cream, bread and salad dressing, said Rick Brown, egg reporter for Urner Barry.
With liquid egg costs up about 200% in the last month, consumers could see price increases soon in food products with a clearly visible egg, such as frozen sausage and egg sandwiches, he said.
"The loss of birds has tightened the market across the board," Brown said.
California's poultry business has seen little infestation. The virus was detected in a single chicken flock in Kings County and a turkey flock in Stanislaus County, for a total of 247,300 birds affected, USDA data show.
But California is heavily dependent on out-of-state egg producers, and as supply dwindles, prices have increased.
"It's affecting our market because our market's national," said Daniel Sumner, director of the UC Agricultural Issues Center. "The initial price effect will be where the disease is happening, but eggs move all across the country."
The average wholesale price of a dozen large eggs in California was $3.03 on Friday, according to Urner Barry. That's 71% higher than the average of $1.77 a dozen on April 22.
California consumers pay more for eggs than shoppers in other states because voters decreed that, as of Jan. 1, eggs sold in California had to come from chickens that could fully extend their wings and move freely in their cages.
The cost of overhauling henhouses or reducing flock sizes has contributed to higher egg prices in California, experts say. And that price gap could get worse.
The strict animal welfare law leaves the state's egg market vulnerable to "disruptions," Sumner said. Out-of-state suppliers must abide by the henhouse regulations, which narrows the list of those who can sell eggs within the state.
With the tighter supply of eggs, farms that once supplied California can now take their eggs elsewhere and for better value because they don't need to pay transportation costs from the Midwest, the nation's biggest egg-producing region, Brown said.
"The prices outside of California have gotten so high that now they are very competitive with California," he said. "The prices have risen across the board."
At a Ralphs supermarket west of downtown Los Angeles, shopper Xochitl Vazquez said she's already noticed higher egg prices.
The 33-year-old West Adams resident said she didn't mind the increase so far, but said she might change her eating habits if prices went higher. Her family eats eggs twice a week.
"I would purchase less if it came to the point that the price is too exaggerated," Vazquez said.
The effect of the bird flu outbreak will be seen for many months, Gregory said.
After farms dispose of birds from infected flocks and disinfect their farms, it can take six months before the USDA Animal and Plant Health Inspection Service gives them the go-ahead to repopulate. It can take another year or longer to get the farm fully operational.
"It's hard to predict who can make it and who can't," Gregory said. "The reality is not all of them will be able to."
Twitter: @smasunaga

Sign up for the California Politics newsletter to get exclusive analysis from our reporters.
You may occasionally receive promotional content from the Los Angeles Times.