GM breaks with Trump administration and calls for nationwide electric-car sales program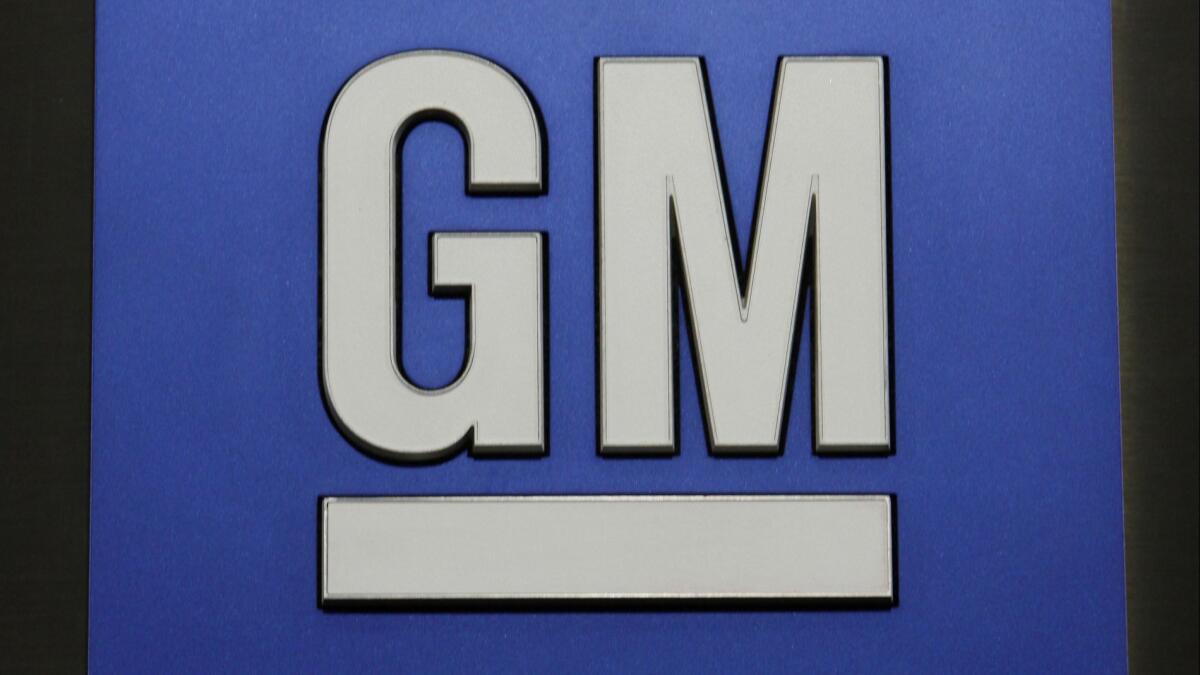 Bloomberg
Two of the biggest automakers are pushing back on the Trump administration's proposed rollback of U.S. fuel-economy standards.
In filings due Friday, General Motors Co. planned to propose that, rather than oppose California's so-called zero-emission vehicle sales mandate, federal regulators should embrace a nationwide electric-car sales program starting in 2021. Honda Motor Co., meanwhile, took exception to President Trump's proposed freeze on mileage standards and called for steadily increasing requirements to continue.
The responses, to be proposed in formal comments to regulators, mark one of the clearest signs yet of the auto industry's misgivings about the proposal to cap federal fuel-economy requirements in 2020 and unwind California's power to set its own automobile fuel-efficiency standards and its zero-emission vehicle mandate.
"We know that we can do better" than the Trump proposal, Mark Reuss, GM's executive vice president of global product development, told reporters in advance of the deadline. "We know that the industry can do better than that."
GM says a nationwide program could put 7 million long-range electric cars on the road and slash 375 million tons of carbon dioxide emissions by 2030, compared with existing zero-emission vehicle mandates.
The Environmental Protection Agency and the National Highway Traffic Safety Administration in August recommended keeping federal fuel-economy requirements at 37 mpg from 2020 through 2026, instead of raising them to about 47 mpg by 2025 under rules adopted by the Obama administration.
The agencies also want to revoke the most populous U.S. state's authority to adopt fuel-efficiency rules of its own, including its electric car mandate.
In comments Friday, the California Air Resources Board called on the Trump administration to withdraw its plan.
"The only clear winners from the efficiency-killing proposal are oil companies." said Richard Corey, the ARB's executive officer, in a letter to federal regulators.
While the auto industry sought relief from the Obama rules, carmakers view the Trump administration's response as too aggressive. They fear it could force them to build vehicles for California and 12 other states that follow similar standards, and another fleet for the rest of the nation. That, said GM's Reuss, would be "very costly, and frankly unnecessary."
Automakers also worry about a drawn-out court fight.
California and 18 other states plan to attack the EPA and NHTSA proposal as unlawful. California Atty. Gen. Xavier Becerra on Wednesday called it arbitrary and capricious, and said that it violates procedural requirements and the EPA's statutory obligation to reduce harmful pollution.
"GM is taking a leadership position in at least offering an alternative to what could be this endless battle between the federal government and California," said Michelle Krebs, an Autotrader analyst. "Whether the administration will accept it, that's another question."
Toyota Motor Corp. said it too favors a 50-state emissions plan, saying in a statement that it is optimistic that "adjustments" can be made to the current regulations "that will continue environmental progress" and satisfy regulators and companies while avoiding a patchwork of rules.
The Alliance of Automobile Manufacturers also said it supports a national standard with California's continued involvement. The association of 12 automakers including GM, Toyota and Volkswagen AG urged federal regulators to set "achievable" standards that "advance environmental and energy goals while recognizing marketplace realities."
Some greeted GM's proposal with skepticism. David Friedman, a former NHTSA deputy administrator during the Obama administration, said in a statement that unless a national electric car mandate is coupled with stringent efficiency requirements, carmakers could still prioritize gas guzzlers and blunt emissions reductions.
"The devil is in the details," said Friedman, the vice president for advocacy at Consumer Reports. "We hope GM is truly serious about this proposal. If they are, they will support the existing [greenhouse gas] standards they committed to meet back in 2012 and sit down with us and other organizations to craft a proposal designed to help all consumers."
In its comments on the U.S. proposal, Honda said it disagreed with the Trump administration's plan for revoking California's rule-making authority and that key elements of the federal government's analysis on traffic safety are flawed and should be scrapped.
Honda said pursuing the administration's preferred option would "bring years of uncertainty for the auto industry" while state and federal regulators duke it out in court.
"A far better path would be for federal and state policymakers to negotiate a national program that is acceptable, if not ideal, for all parties including automakers," Honda wrote.
Honda also recommended that the EPA maintain greenhouse gas targets that grow tougher each year instead of freezing them.
"The industry is united in its request that the agencies work out an agreement with California," Honda said in its comments.
After initially heated rhetoric when the proposal was released, U.S. and California officials agreed to hold talks to explore whether uniform standards nationwide can be maintained. Senior U.S. officials have also said they'd like to reach a compromise, but no deal has materialized thus far.
In a statement on Thursday, the free-market Institute for Energy Research said the existing standards are too aggressive, effectively requiring automakers to produce electric cars that consumers still purchase in relatively small numbers.
The group supports the proposed rollback, saying manufacturers currently must raise prices of more popular autos to compensate for losses on electric vehicles, unfairly penalizing suburban and rural consumers who tend to be more concerned about driving range and reliability.
But Krebs said GM is concerned that the U.S. could fall behind Europe and Asia in the development of electric cars. The automaker is also hoping officials will enhance a $7,500 federal tax credit for electric-car buyers that will soon begin to be phased out over several quarters for GM, Tesla Inc. and others, she said.
To be sure, GM stands to benefit if the proposal gains traction. It's readying a range of new electric cars and plans to begin an EV-based robotaxi business in the coming years. GM's proposal seeks "additional consideration" for electric vehicles placed into autonomous ride-hailing fleets.
Reuss said a national electric-car program would ease some of the challenges that this type of vehicle presents to all automakers.
"It will facilitate more makers to be able to really focus on development of electric vehicles more efficiently, and take the guesswork out of what we think may or not happen," he said. "We're making bets on a lot of uncertainty, which is highly destructive to capital."
Beene and Lippert write for Bloomberg.
---
UPDATES:
1:50 p.m.: This article was updated with comments from Toyota Motor Corp., the Alliance of Automobile Manufacturers and former Obama administration official David Friedman.
This article was originally published at 12:45 p.m.