Get your electronic health record: It's your right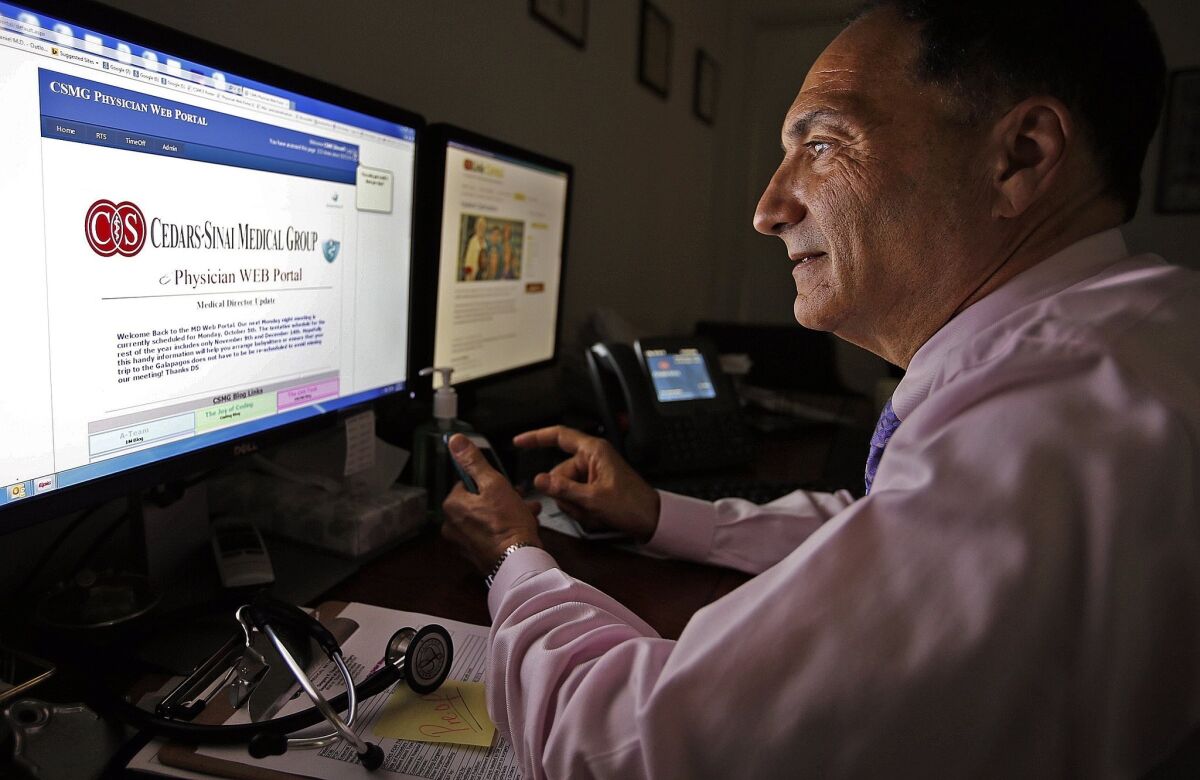 In May, Sue Kamm suffered a bad fall, and her injuries required her to spend about 10 days in two hospitals. Coupled with ongoing treatment from several doctors for diabetes, her medical records are scattered in various filing cabinets and computer systems around town.
"I've always been concerned that my records were never consolidated because I was treated at various facilities," said the retired librarian from Silver Lake. "It's frustrating."
Virtually all other industries, such as banking and travel, make online tools available that help consumers more easily manage their information. Not so in the healthcare business, where individual hospitals and doctors might have electronic health records but generally don't make it easy for patients to access them.
"Healthcare currently has a very fragmented delivery system, and there's no question that that fragmentation leads to patient frustration," says Darren Dworkin, chief information officer at Cedars-Sinai Health System.
A growing number of mobile apps seek to help patients gather and organize medical information into a unified digital health record.
Personal health record apps function similarly to technology that's long been available in the banking industry, says Bettina Experton, president and chief executive of Humetrix, which develops mobile health applications, including the iBlueButton app.
"You bank at Bank of America, Citibank and so forth, and you use a Quicken app to assemble all your information in a practical way for you to manage your finances," Experton says.
There's good reason to pull your medical records together. Viewing them, experts say, can help doctors better coordinate your care and allow you to identify and correct inaccuracies that can lead to dangerous or lethal outcomes.
Yet Americans haven't embraced digital personal health records the way they have wearable health devices that keep track of their weight, blood pressure and fitness routines. One reason is that patients don't want to be responsible for their own medical records, says Dr. Sachin H. Jain, chief medical officer of Cerritos-based CareMore Health Plan.
"We have to manage information for people, and make it easy for them to interact with it, but not put the pressure on them," he says of the healthcare industry.
As things currently stand, however, patients like Kamm who want access to all of their medical information electronically have little choice but to search for it on their own.
Experts explain your rights to gain access to your medical records electronically and how to go about doing it:
• Exercise your rights. Most people simply don't know it's their legal right to access their medical information electronically, according to Christine Bechtel, coordinator of Get My Health Data, an advocacy initiative to help patients get their records. The law that guarantees patients access to their medical records — HIPAA (Health Insurance Portability and Accountability Act) — was amended in 2009 to extend those rights to electronic copies, as long as healthcare providers can produce the data electronically.
Under the same law, the government invested about $40 billion to help doctors and hospitals buy and use electronic health records systems.
"The combination of those two things means most healthcare providers today use an electronic health record and therefore patients have a right to it," Bechtel says.
• Information your way. It's also your legal right to request and receive the information in any format you want — on a USB stick, a CD-Rom or even to your personal email address.
"Providers will almost always tell you it's a violation under HIPAA, but it's not," Bechtel says.
Also, you cannot be charged for an electronic version of your medical records, or for providers having to search for or retrieve them.
• School your doctor. Many healthcare providers don't understand that they're required to make records available digitally or that they have the means by which to do so, Expertson says.
But most providers participate in a federal program that requires they use technology that makes it possible for you to view, download and transmit your health information. They may tell you their technology doesn't have the capability to do this, but they're likely wrong.
"The key is that those providers have to know they have it in their machine even if they never used it," Expertson says.
On the website GetMyHealthData.org, you can access documents that clarify the law and what steps doctors can take to transfer your medical records to you. Those documents can be downloaded or faxed via email directly to your doctor.
•Choose an app. Although by no means exhaustive, you can see a list of personal health record apps, their function and cost, in the "Using your data" section of GetMyHealthData.
Kamm, the retired librarian, says she is determined to get ahold of her medical records.
"I want to be sure that my doctor has access to all the information and I want to have it also so that I know what's going on."
Twitter: @lisazamosky