Tesla stock takes a hit as GOP unveils tax plan that eliminates electric car subsidy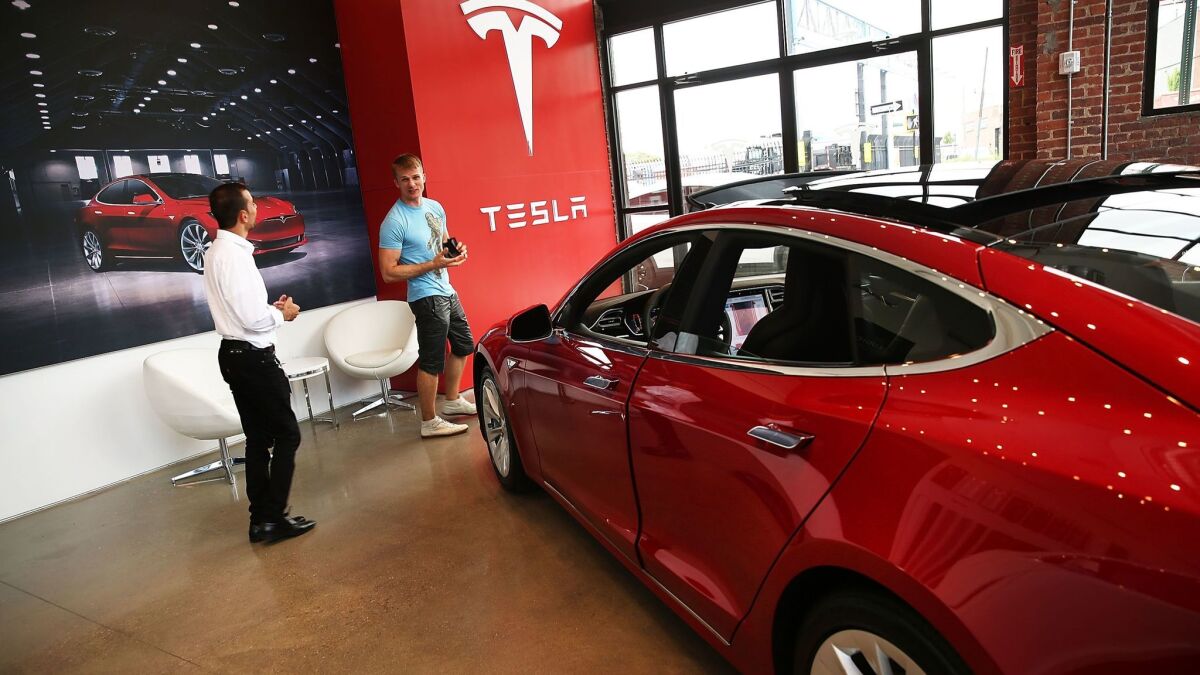 The shift toward electric vehicles took a big hit Thursday when Republicans officially proposed wiping out the $7,500 federal tax credit for buyers of electric cars as part of a sweeping tax overhaul.
Tesla would be the hardest-hit company should the plan pass Congress and be signed into law by President Trump. Although Chief Executive Elon Musk has said the company's business plan does not depend on such subsidies, the credit would be cut beginning in 2018, just when Tesla plans to scale up production of its new Model 3 sedan, with a current price of about $45,000 before subsidies.
Tesla stock slid 6.8% on Thursday to $299.26.
The automaker had no immediate comment.
It isn't the first time Tesla's clean-energy focus has conflicted with the Republican agenda. Musk had served on a business advisory committee assembled by Trump, but quit over Trump's opposition to the Paris climate change accord.
Other companies that would be immediately affected include General Motors, which sells the Chevy Bolt EV and Volt plug-in hybrid, and Nissan, which just introduced a new version of its all-electric Leaf.
All major automakers have announced plans to begin selling all-electric vehicles over the next several years, and all would have to deal with the fallout from the elimination of the tax credit. Battery packs for electric cars still cost thousands of dollars more to make than traditional internal combustion engines, and removing the subsidy could place them at an even bigger price disadvantage with gasoline- and diesel-powered passenger vehicles.
"Electric vehicles are several years away from being cost competitive," said Colin McKerracher, advanced transportation analyst at Bloomberg New Energy Finance. If the credit is cut, "it would have a very big impact on the EV market."
Electric car promoters are hoping the credit will be restored to the bill before passage.
"This is a terrible idea," said Joel Levin, executive director of the advocacy group Plug In America. "Fortunately, this is just the beginning of the discussion, not the end of it."
Subsidy foes say electric cars should compete at a free-market price without government assistance.
Steve Leslie, who owns a roofing company in Hood River, Ore., and drives a Tesla Model S, said he won't give up his deposit on a Model 3, tax credit or no.
A big fan of electric cars and Tesla CEO Musk, Leslie acknowledged that the lack of a credit might make the car unaffordable to some Model 3 depositors, which he said would be "too bad."
"Obviously we'd like to have the credit," said Leslie, 56. "Everybody likes a tax break. But I hate the oil companies more. I hate them so much I don't [care] about the tax break."
Mandates favoring electric vehicles are being implemented or considered around the world. London and Paris want to ban gas-powered vehicles by 2040. China has made clear it aims to dominate electric vehicle production, and is considering mandates on top of existing incentives.
"The question for the United States is whether we want these cars to be built here or in China," Levin said.
In California, legislators plan to introduce a bill in January that would mandate electric powertrains for all new cars sold in the state by 2040. California currently offers $2,500 refunds on electric cars, which would remain whatever happens with the federal credit.
The state's Zero Emission Vehicle program, which in effect mandates automakers meet a certain percentage of EV sales in California and nine other states, would remain. The aim for automakers is 8% of new car sales in California be electric by 2025.
"It's not a foregone conclusion that U.S. automakers would shelve their EV plans," said Bloomberg New Energy Finance's McKerracher. "But it would take the pressure off a little bit and could have implications for their (global) competitiveness."
It could also hurt a budding industry in battery packs, charging stations and other electric car components.
China and Germany are committed to the electric car market, he said.
Bloomberg New Energy Finance forecasts 1 million pure-electric passenger vehicles will be sold in 2017, half of them in China, about a quarter in the U.S.
---
UPDATES:
3:10 p.m.: This article has been updated with comments from a Tesla customer.
2:20 p.m.: This article has been updated to include additional analysis of the electric car market and a closing stock price for Tesla.
This article was originally published at 1:25 p.m.
---
Sign up for the California Politics newsletter to get exclusive analysis from our reporters.
You may occasionally receive promotional content from the Los Angeles Times.