Waymo-Uber trade secrets trial puts spotlight on tech's talent war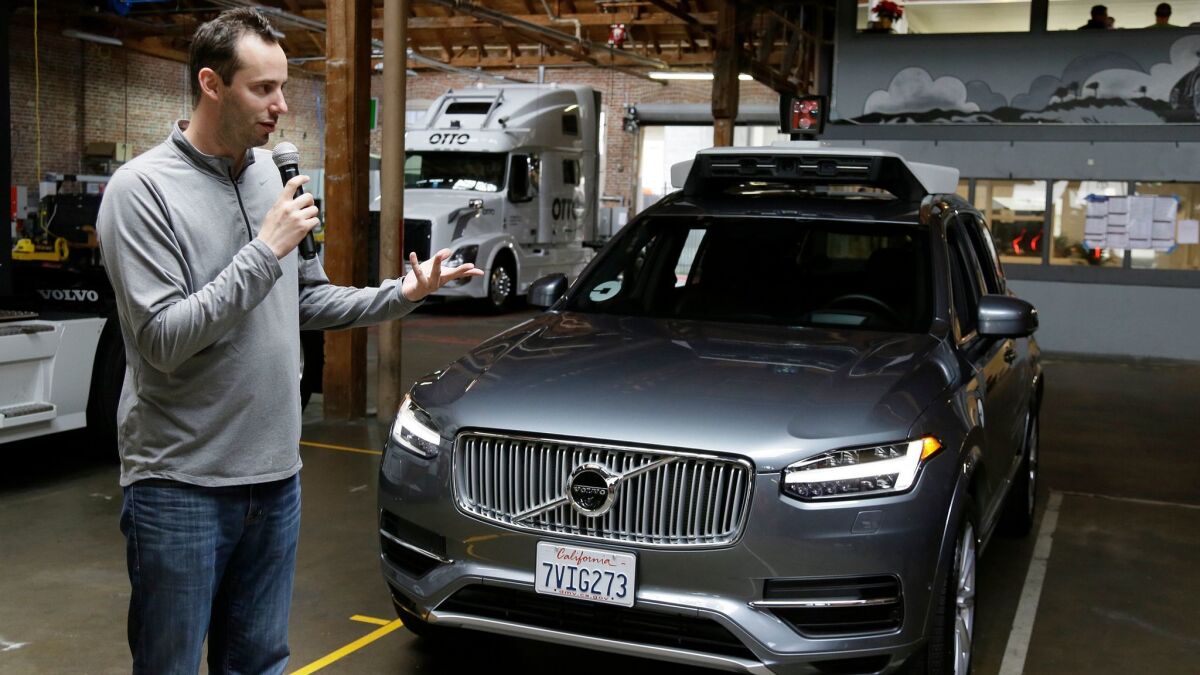 Bloomberg
Should full frontal lobotomies be required of Silicon Valley engineers looking to change jobs?
Uber Technologies Inc. has said with a touch of hyperbole that that's what the future holds if Waymo wins its lawsuit accusing the ride-hailing giant of stealing trade secrets by hiring engineers who worked at the Alphabet Inc. unit.
Jurors will have to weigh a complicated distinction: Did the self-driving hardware that engineers developed at Uber come from trade secrets stolen from their former employer, or did they just rely on knowhow they internalized at Waymo and had every right to keep in their brains?
"Are they actually trade secrets? That's what the jury's going to have to decide," U.S. District Judge William Alsup in San Francisco told prospective jurors at the start of the selection process Wednesday. Uber vehemently denies the claims, the judge said, and argues that "by the way, these aren't trade secrets anyway."
The judge plans to give jurors instructions to help navigate the law, and he's worried aloud about what he calls "the employee mobility problem," though he did tell Uber that lobotomies won't be the answer.
The freedom to move between competing companies has long been a source of conflict in the technology sector, and Alsup noted at a pretrial hearing that "Silicon Valley and the rest of the technical world out there in the United States is very interested to know how we balance these competing factors here."
Waymo is seeking almost $2 billion in damages and a court order blocking its competitor from continuing to use the technology in dispute. The companies are part of a fierce race to market driverless technology, estimated to be worth hundreds of billions of dollars a year in revenue.
Opening arguments begin Monday, and the trial is expected to be thick with allegations of backstabbing plots, greed and grudges. Witnesses will include Travis Kalanick, the voluble co-founder of Uber who was forced out as its chief executive in June, and Alphabet's reclusive chief, Larry Page, who rarely speaks publicly.
Anthony Levandowski, the engineer accused of spiriting thousands of proprietary files from Waymo to Uber, also will be called to testify, even though he has remained mostly silent since the case was filed. If he chooses to stay quiet, Levandowski will be required to assert his constitutional right against self-incrimination in front of the jury as Waymo lawyers barrage him with questions.
Jurors will hear about a heap of circumstantial evidence that Levandowski colluded with Kalanick even before leaving his job at Waymo. The Alphabet unit also says it has technological evidence that Uber stole secrets to copy its LiDAR, the reflection of laser beams self-driving cars rely on to sense surroundings and avoid pedestrians, obstacles and other vehicles.
"This is not a case where a group of engineers had an accidental foot-fault and crossed the line from knowhow to trade secret because they didn't know where the line was," said Amy Candido, a lawyer for Waymo with Quinn Emanuel. "This is a case where Levandowski and other individuals at Uber intentionally, brazenly and willfully together misappropriated Waymo's trade secrets."
Silence from Levandowski as a central figure in the trial "leaves open loose threads on all sides," and that invites speculation by the judge and jury, said Eric Goldman, a professor at Santa Clara University's law school. Levandowski's refusal to answer questions could make it harder for Waymo to prove its case and could also complicate Uber's effort to argue that it didn't benefit from his actions, Goldman said.
It works in Uber's favor that California, where both companies are based, has a well-established public policy of protecting — even encouraging — employee job-hopping.
"The law goes out of its way to protect employee mobility because it is essential to innovation, to a dynamic economy, and to free choice to work where you want," Uber said in a statement.
In the end, it may come down to whether the jury is convinced that information claimed as trade secrets actually qualifies for legal protection, the professor said.
"The judge really wants to make sure general knowledge isn't converted into trade secrets, and bars employees from taking new jobs," he said.
Rosenblatt writes for Bloomberg.
---
Sign up for the California Politics newsletter to get exclusive analysis from our reporters.
You may occasionally receive promotional content from the Los Angeles Times.