Kiva Zip microlending program hopes to be the Lyft or AirBnB of finance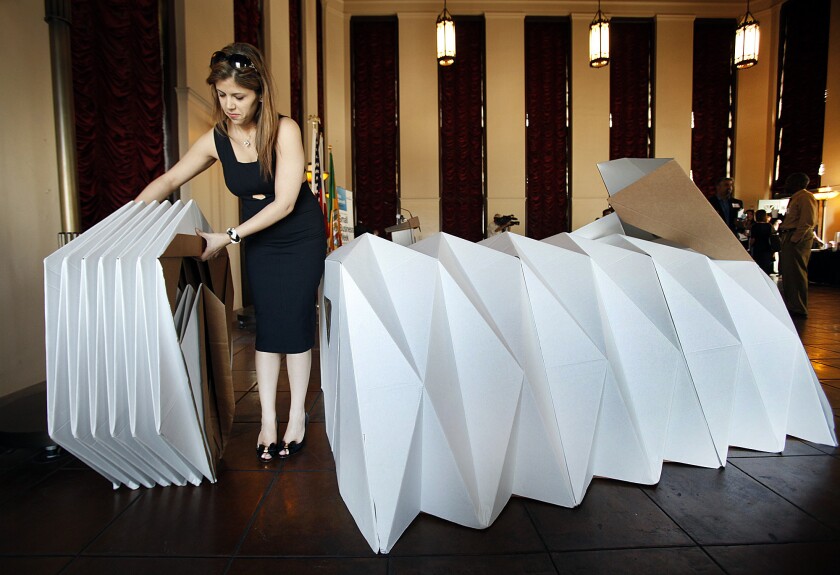 Microlending nonprofit Kiva.org hopes to do for small-business financing in Los Angeles what Lyft has done for transportation and AirBnB has done for lodging – take it to the people.
The organization is partnering with the city of Los Angeles on the local launch of its Kiva Zip pilot program, which enables individuals to make small loans directly to entrepreneurs.
In a city that is "not getting a lot of new resources," public-private partnerships and ground-level networking in the business community are key to growth, said Kelli Bernard, the deputy mayor of economic development.
Los Angeles, she said, is the top manufacturing hub in the country and the third most entreprenurial metropolitan area in the world behind Silicon Valley and Tel Aviv. The area is home to roughly 325,000 small companies.
"Small business is the lifeblood of our economy," she said.
Bernard spoke at a morning event Wednesday in the Tom Bradley Tower of City Hall, where several Kiva Zip loan recipients displayed their wares.
The program is powered by what senior director Jonny Price calls "social capital" – a philosophy of finance that focuses on community and character instead of numbers and ratings.
"It's not about the transaction, it's about the relationship," he said. "It's the zeitgeist."
Normally, funding sent through San Francisco-based Kiva.org to Los Angeles businesses are processed and adminsitered by the Valley Economic Development Center, which charges interest on the loans.
Some entrepreneurs can't tap money that has gone through the center – their credit may be too poor, their capital stores too low, their experience too minimal, Price said.
Kiva Zip operates on a separate website and puts no intermediary between lenders and businesses. Loans are interest-free. Each borrower is symbolically backed by a trustee – another business or group that publicly vouches on Kiva Zip for the borrower's character and business plan.
Though trustees aren't financially liable for defaults on loans, which Price said are rare, "their reputation is at stake," he said. And before a loan request goes public on the Kiva Zip website, borrowers must first persuade 15 acquaintances to pitch in.
"This is an expansion of access to capital, a democratization," he said.
The lending process is also entirely confined to the Kiva Zip website. Instead of using auditors who manually dig through shoeboxes full of receipts, the program relies on a streamlined online system that conducts due diligence using algorithms.
Borrowers receive funds through PayPal – a service they then sometimes incorporate into their businesses, "bridging the digital divide" and improving their chances of succses, Price said.
Currently, Kiva Zip has 15 trustees in Los Angeles. Some 30 loans have gone through in the last six months.
Tina Hovsepian, 27, received $5,000 through Kiva Zip for her nonprofit Cardborigami, which provides temporary shelters for the homeless. She's backed by trustee Entrepreneurs4Change in Woodland Hills, which has endorsed four loans on Kiva Zip.
Cardborigami is based in North Hollywood and run by four full-time volunteers and a five-person advisory board, but Hovsepian hopes to move the operation closer to where she lives in Santa Monica.
The Kiva Zip loan -- along with various grants, private donations and award money from competitions -- has enabled her to produce 150 shelters. She's also been able to hire six homeless youths to help assemble the white, accordian-like structures, which are manufactured near Commerce.
"It isn't easy," she said of getting funding in Southern California. She tried to get a loan on her own from banks but "it was impossible," she said.
"There are more nonprofits in the area, and more competition for funding than in the past," she said.
---
Your guide to our clean energy future
Get our Boiling Point newsletter for the latest on the power sector, water wars and more — and what they mean for California.
You may occasionally receive promotional content from the Los Angeles Times.