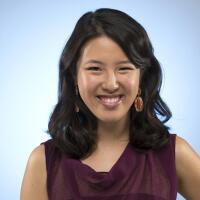 Tiffany Hsu
Tiffany Hsu is a former staff writer for the Los Angeles Times. Previously, she wrote about the California economy, fast food, restaurants, retail and alternative energy for the Business section. A Bay Area native, UC Berkeley graduate and eternal Nor-Cal fan, she once worked for the San Francisco Bay Guardian. She also did a stint at the Richmond Times-Dispatch, where she developed a passion for sweet tea. She still has faith that someday she'll find two economists who agree.

Latest From This Author
Life may be getting easier for vegans and vegetarians – especially the ones who still crave meat – with more food choices available from manufacturers and restaurants.

Paying for an average home is a rough process — a hefty down payment can wipe out savings, the paperwork feels endless and the mortgage often lasts decades.

Sometimes, Devon Sawa just wants a bit of coffee and quiet.

All actor Barry Watson can think about after filming out of town is getting back to his kitchen and whipping up a quail-egg grilled cheese sandwich for his daughter or what his wife calls the best lamb chops in the world.

A woman in a red dress twirls with a dark and mysterious man through light-filled hallways.

Kristin Chenoweth's powerhouse pipes get top billing on Broadway, but in her Beverly Hills apartment, it's her nine-foot piano that takes center stage.

Few residential properties are as desirable as Southland surf and turf, or as difficult to develop.

Jillian Michaels learned a hard lesson once she became a parent.

Actress Lorraine Toussaint and her 12-year-old daughter, Samara, have a longstanding tradition: On Sunday mornings, they lay a blanket over Toussaint's bed, whip up an elaborate breakfast and have a picnic in their pajamas.