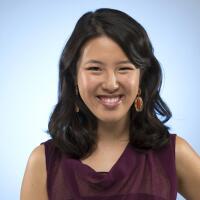 Tiffany Hsu
Tiffany Hsu is a former staff writer for the Los Angeles Times. Previously, she wrote about the California economy, fast food, restaurants, retail and alternative energy for the Business section. A Bay Area native, UC Berkeley graduate and eternal Nor-Cal fan, she once worked for the San Francisco Bay Guardian. She also did a stint at the Richmond Times-Dispatch, where she developed a passion for sweet tea. She still has faith that someday she'll find two economists who agree.

Life may be getting easier for vegans and vegetarians – especially the ones who still crave meat – with more food choices available from manufacturers and restaurants.

Paying for an average home is a rough process — a hefty down payment can wipe out savings, the paperwork feels endless and the mortgage often lasts decades.

All actor Barry Watson can think about after filming out of town is getting back to his kitchen and whipping up a quail-egg grilled cheese sandwich for his daughter or what his wife calls the best lamb chops in the world.

Kristin Chenoweth's powerhouse pipes get top billing on Broadway, but in her Beverly Hills apartment, it's her nine-foot piano that takes center stage.