Mylan's EpiPen profit was 60% higher than what the CEO told Congress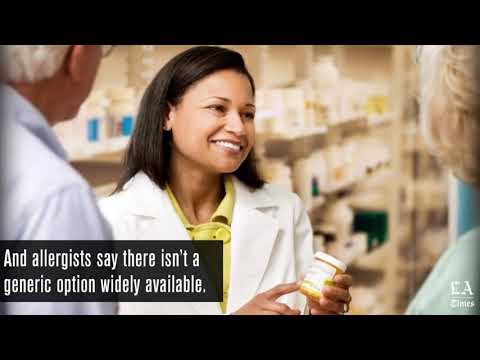 The EpiPen, an important item for people with severe food allergies, has gotten a lot more expensive.
The Washington Post
Lawmakers were skeptical last week when Mylan's chief executive said that the company made only $100 in profit for a two-pack of EpiPens. During a House hearing, she repeatedly referred to a poster board showing how little of the $608 list price trickled back to the company.
The incredulity was warranted: The profit CEO Heather Bresch told Congress about was calculated after factoring in the 37.5% U.S. tax rate, according to a filing with the Securities and Exchange Commission first reported by the Wall Street Journal.
That tax rate is more than five times the overall tax rate the company actually paid last year and is much higher than its actual U.S. tax rate, which tax specialists have pegged at close to zero.
Before taxes, the EpiPen profit is actually $160 for a two-pack. At the hearing, Bresch said the company sold about 4 million two-packs a year. The device delivers an antidote to potentially deadly allergic reactions.
"It is intellectually dishonest to include tax provisions for U.S. taxes that aren't due, and that the company does not in fact anticipate ever having to pay," said Edward Kleinbard, a professor of law and business at USC's Gould School of Law.
Mylan has reduced its effective tax rate through an inversion by relocating its headquarters to the Netherlands. The company's overall tax rate is well below the U.S. tax rate, at 7% in 2015, according to the SEC filing. But the taxes the company pays in the United States have been pushed down even further.
Mylan's U.S. tax rate "is close to zero, a very, very low rate," said Robert Willens, an independent tax expert.
Mylan defended the way it reported its profit.
"Tax is typically included in a standard profitability analysis, and the information provided to Congress has made clear that tax was part of the EpiPen Auto-Injector profitability analysis," Mylan spokeswoman Nina Devlin said in a statement. "It also is important to note that use of a statutory tax rate for the jurisdiction being analyzed (in this instance, the U.S.) is standard."
Johnson writes for the Washington Post.
ALSO
Column: Another reason to hate Mylan: It's a tax dodger
Self-driving trucks threaten one of America's top blue-collar jobs
How will I charge my electric vehicle? And where? And how much will it cost?