Mylan CEO blames rising cost of the EpiPen on 'opaque' industry pricing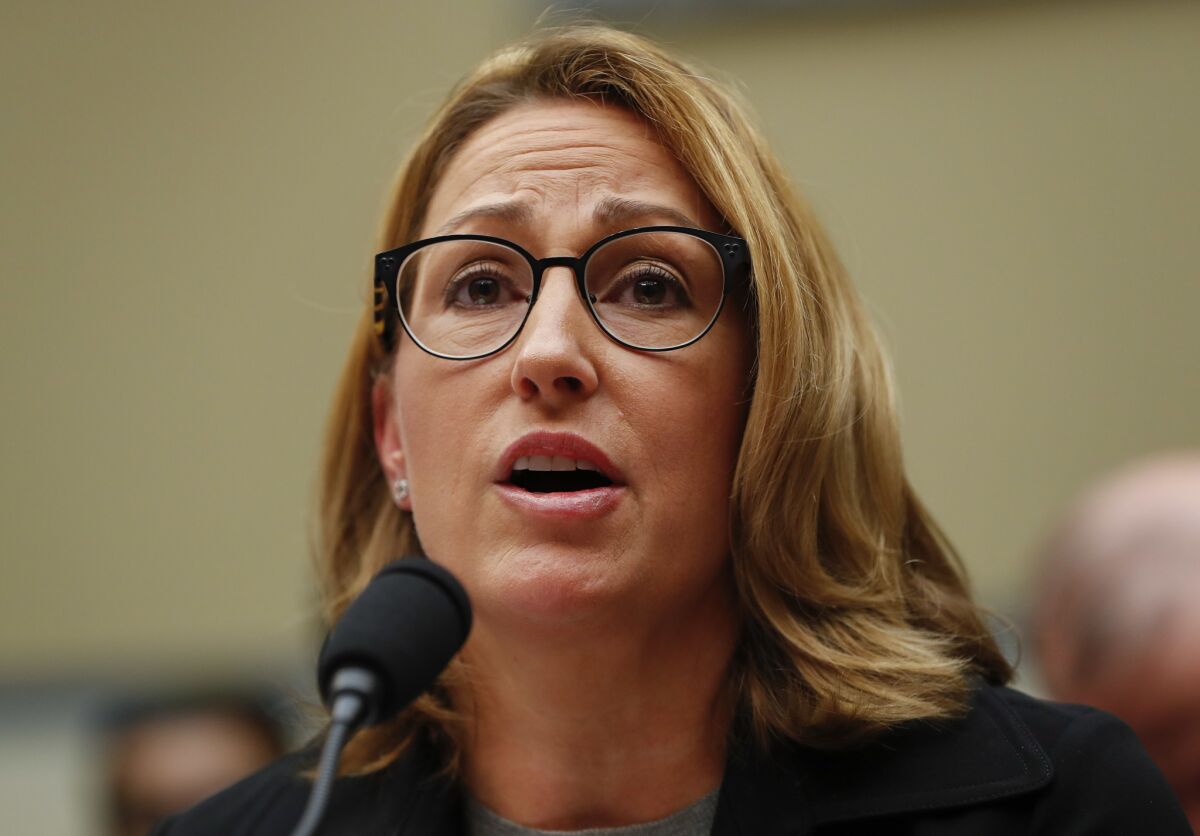 Lawmakers blasted the chief executive of the maker of EpiPens at a House hearing Wednesday, saying the company's price hikes of more than 500% were stopping families from keeping their children safe.
"Do you have a guilty conscience about any of this?" Rep. Scott DesJarlais (R-Tenn.) asked Mylan Chief Executive Heather Bresch. "A mother would cut off her right arm to get that dose of drug."
In her testimony, Bresch tried to defend her pricing of the device that delivers an antidote to potentially deadly allergic reactions.
Bresch said there was a "misconception" about how much the company was profiting from the device. And she blamed the controversy on the system of pricing in the pharmaceutical industry, which she called "opaque and frustrating."
"The story got ahead of the facts," Bresch said at the hearing held by the House Committee on Oversight and Government Reform.
Lawmakers from both parties repeatedly pointed out how Bresch's salary had risen even faster than the price of the EpiPen.
According to securities filings, Bresch's total compensation increased from $2,453,456 in 2007 to $18,931,068 last year — a rise of 671%.
"The greed is astounding. It is sickening, disgusting," Rep. John J. Duncan Jr. (R-Tenn.) said. "I am a very conservative pro-business Republican but I'm really sickened by what I've heard here today."
A protest against high drug prices is held outside the USC School of Pharmacy.
Mylan has stirred outrage across the country by raising the price of the EpiPen by 547% since 2007, when it acquired the rights to sell the device from another company. The wholesale price for a package of two autoinjectors has risen from $94 in 2007 to $608 this year, according to data from Truven Health Analytics.
The device is only one of the company's 2,700 products but it now makes up about 10% of its revenue.
Bresch said that although she regretted that some patients had trouble paying for the drug, lawmakers needed to recognize that Mylan had greatly increased access to the lifesaving device.
She said most patients at risk of an allergic reaction now have access to the drug, and that 85% of patients pay less than $100 for a two-unit package.
"Looking back, I wish we had better anticipated the magnitude and acceleration of the rising financial issues for a growing minority of patients who may have ended up paying the full … price or more," she said. "We never intended this."
Bresch said the company was making far less on the drug than the public believed. She said after rebates and fees Mylan received just $274 of the device's $608 wholesale price.
After subtracting the $69 cost of the device and other related costs including marketing, Mylan's profit is $100 for the two-device package, she said.
Some members of the committee said they didn't believe the profit numbers provided by Bresch and they chastised her for not providing all of the financial information the committee had requested a month ago.
The lawmakers also pointed out that Mylan was not the only pharmaceutical company to aggressively hike prices. They repeatedly mentioned Martin Shkreli, the former chief executive of Turing Pharmaceuticals, which raised the price of an anti-parasitic drug called Daraprim from $13.50 to $750 per pill last year.
"Yet another drug company, Mylan, has jacked up the price of a lifesaving product for no discernible reason," Rep. Elijah Cummings (D-Md.) said.
Bresch, 47, is no stranger to politics. Her father is Sen. Joe Manchin III (D-W.Va.).
The EpiPen device automatically injects a drug called epinephrine, which reverses potentially deadly allergic reactions.
The House committee is not the only group of officials demanding answers from Bresch.
Mylan is facing a myriad of investigations into its pricing and sales practices. Just this week, Senate Republicans called for a probe of whether Mylan had received tens of millions of dollars of excessive rebates from the federal Medicaid program. And the Republican attorney general in Bresch's home state of West Virginia asked a court Tuesday to enforce a subpoena against Mylan as part of his ongoing probe "into the skyrocketing price of its EpiPen."
Earlier, New York state's attorney general launched a probe into Mylan's contracts with school systems to purchase EpiPens, which may have terms designed to keep out competition.
Mylan turned the EpiPen into its first billion-dollar product through the price hikes and by spurring demand. The company has spent millions of dollars on advertising the EpiPen. It also continues to lobby states to pass legislation to have epinephrine injectors available in schools and other public places. In 2013, it successfully lobbied for a federal law that encourages schools to keep emergency supplies of the device.
Mylan has attempted to mollify angry consumers by offering more financial aid to patients, including coupons covering up to $300 of a patient's co-payment. But critics point out that the co-pay coupons are a tactic used throughout the pharmaceutical industry to keep prices high. The coupons insulate patients from the price hikes, but insurance companies, employers and taxpayers must still pay more for the rest of the bill for the drug.
To appease critics, the company has also decided to soon begin selling the device as a generic drug at a price of $300 – half the price of the EpiPen. Yet that price is still three times its price in 2007.
Epinephrine, the drug inside the EpiPen, has been available as a cheap generic medicine for decades. It was first synthesized more than 100 years ago. Lawmakers said Wednesday that they believed the device held only about $1 worth of epinephrine.
The company stirred criticism in 2014 when it moved its corporate address from Pennsylvania to the Netherlands to lower its tax rate.
Twitter: @melodypetersen
ALSO
Mylan to launch a cheaper, generic version of EpiPen
Here's why drug prices rise even when there's plenty of competition
Column: Another reason to hate Mylan, which jacked up the price of life-saving EpiPens: It's a tax dodger
---
UPDATES:
3:55 p.m.: This article has been updated with additional quotes and information from the hearing.
This article was originally published at 2:30 p.m. Sept. 21.
Our six-week newsletter will help you make the right decision for you and your property.
You may occasionally receive promotional content from the Los Angeles Times.