Clearing cargo backlog at Southland ports may take three months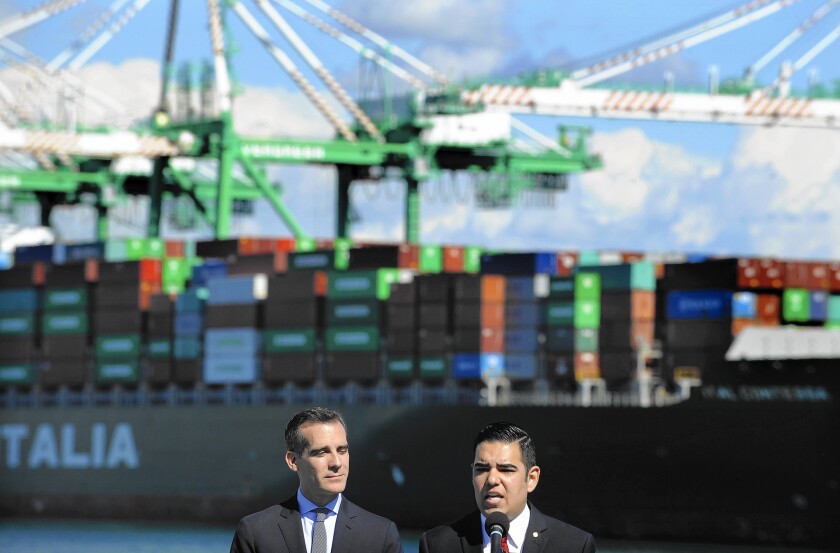 Southern California port officials say it could take up to three months to clear cargo that piled up during a labor dispute that threatened to cripple West Coast commerce.
On Friday, shipping companies and the International Longshore and Warehouse Union reached an agreement in contract talks that had dragged on since last year. The White House dispatched Labor Secretary Thomas Perez to California to help broker an agreement after the standoff all but closed ports from Southern California to Washington state over the President's Day weekend.
As political leaders held a news conference Monday with industry officials in San Pedro to celebrate the tentative deal — which still must be ratified by shipping companies and union members — some sounded a sober note.
"Today behind me we are working 22 vessels," said Port of Los Angeles Executive Director Gene Seroka, standing on the deck of the decommissioned battleship USS Iowa as cranes lifted containers from ships in the distance. "We have 35 more ships at anchor at our breakwater and two dozen more on their way pointed to Los Angeles and Long Beach. There is much work to do."
The deal reached last week came after a months-long stalemate between the ILWU and Pacific Maritime Assn., which represents shipping companies.
The two sides' failure to agree brought increasing pressure from elected leaders, including California senators Barbara Boxer and Dianne Feinstein and Gov. Jerry Brown.
Public perception soured after word leaked that a final obstacle was the union's demand that a single, low-level dock official in charge of overseeing workplace disputes be fired. L.A. Mayor Eric Garcetti said last week that it was "crazy" for negotiations to stall over such a small problem.
Union and employer representatives had a chastened air as they appeared alongside Garcetti and Long Beach Mayor Robert Garcia at Monday's event.
"There have been significant impacts for many, and we haven't lost sight of that," said Chad Lindsay, the Pacific Maritime Assn.'s vice president for labor relations. "We appreciate everyone's patience as we do our part to get things back to normal."
In an interview, Lindsay agreed with Seroka's prediction that restoring the ports of L.A. and Long Beach to a normal workflow would take up to three months. Lindsay said it was likely that extra workers would be brought on to accelerate the cargo flow.
ILWU Local 13 President Bobby Olvera Jr. said the estimate was "not unrealistic" but added that he believed the movement of cargo could be speeded up if dockworkers were allowed to work more late-night shifts.
Each side must submit the proposed contract to a vote. Olvera said he expected that the union vote would be completed "within a month or two."
Twitter: @PeteJamison

---
Be your money's boss! Learn how to make a budget and take control of your finances with this eight-week newsletter course.
You may occasionally receive promotional content from the Los Angeles Times.