Dying shopping malls can make room for new condos and apartments, helping ease the housing crisis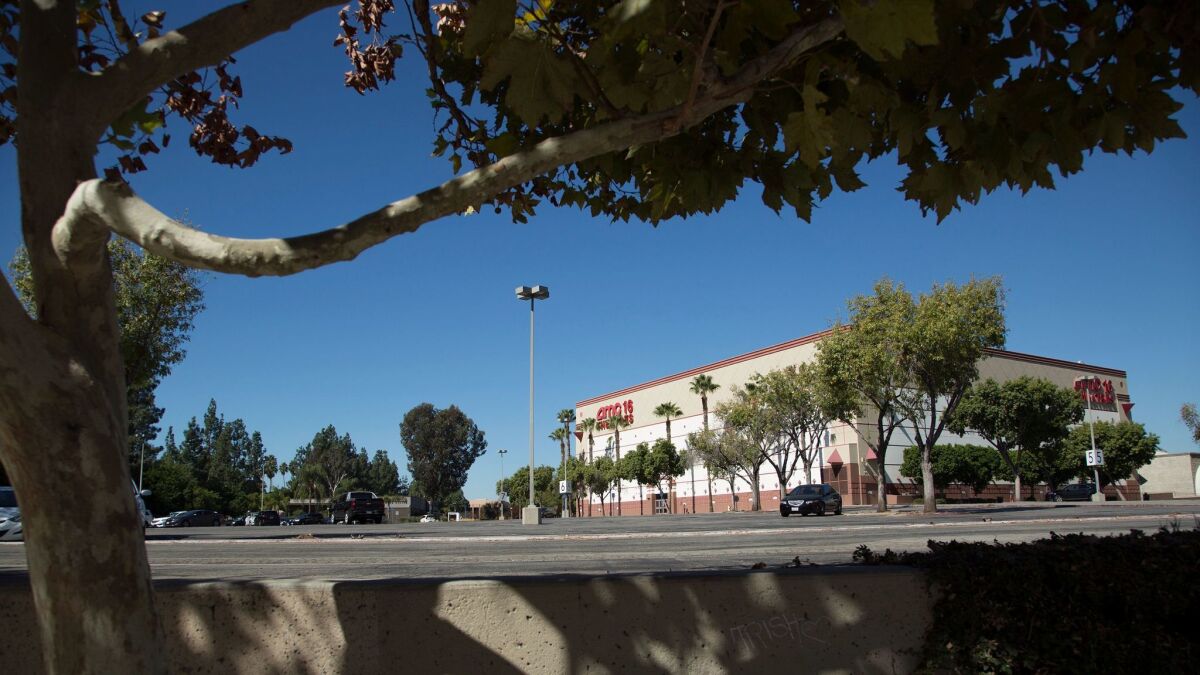 In the San Fernando Valley, there are plans to level a nearly vacant mall and replace it with some 1,400 homes, boutique retail shops and a concert venue.
In Orange County, an aging mall will give way to a mixed-use development with more than 900 homes. And in the South Bay, hundreds of homes are planned to replace a struggling mall that opened in the mid-1980s.

For the record:
8:25 a.m. Sept. 29, 2017An earlier version of this article misspelled Capri Investment Group CEO Quintin E. Primo III's first name as Quentin in a photo caption.
An old adage implores investors to "buy land; they're not making it anymore." But in a way, in cities across the country, they are.
Acres of prime real estate are opening for redevelopment as America's malls struggle to compete with Amazon and other online giants, offering developers a rare shot to remake swaths of land in the country's built-out metropolises.
In particular, real estate experts say, the demise of retail centers provides one of the best chances to add needed housing in California's urban regions, where a shortage has left nearly 30% of renters in the state paying more than half their income on housing.
"It's a huge opportunity — probably one of the biggest," said Adam Artunian, a vice president with John Burns Real Estate Consulting in Irvine.
The redevelopments are likely to face hurdles from residents concerned over the changing character of their neighborhoods, but as Americans increasingly buy T-shirts, purses and electronics online experts say something needs to be done with all the massive retail centers that popped up during the postwar era before they become neighborhood blights.
A recent report from Credit Suisse predicted the trend will result in 20% to 25% of America's malls closing in the next five years.
To stave off that fate, some owners are redeveloping their properties into destinations that try to give shoppers a new reason to venture outside. There's an emphasis on experience and typically more restaurants and outdoor boutiques, as well as community spaces that can hold concerts and other events.
Housing is key too.
"You don't have to reach out to your customer base, because they live right there," said Cynthia Murphy, who oversees mall leasing nationwide for commercial real estate brokerage CBRE Group.
Major projects have been proposed in the San Fernando Valley, South Los Angeles, the South Bay and Orange County that would add more than 4,000 housing units where none previously existed. And it's not just Southern California.
In the San Francisco Bay Area town of Richmond, a real estate investment firm is looking to add as many as 9,600 homes when it redevelops the struggling Hilltop Mall. Elsewhere, there are projects in the suburbs of Chicago, Philadelphia and New Orleans, just to name a few.
George Hoglund, an analyst with investment banking company Jefferies, predicted many of the nation's 1,200 large malls will be reworked over the next five to 10 years.
"I would say a couple hundred of them," Hoglund said.
In Woodland Hills, shopping-center giant Westfield Corp. is seeking approval to level the Promenade mall built in 1973 and start anew.
Last fall, it rolled out plans to build residences, offices, two hotels and a concert venue, along with a string of boutiques and restaurants. A website pitching the proposal depicts tree-lined avenues, a central park and courtyards.
The $1.5-billion project, if approved, will connect to Westfield's two adjacent properties — the indoor Topanga mall and the Village, a $350-million outdoor shopping center that opened two years ago.
On a recent Sunday afternoon, the Village was packed with people eating at restaurants and strolling through boutiques. A rock band even played, setting up in front of Lucille's Smokehouse Bar-B-Que.
Across the way, the Promenade's parking lot was largely empty. The indoor mall and Macy's have closed and only the movie theater, a few restaurants and a book store were open.
Around noon, just two shoppers browsed for a deal on books after passing a sign that announced a "Store Closing Sale!" and another that informed them the entrance to the indoor mall was "no longer available."
Larry Green, a senior vice president with Westfield, said the company knew it needed to redevelop the 34-acre property even before online shopping took off, citing the consolidation of department store anchor tenants.
"It wasn't that long ago, here in Los Angeles, there were 10-plus department stores," Green said. "The consolidation has happened over decades and it's going to continue, but it allows us to do some really good things and to create urban communities."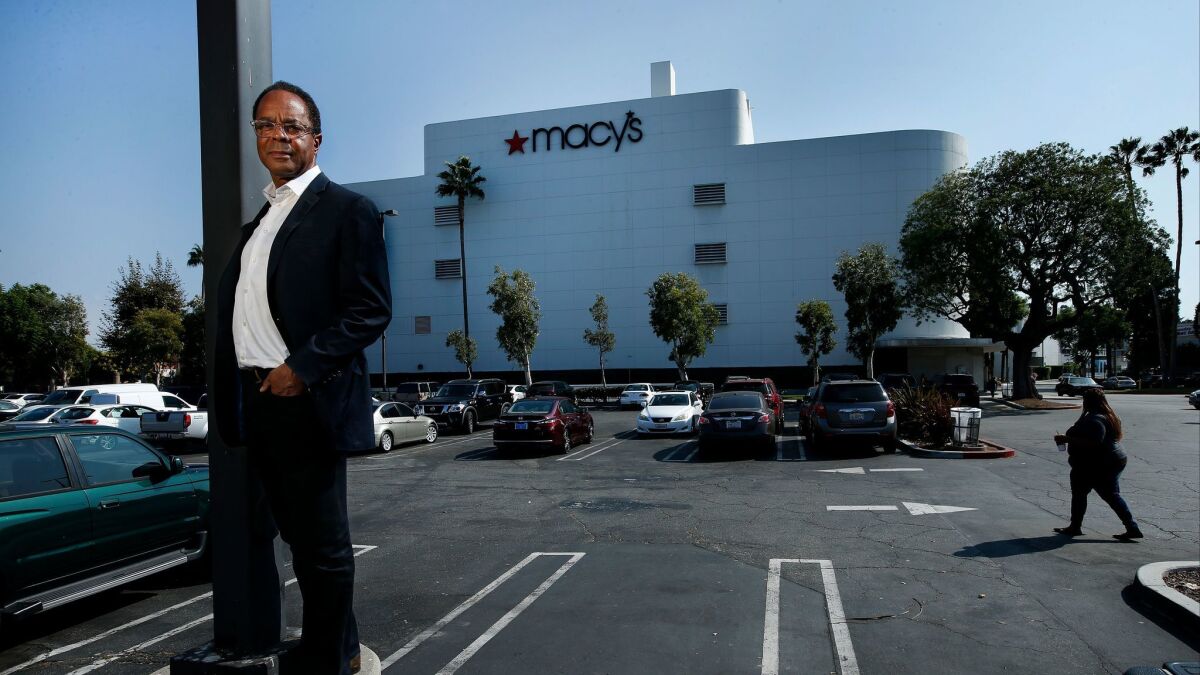 Changes are proposed even for more successful properties such as the Baldwin Hills Crenshaw Plaza in South Los Angeles. Capri Investment Group, which purchased the property on behalf of investors in 2006, wants to keep the mall, but add apartments, condos, a hotel, offices and an outdoor retail strip that evokes Santa Monica's Third Street Promenade.
Capri Chief Executive Quintin E. Primo III said the mall is doing better than most following a multimillion-dollar upgrade. There also aren't many competing shopping or dining options in the largely African American neighborhood. Many investors have long shunned the area, he said, despite the middle- and upper-class residents who live in nearby Leimert Park, View Park and Baldwin Hills.
But online competition is biting into sales and last year the center's Wal-Mart was shuttered. Primo said he doesn't want to wait around until the mall truly struggles.
"If malls do not reinvent themselves, in some shape and form, they die," he said. "We see the tsunami coming."
Adding multifamily housing — a coveted investment class — should also make it easier to attract capital to complete the massive project off Crenshaw and Martin Luther King Jr. boulevards.
"We think it is a great value to the community," he said. "To have this all within walking distance and not have to travel. It improves the quality of life for all residents."
When it comes to adding the housing, the properties provide an opportunity to add lots of units without too much work.
That's a rarity in largely built-out corners of Southern California where "all the easy deals are gone," said Bob Patterson, a first vice president with CBRE.
Typically, builders must build small or put together four parcels with five owners to get "something of scale," he said. Malls, though, sit on vast acreage and are often surrounded by a sea of surface parking lots, enabling developers to build hundreds of homes without demolishing anything.
In the San Fernando Valley, Westfield's Promenade plans call for roughly 1,400 apartments in several buildings, ranging from studio units to much more luxurious spreads.
In Orange County, Merlone Geier Partners is transforming the 68-acre Laguna Hills Mall into a mixed-use development known as Five Lagunas with more than 900 apartments. The property is half demolished, but is currently on hold as the developer figures out how to reorient the design after Macy's recently decided to close there.
And at Capri's 43-acre Baldwin Hills Crenshaw Plaza, more than 900 apartments and condos are planned.
Ten percent would be priced below market rate after residents voiced concern that the development will make the area more attractive to those of higher incomes and put upward pressure on rents in the surrounding area, even as the housing supply expands.
While the redevelopments present an opportunity, there are still challenges.
The malls are typically adjacent to traditional single-family neighborhoods designed to accommodate residents driving to the nearby retail centers on wide-open streets.
In an increasingly gridlocked region, the projects for many represent a further erosion of the suburban ideal they bought into.
In Redondo Beach, the city's Community Development Department several years ago noted the indoor South Bay Galleria represented an "antiquated model of shopping centers where islands of retail structures are surrounded by vast parking areas."
Labeling the indoor mall "over parked," the department said the 30-acre site was the one that held the "greatest potential" in the city to add new homes — 1,467 residences under current zoning as part of a mixed-use development.
But mall owner Forest City rolled out less ambitious plans for a redeveloped South Bay Galleria a few years ago, that called for a maximum of just 650 units.
In response, nearby residents protested over the potential effect on traffic.
An opposition group was set up — Residents Against Galleria Expansion, or R.A.G.E.
And on Tuesday, in response to community pushback, Forest City announced it would go with its smallest proposal — one that contains only 300 units.
California's tax structure could also complicate the projects.
Because Proposition 13 limits how high property taxes can rise, many cities take in much of their revenue from sales taxes.
That in theory gives a city less of an incentive to allow an entire mall property to turn over into housing, fearful of taking the double hit of losing tax revenue and adding new residents that increase costs for the school system and public safety.
Los Angeles developer GPI, which has built mixed-use projects in Pasadena, Beverly Hills and elsewhere, has even experienced pushback when its proposals included some retail, but less than what previously existed, said Cliff Goldstein, the company's managing partner.
Large cities with a diverse tax base such as Los Angeles are more willing to allow the redevelopments, including GPI's NoHo West project under construction in North Hollywood, Goldstein said. The project will add 642 homes on the site of the former Laurel Plaza, an outdoor shopping center that fell on hard times.
Smaller cities face an even bigger hit to their revenues from any loss of retail space. But Goldstein says even they are coming around.
"If they believe that it will help preserve the shopping center, then I think they are beginning to understand," he said.
Follow me @khouriandrew on Twitter
ALSO
Feeling shut out of California nursing homes? Here are some tips on how to claim a bed
Wal-Mart to launch higher-end grocery line; separately, Whole Foods is hacked
Americans still love eating out. So why are restaurants like Chili's, BJ's and Cheesecake Factory struggling?
---
Sign up for the California Politics newsletter to get exclusive analysis from our reporters.
You may occasionally receive promotional content from the Los Angeles Times.