Americans still love eating out. So why are restaurants like Chili's, BJ's and Cheesecake Factory struggling?
Consumer incomes generally are not increasing fast enough to match rising household costs, which has crimped business at these restaurants. (Sept. 18, 2017) (Sign up for our free video newsletter here http://bit.ly/2n6VKPR)
Chili's Grill & Bar is going on a diet to fatten its sales — just one of the strategies casual-dining chains are using to reverse a slowdown in growth.
Starting Monday, Chili's is slashing the number of items on its menu by 40%, to 75 from 125, to focus on its core offerings, such as burgers, fajitas and baby back ribs. The chain is trying the leaner menu in hopes of stemming a sales drop.
"We had to take control of what we could control," Chili's President Kelli Valade said. "We had potentially lost our way."
The entire sector of publicly held, mid-priced U.S. restaurant chains seems to be struggling to find its way back to growth. The brands face stagnant or slumping sales and shifts in consumers' dining habits.
They include not only Chili's, a division of Brinker International Inc., but also DineEquity Inc., which owns Applebee's and IHOP, BJ's Restaurants Inc. and Ruby Tuesday Inc. Cheesecake Factory Inc., a more upscale member of the casual-dining group, also has seen its sales growth stall for the first time in eight years.
"The past 24 months have been extraordinarily difficult," Applebee's President John Cywinski told Wall Street analysts last month.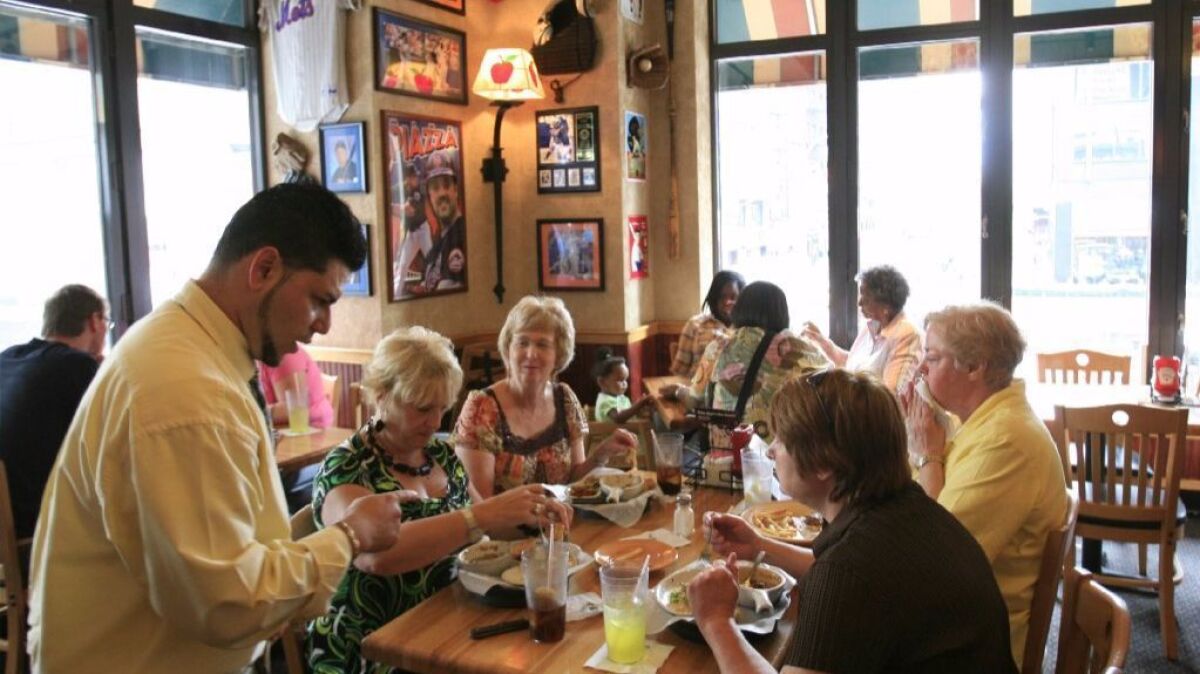 Americans still love eating out. Consumer spending at restaurants and other food vendors, including beverage sales, stood at an inflation-adjusted annual rate of $605 billion in the second quarter, up 4% from $584 billion two years earlier, according to the U.S. Commerce Department's Bureau of Economic Analysis.
But much of that growth has been outside of the casual-dining sector in areas such as inexpensive fast-food chains, "fast casual" outlets such as Chipotle Mexican Grill Inc. and Panera Bread Co., takeout and delivery services, and independent restaurants — both mid-priced and upscale — that deliver a higher perceived value, analysts said.
"We've seen a lot of growth in the fast-casual segment," said Victor Fernandez, executive director of insights and knowledge at TDn2K, a firm that tracks the restaurant industry. "It's in the middle, the casual-dining area, where that market share is coming from."
That has caused problems for the casual-dining chains. Consider:
• Brinker's stock has tumbled 33% this year, while the benchmark Standard & Poor's 500 index has gained 11.6%. The stock of DineEquity has plunged 47%, BJ's Restaurants is down 25% and Ruby Tuesday has fallen 31%.
• In the first six months of this year, Applebee's same-store sales — that is, sales at restaurants open at least 18 months and a key measure of performance — dropped 7% from a year earlier, and IHOP's fell 2.1%. In California, there are about 120 Applebee's locations and 230 IHOP restaurants.
• DineEquity tapped new leadership to turn its chains around. Stephen Joyce, former chief executive of Choice Hotels International Inc., last week took over as CEO of DineEquity, replacing Julia Stewart, who resigned March 1. Stewart previously headed IHOP, originally the International House of Pancakes, and merged that company with Applebee's in 2007 to create DineEquity.
• Same-store sales at BJ's Restaurants, a 194-store chain based in Huntington Beach, fell 1.4% in the first half of this year.
• Ruby Tuesday, a chain mostly in Eastern states, said its same-store sales fell 3.1% in its fiscal year that ended June 6. The Tennessee firm also is closing some restaurants and said last month it was reviewing "strategic alternatives" that included a possible sale of the company.
• Garden Fresh Restaurant Corp., the San Diego-based parent of the Souplantation and Sweet Tomatoes chains, filed for bankruptcy last year and later sold its assets to an investment firm.
• Same-store sales at Cheesecake Factory, based in Calabasas Hills, fell 0.5% in the second quarter compared with a year earlier. It was the company's first quarterly decline in the measure since 2009. In turn, Cheesecake Factory's stock has skidded 32% this year.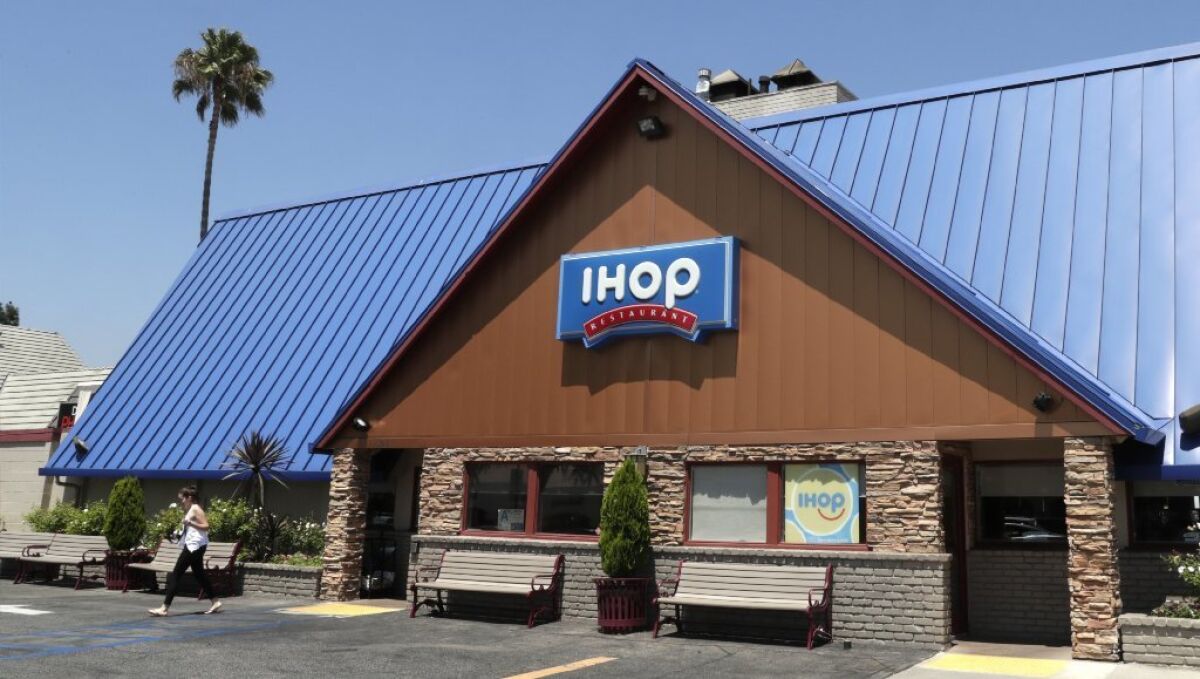 For Chili's, which has 114 restaurants in California, a key problem was that its menu had become bloated as the chain — in its own words — "chased consumer trends, expanded the menu and tried to be all things to all guests" but instead became saddled with a "fuzzy food reputation."
The result: Chili's U.S. same-store sales fell 2.0% in its fiscal year ended June 28 following a 2.2% decline the prior year.
By shrinking the menu, "we're going back to what we are known for," Valade said. "It means hotter, faster, better-quality food." Chili's said it also planned to "invest millions" to improve the food quality of its remaining menu items.
"We weren't getting the traffic we needed, and we have to get significantly more aggressive to turn Chili's around in this environment," Brinker Chief Executive Wyman Roberts told analysts last month. "We have to make the food better, and we have to deliver it faster."
Applebee's said it also misjudged the market.
"Bottom line, we've taken our eye off the ball here, and we have work to do," Cywinski told analysts last month.
One misstep: In recent years, the company "set to reposition or reinvent Applebee's as a modern bar-and-grill in overt pursuit of a more youthful and affluent demographic ... a clear pendulum swing toward millennials," Cywinski said.
But that shift "created confusion" among its regular customers, and Applebee's "drifted from what I'll call its middle-America roots," he said.
It's a segment of the industry that needs to have some new strategies.
— Janet Lowder, Restaurant Management Services
All of the casual-dining chains "really have to change their game and improve everything — service, food, quality and pricing — to get customers back," said Janet Lowder, president of the consulting firm Restaurant Management Services in Rancho Palos Verdes.
"A lot of these concepts have been around a long time," she said of the chains. "They really need to update. It's a segment of the industry that needs to have some new strategies."
Malcolm Knapp, a consultant whose Knapp-Track index of restaurant sales and traffic trends is widely followed in the industry, said two other factors are hurting casual-dining chains: consumer incomes and the huge shift in retail spending overall.
Although U.S. economic growth, employment and the stock market are doing relatively well, incomes generally are not increasing fast enough to match rising household costs, and that's crimping many Americans' ability to keep eating at casual-dining restaurants, he said.
"People really want to eat out more often but can't afford it, so their frequency has been cut down," Knapp said.
In retail, the shift to online shopping has lowered traffic at shopping malls nationwide, where casual-dining chains often have a presence, he said. Plus, the same folks avoiding malls and shopping online are increasingly ordering food for takeout or delivery rather than sitting for a meal at a casual-dining restaurant, he said.
"They can go home, get UberEats [delivery service] and get any entertainment they want [via streaming] any time they want it," Knapp said.
And in this age of social media, where photos of restaurant dishes are often popular material for Facebook or Instagram posts, the casual-dining chains may not make the cut, Fernandez said.
"People want to share what they're doing, share their meal" on social media, "and most want to share something that's unique and sets them apart," he said.
"But a lot of these chains have been in business for a long time," Fernandez said. "Part of what made them great a decade or two ago was their familiarity — you knew what it was and what you were getting. Now, in some cases, that's what people want to avoid."
Twitter: @PeltzLATimes
ALSO
Northrop Grumman is buying Orbital ATK for $7.8 billion
How L.A.'s Halo Top became America's bestselling ice cream pint
This Santa Monica cheeseburger is made with 100% Wagyu beef, and it's better than In-N-Out
---
Sign up for the California Politics newsletter to get exclusive analysis from our reporters.
You may occasionally receive promotional content from the Los Angeles Times.