Starbucks brews up controversy with 'Race Together' campaign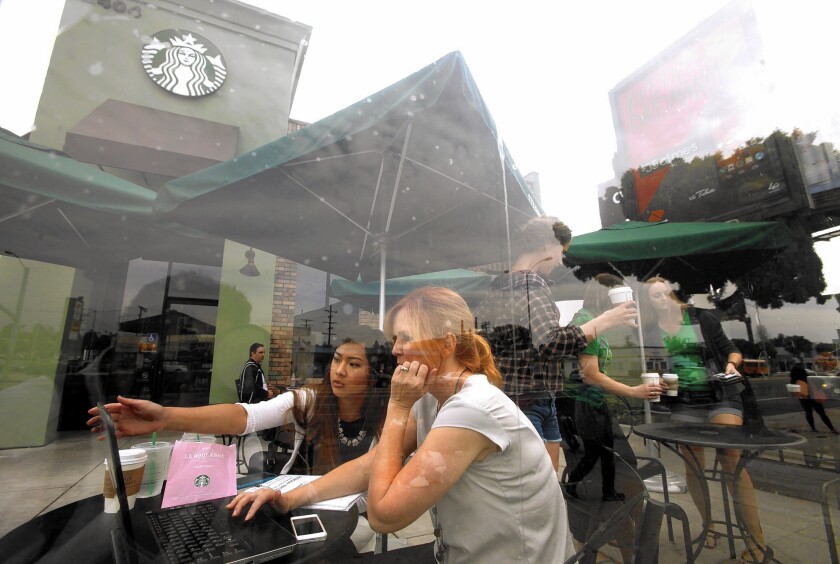 Starbucks' move to kick-start a national conversation on race relations — over coffee at its cash registers — has at least ignited a debate over whether the ubiquitous chain has any business leading such a conversation.
Brand experts, meanwhile, wondered if the company's "Race Together" campaign would attract or repel customers.
The Seattle coffee chain this week began encouraging, but not requiring, its baristas to write the words "Race Together" on cups to get its customers talking about race. Its website features photos of the cups held by smiling workers and customers of many races.
The initiative stemmed from a forum in December at company headquarters in Seattle, where employees discussed racial tensions in the United States after police killings of unarmed black men in Ferguson, Mo., and New York.
"If we just keep going about our business and ringing the Starbucks register every day and ignoring this, then I think we are, in a sense, part of the problem," Starbucks Chief Executive Howard Schultz told employees at the videotaped meeting, which was followed by gatherings in Los Angeles, Oakland, Chicago, New York and St. Louis. Those meetings drew more than 2,000 employees, the company said.
The campaign has drawn sharp criticism online, with many commenting on the company's lack of diversity in hiring and whether employees are equipped to engage in these discussions, among other issues.
Under a tweeted screen-grab of the Starbucks leadership team, dominated by white men, Twitter user @NerdyWonka quipped: "Apparently, in the @Starbucks world, this is what #RaceTogether looks like."
Twitter user Lindsey Thompson, who tweets as @lemonhearted, reacted this way: "Pathetic attempts by greedy corporations acting like they care about social issues is exactly why I #shoplocal for my coffee."
Author Virginia Postrel, a former editor of Reason magazine, tweeted: "It looks like @Starbucks has united tweeters of all races, colors, creeds, political persuasions in hating its #RaceTogether idea."
But brand analyst Scott Ehlert called the campaign "a bold move."
"It's one that's not without potential fallout," said Ehlert, a strategist for global branding firm Siegel+Gale. "But I think it's one that is true to their brand."
This is not Starbucks' first venture into social responsibility initiatives. In 2013, Schultz said he was "respectfully requesting" that customers not bring guns into his stores, two days after a Navy contractor killed 12 people in a mass shooting at the Washington Navy Yard. In June, the company said employees could take online classes at Arizona State University for free.
In a video to employees, Schultz said he hoped the campaign would persuade other businesses to follow Starbucks' lead.
Other brands probably will wait to see the effects of the initiative before joining, said Roy De Young, senior vice president of creative services at PM Digital.
"They're going to let Starbucks be the proving ground first," he said. "I think a lot of mainstream brands are going to stay away from this."
Wall Street weighed in Tuesday by pushing Starbucks shares up 34 cents, or 0.36%, to $94.39.
At a Starbucks in downtown Los Angeles, customers hadn't heard much about the campaign, which was launched Monday.
"It seems weird. It's a place that serves coffee. How would you incorporate a conversation about race in there?" said John Liu-Klein, a 73-year-old retired teacher. "I don't have any problem with anybody talking about race. It certainly needs to be talked about."
Ly Hoang, a 35-year-old school counselor visiting from Vancouver, gave qualified approval, saying that Starbucks might be a good place to start a discussion on race because "it would get a wide audience. But for those more hard-core talks, it would be a classroom, safe spaces."
PBS NewsHour host Gwen Ifill struck a humorous note on Twitter: "Honest to God, if you start to engage me in a race conversation before I've had my morning coffee, it will not end well."
Twitter: @smasunaga

---
Must-read stories from the L.A. Times
Get the day's top news with our Today's Headlines newsletter, sent every weekday morning.
You may occasionally receive promotional content from the Los Angeles Times.