Education Department illegally took defrauded students' Social Security data, lawsuit alleges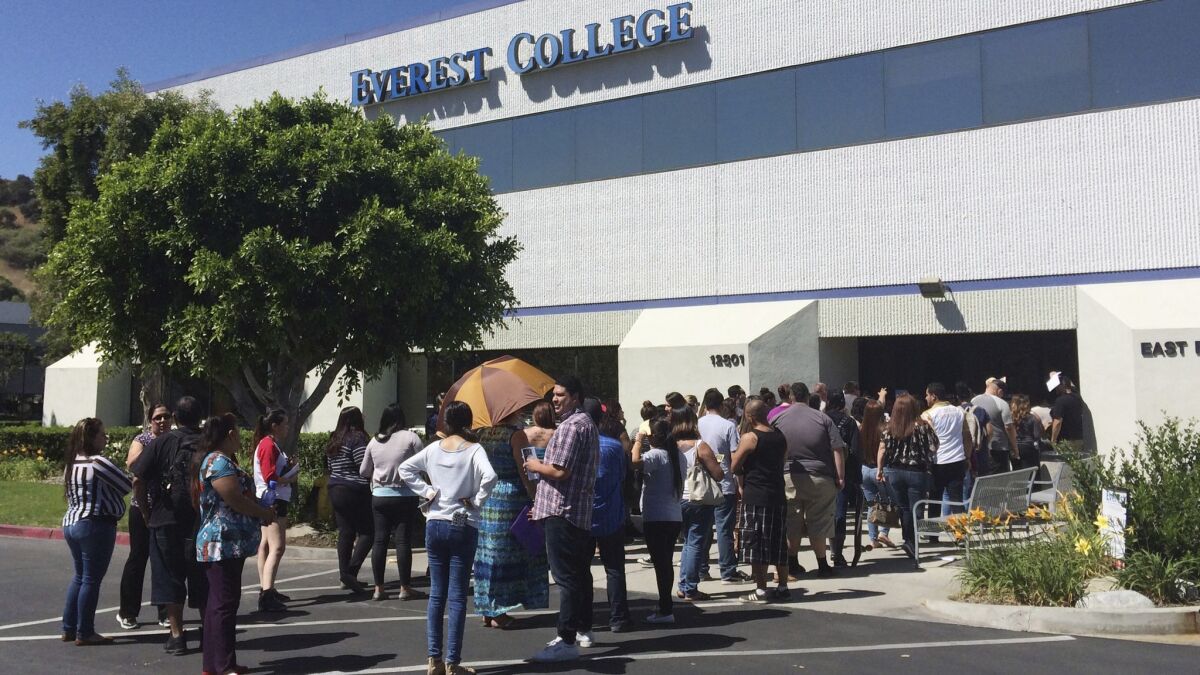 A group of former students defrauded by for-profit colleges is alleging in court that the Education Department illegally obtained and used their Social Security data to limit their student loan relief.
The Education Department announced in December that it will start granting some former students at the now-defunct Corinthian Colleges only partial federal student loan forgiveness, in part to save taxpayers' money. The agency said it will use students' earnings data to determine how much of their loans to forgive.
Some students have already received notices from the department that only 50% or less of their loan will be wiped out.
A motion filed by several former Corinthian students over the weekend alleges that the Education Department obtained the earnings figures from the Social Security Administration in violation of several laws as well as the Constitution. Attorneys with the Project on Predatory Student Lending at Harvard University representing the students say the agency should have turned to the students for their data and should have notified them of its actions in order to give them a chance to react.
The department "has secretly and illegally coopted Social Security data to try to argue for something less than the complete cancellation and refund that these borrowers are due," attorney Joshua Rovenger said.
The motion, filed in federal court in California, is asking that the notices of partial relief be rescinded. The filing is part of a larger suit against the department.
The Education Department declined to comment on pending litigation.
The Social Security Administration did not reply to requests for comment.
The Obama administration went hard after for-profit colleges accused of fraud, closing down Corinthian and other major chains and tightening regulations for those schools. The administration also spent $550 million to fully forgive student loans for tens of thousands of students.
The Education Department began to crack down on Corinthian in 2014, restricting its access to federal student aid after concerns that the for-profit chain of colleges was falsifying the job placement rates of its graduates. Corinthian — which was based in Santa Ana and operated schools under its Everest, Heald and WyoTech brands — then sold off a majority of its schools to a nonprofit student loan servicer. A year later, Corinthian abruptly closed its remaining campuses and filed for bankruptcy protection.
The Trump administration has had a friendlier stance toward the for-profit industry.
Education Secretary Betsy DeVos, an advocate of for-profit schools, froze the regulations put in place by the Obama administration. Her office also has been assisting a suspended accrediting agency that oversees for-profit schools in trying to come back to life.
DeVos' government ethics forms showed she has investments in companies connected to the industry, according to the Center for American Progress, a liberal think tank.
DeVos has said the Obama regulations were unfair and is writing new ones. She has said her new system of partial loan forgiveness will be fairer to students and taxpayers.
Student advocates have argued that the formula based on students' earnings does not take into account whether Corinthian graduates are employed in the fields of their study or are simply working other jobs.
Tens of thousands of students are currently waiting for the agency to decide their cases.
Times staff writer Samantha Masunaga contributed to this report.
Sign up for the California Politics newsletter to get exclusive analysis from our reporters.
You may occasionally receive promotional content from the Los Angeles Times.