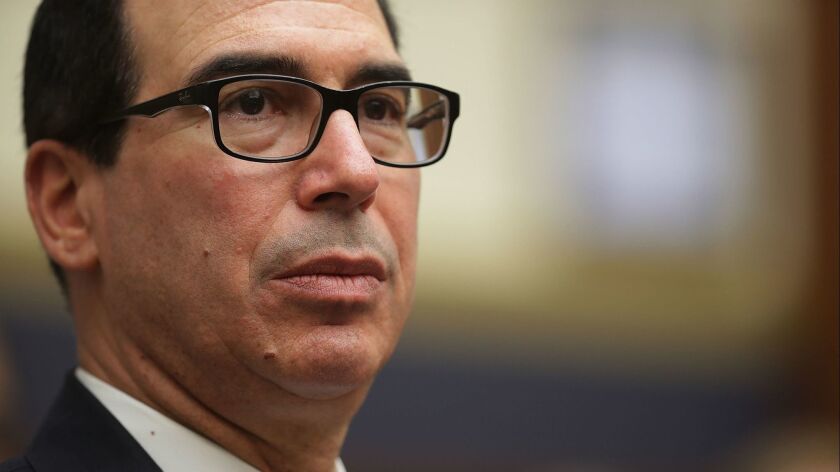 Bloomberg
The Treasury Department predicted the U.S. government's borrowing needs in the second half of this year will jump to the most since last decade's financial crisis as the nation's fiscal health deteriorates despite a strong economy.
The department expects to issue $329 billion in net marketable debt from July through September, the fourth-largest total for that quarter on record and higher than the $273 billion estimated in April, Treasury said in a report Monday.
The department's forecast for the October-December quarter is $440 billion, bringing the second-half borrowing estimate to $769 billion, the highest since $1.1 trillion in July-December 2008.
The estimates were "quite a bit higher than our expectations," Thomas Simons, senior money-market economist at Jefferies, said in a note.
The yield on the U.S. 10-year note edged higher to almost 2.98% following publication of the borrowing outlook, but remained within its daily trading range. The two-year rate was steady around 2.67%, close to its low for the day.
The Treasury is boosting sales of bills, notes and bonds to help finance a budget gap that's widening after President Trump signed $1.5 trillion in tax cuts late last year and the Republican-controlled Congress approved a roughly $300-billion spending increase.
The deficit totaled $607 billion through the first nine months of the fiscal year that ends Sept. 30, compared with $523 billion from a year earlier. The Congressional Budget Office in late June predicted total government spending would exceed revenue by $1 trillion in 2020.
But administration officials say a stronger economy will boost government revenue and help shrink the budget deficit. Treasury Secretary Steven T. Mnuchin said Sunday that the U.S. economy is "well on the path" for four or five years of sustained annual growth of 3%.
Gross domestic product accelerated in the second quarter to the fastest pace since 2014, the government reported Friday, allowing Trump to link the increase with his economic policies. But the second quarter may prove to be a high point for the world's largest economy, and few economists expect it to attain the president's goal of sustained growth of 3%.
From April through June, the Treasury said it issued $72 billion in net marketable debt, compared with its earlier prediction of $75 billion in borrowing. The cash balance was $333 billion at the end of June.
In Monday's borrowing projections, the Treasury assumes a cash balance of $350 billion on Sept. 30 and $390 billion at year's end.
The quarterly estimates precede the department's quarterly refunding announcement Wednesday, when the sizes of government debt auctions are unveiled.
"The Treasury will need to announce another round of across-the-board increases on Wednesday — not that anyone had any doubt," according to Lou Crandall, chief economist for Wrightson ICAP.
Mohsin writes for Bloomberg.
---