Two GOP senators want Trump to remove consumer bureau chief Richard Cordray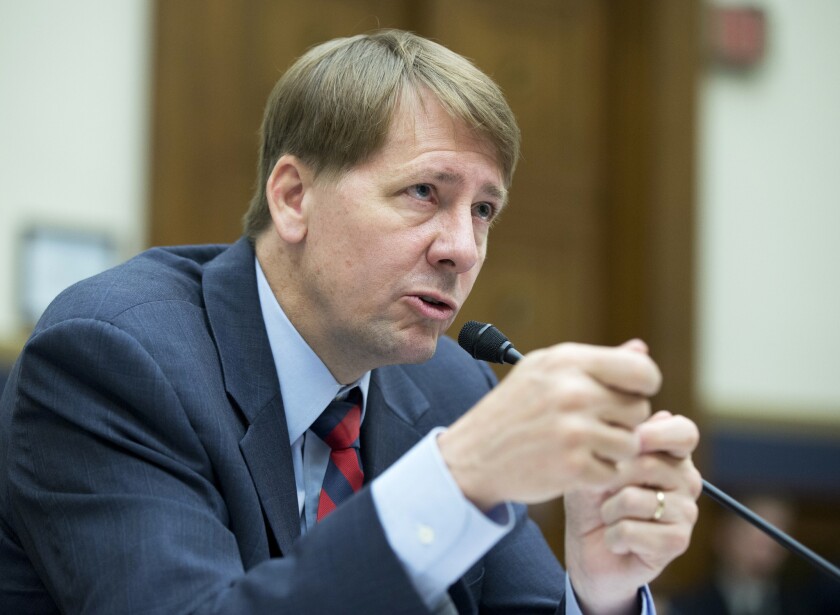 Reporting from Washington —
Two Republican senators are asking President-elect Donald Trump to quickly remove Richard Cordray, the director of the Consumer Financial Protection Bureau, setting up a potential legal and political showdown over the controversial agency.
"It's time to fire King Richard," said Sen. Ben Sasse (R-Neb.), a member of the Senate Banking Committee and like many Republicans a harsh critic of the agency created by the 2010 Dodd-Frank financial regulatory overhaul.

For the record:
10:49 p.m. Aug. 18, 2022An earlier version of this article stated that Ed Mierzwinski worked for the U.S. Public Interest Group. He works for the U.S. Public Interest Research Group.
"Underneath the CFPB's Orwellian acronym is an attack on the American idea that the people who write our laws are accountable to the American people," Sasse said. "President-elect Trump has the authority to remove Mr. Cordray and that's exactly what the American people deserve."
Sasse and Sen. Mike Lee (R-Utah) have written to Vice President-elect Mike Pence requesting that Trump take the action "promptly after his inauguration."
The lawmakers cited an October federal appeals court ruling that the independent consumer bureau's structure is unconstitutional because it gives the director too much power.
The U.S. labor force's guy problem: Lots of men don't have a job and aren't looking for one »
Under Dodd-Frank, the director serves a five-year term and can be removed only "for cause," such as neglect of duty.
In a 2-1 ruling, a three-judge panel of the U.S. Court of Appeals for the District of Columbia ruled that structure was a violation of the Constitution's separation of powers because it limited the president's authority.
The solution from the court was to strike down the law's "for cause" provision, meaning the president could remove the consumer bureau director for any reason, the same as with other executive branch appointees.
The CFPB is appealing the ruling, asking all of the court's judges to review it.
That challenge has led some legal scholars to argue that it could pose legal problems for Trump to remove Cordray immediately upon taking the White House. Cordray's term doesn't expire until July 2018.
The move also would ignite a political dispute with Democrats such as Sen. Elizabeth Warren (D-Mass.), who came up with the idea of the agency and helped launch it as an Obama administration aide.
Supporters note the bureau has returned more than $11 billion in refunds for consumers and helped to unravel Wells Fargo & Co.'s unauthorized accounts scandal.
"Mr. Cordray is an extraordinary director who has done exactly what Congress told him to do — defend consumers and rebuild the financial system after a massive collapse just eight years ago," said Ed Mierzwinski, consumer program director at the U.S. Public Interest Research Group. "And now you've got senators pandering toward powerful special interests [trying to have him removed]."
The court hasn't yet accepted the appeal, meaning the panel's ruling is not formally in effect. And there is the risk the court could overturn the ruling, restoring the consumer bureau's structure as set up by Dodd-Frank.
Cordray also could sue to challenge his removal. And he won't resign, said consumer bureau spokeswoman Jen Howard.
"Director Cordray was confirmed by a bipartisan group of 66 senators to serve a term until July 2018 and has no plans to step down," she said.
Sasse and Lee argued in their letter, sent to Pence on Monday, that Trump has the constitutional authority to remove Cordray. And they said Trump has a good reason: Cordray "has pursued costly regulatory policies that are radically opposed to the Trump administration's pro-growth agenda."
How Trump could use the presidency to help his own business interests »
Republicans have complained that the bureau wields too much power over financial products and that its attempts to help consumers with new regulations on mortgages, payday loans and other lending have restricted access to credit.
GOP critics also have opposed the bureau's structure, which includes a single director and a budget funded from the Federal Reserve that avoids the congressional appropriations process.
Republicans have unsuccessfully pushed legislation to change the agency's leadership to a bipartisan commission and subject its funding to annual appropriations that would give lawmakers more leverage over bureau policies. Obama has threatened to veto any such changes.
Those legislative initiatives stand a much better chance with Trump in the White House, although Warren and Senate Democrats would probably try to block any bill changing the bureau's structure.
Trump has promised to dismantle Dodd-Frank. And a sweeping proposal by House Financial Services Committee Chairman Jeb Hensarling (R-Texas) to replace the law would rename the bureau the Consumer Financial Opportunity Commission, replace the single director with five commissioners and subject it to congressional appropriations.
Even if Trump doesn't remove Cordray, House and Senate Republicans have the majorities needed to overturn bureau actions they oppose. They couldn't take such a step under President Obama because he would have vetoed the disapproval legislation, said Edward Mills, a policy analyst at investment bank FBR Capital Markets.
And when Cordray's term expires, Trump will be able to nominate a replacement with a less aggressive approach to regulation, Mills said.
"I would expect that new director to likely significantly reduce the agenda and/or staff and focus" of the bureau, he said.
Follow @JimPuzzanghera on Twitter
ALSO
The era of super-low interest rates might be ending. What's in it for you?
Trump's victory could spell the end of the FCC's net neutrality regulations
Trump hammered the Federal Reserve as a candidate. As president, he could quickly reshape it
---
UPDATES:
11:55 a.m.: This article was updated with comment from Edward Mills of FBR Capital Markets.
9:50 a.m.: This article was updated with comment from Ed Mierzwinski of the U.S. Public Interest Research Group.
7:40 a.m.: This article was updated with comment from a CFPB spokeswoman.
This article originally was published at 6:55 a.m.
---
For reporting and exclusive analysis from bureau chief John Myers, get our California Politics newsletter.
You may occasionally receive promotional content from the Los Angeles Times.