Twitter sues U.S. government over surveillance disclosure rules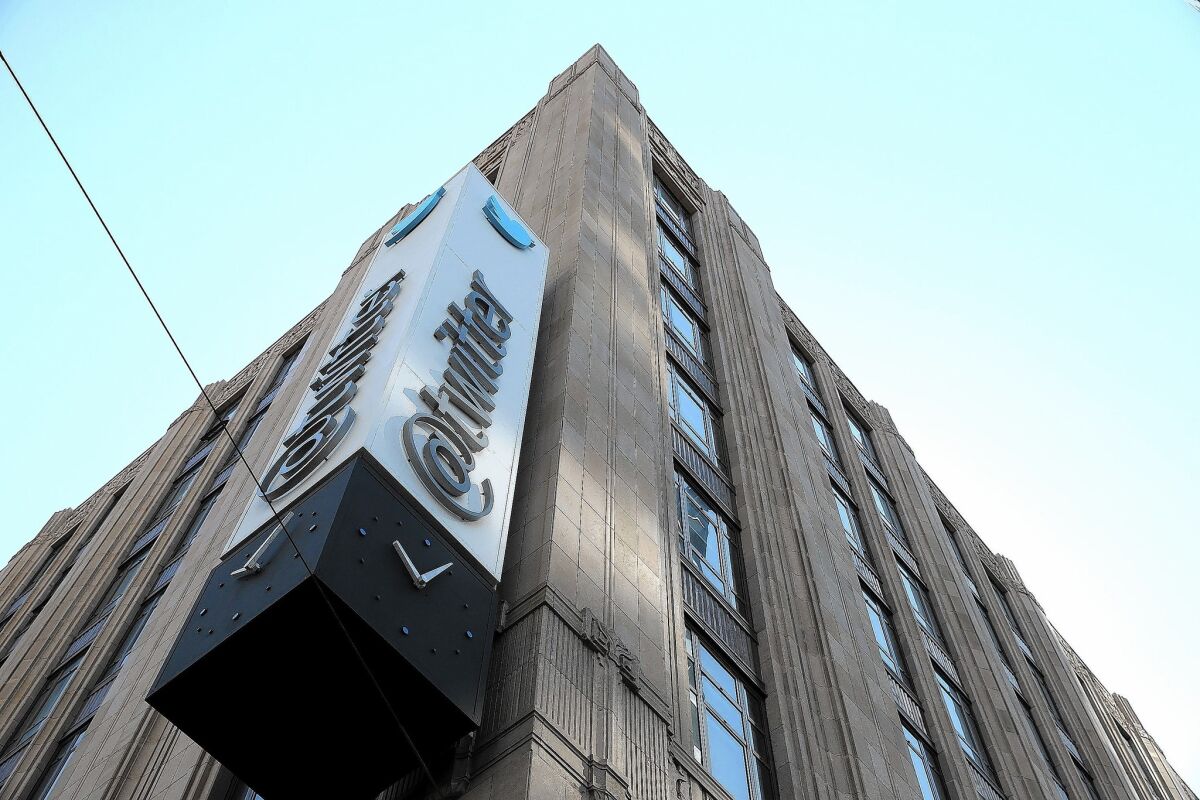 Reporting from cupertino, calif. —
Twitter Inc. is the latest tech giant to sue the U.S. government for the right to reveal the scope of government surveillance of its users.
The San Francisco microblogging site filed suit against the Department of Justice and the FBI on Tuesday, saying it was being "unconstitutionally restricted by statutes that prohibit and even criminalize" the public disclosure of such requests.
Twitter hopes to be able to publish a "full transparency" report, which details the kind and number of national security letters and Foreign Intelligence Surveillance Act court orders the company has received from the government.
"It's our belief that we are entitled under the 1st Amendment to respond to our users' concerns and to the statements of U.S. government officials by providing information about the scope of U.S. government surveillance," Twitter lawyer Benjamin Lee said in a blog post. "We should be free to do this in a meaningful way, rather than in broad, inexact ranges."
The suit, filed with the U.S. District Court in Northern California, asks the court to declare the restrictions unconstitutional under the 1st Amendment.
The always-contentious issue of government spying turned super heated after Edward Snowden's disclosures that the National Security Agency routinely snoops on the electronic communications of American citizens. That created a public relations crisis for social media firms such as Twitter, Google Inc., Facebook Inc. and others, with users suspicious that the sites were sharing their information with the government.
"It makes people think twice about using your service because it's government central," said Steven Roosa, co-chair of law firm Holland & Knight's data privacy and security team. "Companies feel an obligation to push back against the state surveillance machine."
Last year Microsoft Corp., Google and other major tech firms sued the government, contending the 1st Amendment gave them the right to disclose more information about their reluctant role in government spying. The Obama administration agreed to relax some of its disclosure rules in a January settlement with the firms; in return, the tech companies dropped their respective lawsuits.
At the time, Atty. Gen. Eric Holder and Director of National Intelligence James Clapper said communications providers would be permitted to disclose "more information than ever before" under the new rules.
The administration agreed to allow more detailed disclosures about the number of national security orders and requests issued to communications providers, and the number of customer accounts targeted under those orders and requests, including the underlying legal authorities.
On Tuesday, Department of Justice spokeswoman Emily Pierce reiterated that the agency was actively working with tech firms on better transparency.
"Earlier this year, the government addressed similar concerns raised in a lawsuit brought by several major tech companies," Pierce said. "There, the parties worked collaboratively to allow tech companies to provide broad information government requests while also protecting national security."
The Justice Department noted that AT&T, Microsoft, Google and Facebook have released transparency reports that contain reporting in unprecedented detail.
Twitter appears to think such compromises aren't good enough, and took its case to court to get a ruling fully in its favor.
"Twitter is concerned the settlement from January really doesn't give them the ability to give the public useful information," said Nate Cardozo, staff attorney at Electronic Frontier Foundation. "I think it's pretty clear a judge will find this an unconstitutional restraint. I would be more than surprised if Twitter backed down."
Others have questioned whether Twitter filed the lawsuit largely to drum up public goodwill.
"This is more of a PR play, a marketing play to show their customers that they care about their privacy," said Sharon Vardi, chief marketing officer of Securonix, which crunches data to identify computer security threats.
Kevin Bankston, policy director of the New America Foundation's Open Technology Institute, said that if Twitter prevails in court, it would be a win-win situation "regardless of what the data shows."
"If they are not making a lot of requests, that helps reassure users of Twitter because users' trust has been shaken by the NSA revelations," he said. "If it shows broad or expansive use of a specific authority, that could spur change in law by Congress."
Twitter: @byandreachang
Twitter: @peard33
Chang reported from Cupertino and Dave from Los Angeles.
Times staff writer Timothy M. Phelps in Washington contributed to this report.
---
Sign up for the California Politics newsletter to get exclusive analysis from our reporters.
You may occasionally receive promotional content from the Los Angeles Times.