Car review: Cadillac makes a right turn with 2013 ATS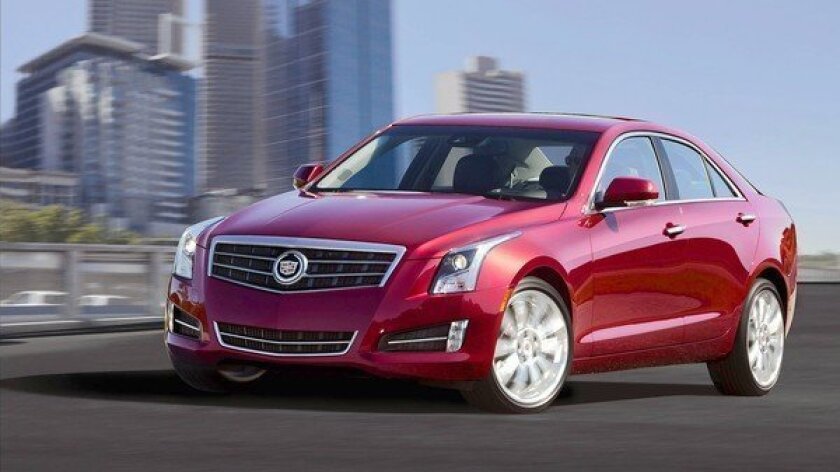 Let's get down to brass tacks. Cadillac's all-new compact sedan, the 2013 ATS, is not a better car than its target, the BMW 3 Series.
This single, lonely aspect of the ATS is all that matters to trunkfuls of self-proclaimed automotive cognoscenti gathering in car clubs and Internet chat rooms across the country. Their amusement will overflow at the latest challenger to BMW's decades-long hold on the sports-sedan scepter.
Not so fast. Despite its flaws, the thrill of the ATS' drive is an impressive feat, and the car itself is a massive step in the right direction. Which is good, because frankly, it has to be.
This is Cadillac's first post-bankruptcy baby, a look at what General Motors' luxury division can do when it starts with a clean sheet of paper to design a car with global ambitions. It may come with an American accent, but it needs to speak to buyers in China and Europe as well. Much of Cadillac's image and future hinges on how well the ATS, which starts at $34,885, resonates at home and abroad.
So it's a good thing that this car's two strongest suits, its handling and its design, translate into every language.
Visually, the ATS is a win. Although the look has deliberately been kept demure so as to appeal to the widest international audience, it's still a handsome car. A set of narrow headlamps curve up the front quarter panel and over the wheel well. These are highlighted by LED daytime running lights that give the car a nice touch of flair and bravado.
Meanwhile, the back will look familiar to anyone who's sat behind other recent Cadillacs such as the larger CTS or XTS. A short trunk lid is capped off by an LED panel across the back. Under the long vertical taillights and the rear bumper sits a diffuser that wraps around a pair of exhaust tips.
The ATS' handling is another W. Through tight, twisty switchbacks or open, undulating tarmac, this is a lively, confident mover. The ATS is a proper rear-wheel-drive car, de rigueur for the sports sedan segment that also includes Mercedes' C-Class, Lexus' IS and Infiniti's G37. (All-wheel-drive is a $2,000 option.)
GM says it went to great lengths to keep the weight of the car down to around 3,400 pounds, and it shows in how astutely the car changes direction, doing so with precision and neutral poise.
Also laudable is how stable and solid the car feels at a variety of speeds. Finally, GM engineers took seriously the task of creating a viable alternative to cars bred in the land of the autobahn. You can put a lot of lipstick on a pig of a chassis, but when pushed hard it will still squeal. The ATS had none of that.
The Premium ATS I tested is clearly the most performance-oriented model of the lot, with options such as a mechanical limited-slip differential, summer performance tires and an adaptive suspension called Magnetic Ride Control.
Surprisingly, the fancy suspension's Sport mode was more of a detriment to the car's handling as it clattered about over mildly rough roads. The ATS' chassis is an already-delicious cake; these performance add-ons were just unnecessary icing.
Unfortunately, it's here that the ATS' attack on all things 3 Series begins to wither.
Moving my loaded $46,205 tester was the mid-level engine. It's a 2.0-liter turbocharged, direct-injected four cylinder that makes 272 horsepower and 260 pound-feet of torque. There's some initial turbo lag and the car is down on power at low rpm, but the car will scoot toward the horizon and its 7,000-rpm redline once this engine gets a little momentum behind it. Also, things tend to get noisy when the car is going at full tilt — and it's not the most pleasing sound.
This engine choice is bookended by a forgettable 202-horsepower four-cylinder power plant on the base ATS, and a wonderfully linear 321-horsepower V-6 as the top option. A six-speed automatic transmission is your only choice with these engines.
A six-speed auto is also the standard gearbox with the turbo, but Cadillac does offer a six-speed manual with this engine. In an indication of just how prevalent automatic transmissions are, the automatic comes standard and the DIY version comes at a discount of $1,475. This engine/manual transmission combination is rated at 21 miles per gallon in the city and 31 on the highway. In my week with the car I averaged 23.6 mpg in mixed driving.
The details of this manual transmission left something to be desired. The shifter felt excessively notchy as it moved between the gates, and from neutral it was alarmingly easy to slip the car into reverse instead of first. Also, the ratio of the second and third gears meant that ample power during spirited driving was possible only if you kept the car in second and let the engine drone on.
A driver in the Bimmer doesn't have to contend with these issues; both the engine and transmission in the 328i are Roy Orbison smooth. And the ATS' oversights go beyond the mechanics of the car. The trunk is the smallest in its class by 2 cubic feet. The rear seats fit tallish passengers, but are hard to get in and out of because of small door openings. Rear visibility is poor.
But the flaws reach critical mass when you get to the ATS' dashboard. Nearly all turbo and V-6 models come with a touch-screen infotainment system to control the navigation, stereo, phone and climate functions. It's called CUE (Cadillac User Experience), and as I discovered with Caddy's larger XTS sedan, it needs to sit in time out until it's ready to play nice.
Although the system is designed to look and work like an iPad, it doesn't. Imagine your tablet is bouncing around an arm's length away, failing to respond to your touches as you pilot 11/2 tons of metal down the road. It's not an ideal experience. Counterintuitive menus and the navigation system's circuitous routing tendencies make things worse.
Steering-wheel-mounted controls offer some respite, but they shouldn't be necessary, nor do they make things easier for a passenger trying to use the system. Sure, it gets a little easier with regular use, but so does riding a unicycle, and that doesn't mean it's a good way to get around.
CUE's shortcomings and the other interior foibles, combined with minor miscues by the engine and transmission, mean ATS fails to upset the BMW 3-Series as a complete package. But what's easy to overlook is that although this Cadillac has faults, they are in execution rather than in philosophy.
The car's design and chassis shine. This is important because these are the areas of any car that demand from a company huge amounts of money and commitment to get right. The ATS' successes are huge steps in the slow process of shifting Cadillac's image to a more nuanced and contemporary brand.
Thus, the ATS is the right dish from the right recipe. Now the company just needs to fiddle with the seasoning. Starting with less CUE.
---
Your guide to our new economic reality.
Get our free business newsletter for insights and tips for getting by.
You may occasionally receive promotional content from the Los Angeles Times.