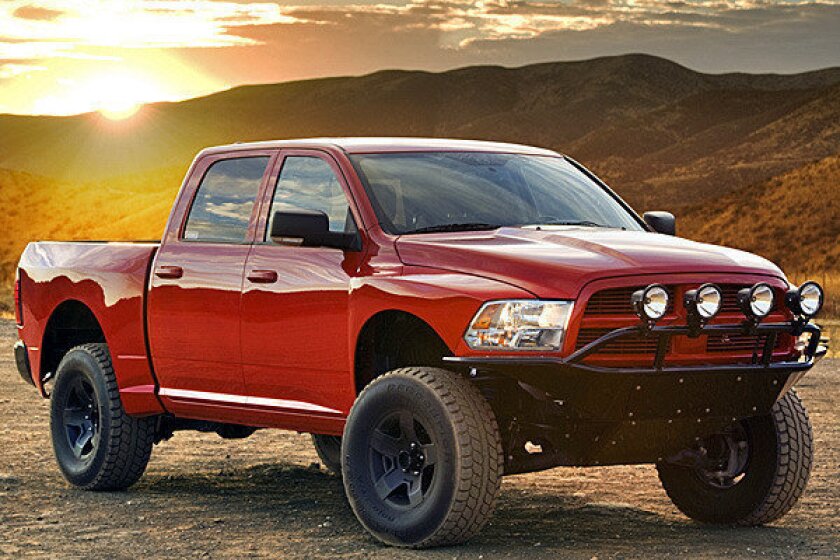 Why should Ford's Raptor have all the fun?
That's the thinking behind an aftermarket kit shown at the Specialty Equipment Market Assn. trade show in Las Vegas for 2009 to 2013 Dodge Ram 1500 trucks. Made by Michigan-based VWerks, the kit is available in two levels and turns an ordinary Ram into a high-speed, off-road terror.
The first stage is called the Baja Series conversion. It includes a 1.75-inch leveling kit that brings the nose of the truck up, 20-inch wheels with BFG tires, a rear-tire carrier, KTS front and rear fenders and front bumper with light bar, a Flowmaster cat-back exhaust and leather seats. The price for this gear is a hefty $13,595.
Photos: Highlights from the 2012 SEMA Show
If that's not enough for you to keep up with your buddy in the Raptor, an additional $16,400 gets you the full-crazy KTS version. In addition to much of the same items as the Baja Series, this monster version gets a KORE 'Tactical Series' suspension (with 14-inches of travel and Fox shocks) and 17-inch matte black wheels.
After VWerks shows off its creation at SEMA, the Ram Baja KTS truck you see here will come to Los Angeles, where we'll get a firsthand look at what it's like to get it dirty. Stay tuned.
ALSO:

Photos: Highlights from the 2012 SEMA Show
SEMA: Kia and DC Comics unveil superhero themed cars
Sitting shotgun in Porsche's upcoming plug-in hybrid supercar
---