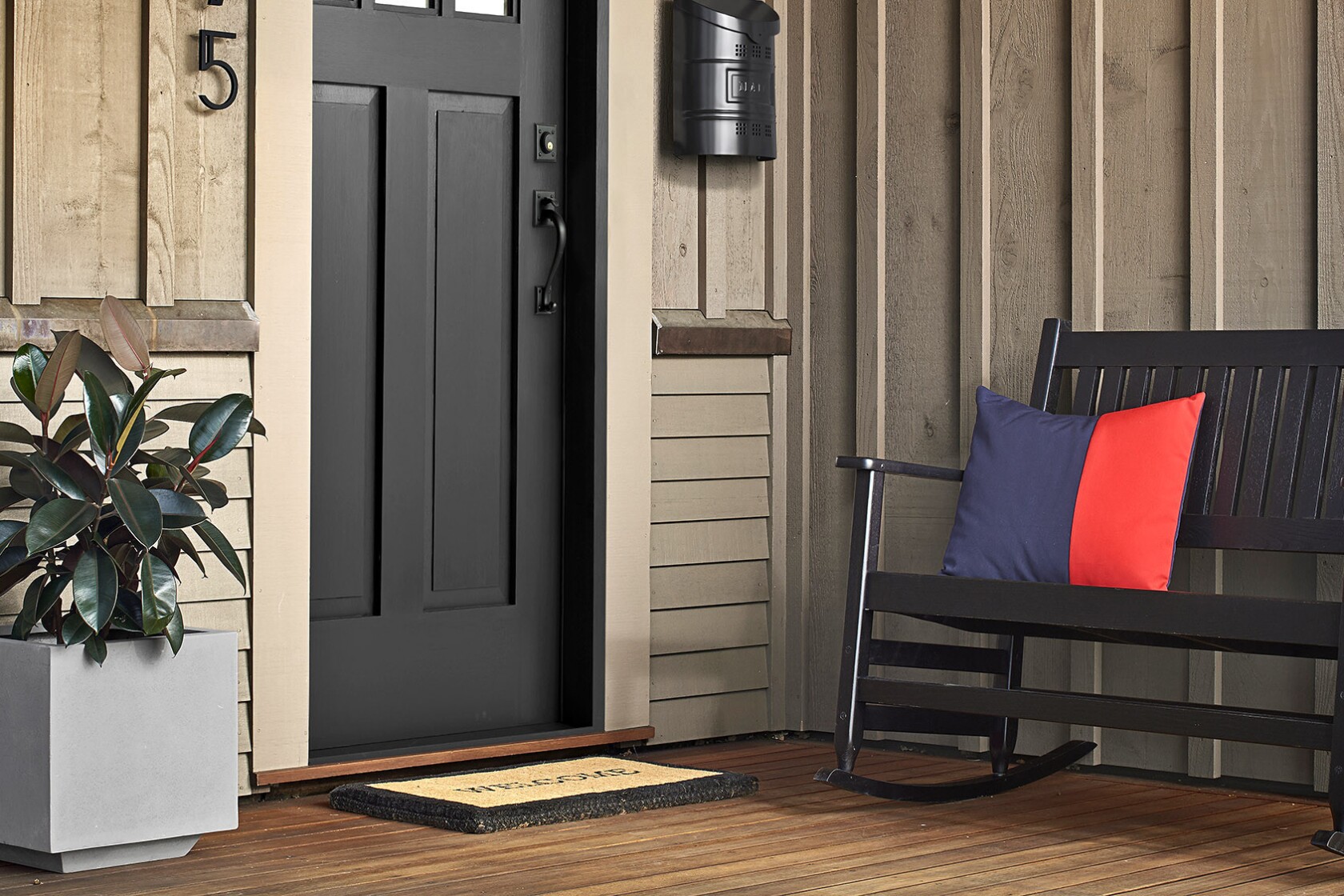 Double rocker on porch
(Rejuvenation)
Double rocker
(Jason Deymonaz / Rejuvenation)
Porch with butterfly door knocker
(Rejuvenation)
Butterfly door knocker
(Rejuvenation)
Pittock sconce porch view
(Justin Gollmer / Rejuvenation)
Pittock sconce
(Joe Kurihara / Rejuvenation)
Star button doorbell
(Rejuvenation)
Harmon craftsman mailbox
(Joe Felzman / Rejuvenation)
Mid-century mailbox by Modbox USA
(Jamie B. Starling / Rejuvenation)
Modern house numbers
(Rejuvenation)
Welcome mat with black border
(Jason Deymonaz / Rejuvenation)
Oprah once said, "Your home should be the thing that rises up to meet you." That's serious curb appeal. "We live in a crazy world," says Laura Morton, certified landscape professional and owner of Laura Morton Design in West Hollywood. "We have busy days ... when you come back home you should feel that you've arrived somewhere that is already putting you in a good mood." If this scenario doesn't ring a bell, read on. Curb appeal can be cultivated, and it may be easier than you think.
Consider a new approach
"The walkway is often broken, cracked or too narrow," says Morton. "If it's too straight, it's more like a runway — something that gets you from the curb to the door as fast as possible ... a slash of concrete." Repair the path or create a new one. "Cut narrow bands out of the walkway," Morton suggests, "or remove a 2- or 3-foot strip along one side and make it wider."
Lightbulb moment
Change the light fixtures. Consider sconces, or replace existing fixtures with something more complementary. Another bright idea: Use lightbulbs that cast a warm glow.
Work with your house, not against it
Mike McIver, a Long Beach-based landscape designer, says choose elements that match the home's style. "If it's a Spanish home, Mediterranean plants make sense. Use flagstone and terra cotta pots to mimic the roof." Pick materials, shapes and colors used in the design of the home.
Don't cram
Allow breathing space. Plant hedges, trees and shrubs with an eye to how large they grow. "Don't stick them right up against your walls," says Morton. "Give them room to open up and be soft, rather than this look we see of everything being trimmed within an inch of its life."
Create a palette
"Just like the inside of your home, use a cohesive color palette and style to create continuity," McIver says. Consider a new color for the door or trim. A big overhaul isn't always necessary.
Detail oriented
"Sometimes it's just the addition of an ornamental piece," says Morton. "A new pot or a doormat can make a difference." New address numbers, an updated doorbell, knocker, mailbox, porch bench or rocker create a sense of style.
Maintenance
"Sometimes people have too much going on in the front, and it feels uncared for," says Morton. "It could just need a fresh coat of paint on the fence or a power wash." Clean windows, a power-washed driveway, repaired gates and an uncluttered porch make an impact.
Avoid straight lines
"I think the most common disasters I see are homeowners who line their walkway with annuals or Malibu lights every 2 feet, like regimented soldiers, to frame the walkway." You are not landing a plane. Instead, use a variety of plants, and place them away from the path.
Grow character
"Low branching, multi-trunk trees, like olive trees, tend to have much more character and excitement than a single trunk," says McIver. Consider novelty foliage such as a flowering tree or special palm.
About the garage ...
A December report by the National Assn. of Realtors revealed that a new garage door is one of the exterior features most appealing to potential buyers and recoups a whopping 87% of its cost upon resale. Homeowners also named it the exterior upgrade that brings the most happiness.
Driveway
"I'm always trying to camouflage driveways or make them softer," says McIver. "I like to incorporate ribbons, either in grass or stone." If you have the budget, consider incorporating similar stone from the walkway to create cohesiveness.
Stunning photos, celebrity homes: Get the free weekly Hot Property newsletter >>
---